Coupled with market wide confidence and recent Weiss Ratings, chances are XRP/USD will print higher in coming days. Already we are beginning to see hints of such. At spot prices, XRP bulls have so far reversed Oct 29 losses. Because of weekend's bullish events, we suggest aggressive traders to buy at spot with stops at Oct 29 lows with first targets as before at week ending Sep 23 highs.
Latest Ripple [XRP] News
Everything else constant, Weiss Ratings are known to make some bold and even outrageous price predictions. But they are doing their jobs and with clear methodologies and models that help them reach their conclusions, Weiss is quickly curving a stand in the crypto market. The independent US based rating firm which provide ratings for different financials products as stocks and crypto recently released a new updated list of cryptocurrency ratings.
After reviewing 3,000 different coins, they finally settled on 111 rating each digital asset based on their technology model in place to determine their performance, adoption model, investment risk model for potential downside and investment reward model for possible upsides should the coin be widely accepted and used by the community.
Out of this it wasn't surprising for XRP, a high liquid digital asset, to receive high ratings because of their superior transaction speed that might spur widespread adoption since it is attractive for different businesses. Already there is a wave sweeping across the banking sphere that front the use of XRP with SBI Group leading their charges in the East.
Mid last week, the CEO of SBI Group Yoshitaka Kitao said in a recent SBI Financial Results Briefing that discussions were ongoing that would see a project created within the R3 consortium that extensively use XRP.
This is definitely good news for XRP because R3, a sort of competitor for Ripple are also advocating for adoption of blockchain technologies through creation of enterprise level private blockchain solutions that are efficient, speedy with security guaranteed by the underlying blockchain over which their network is built on.
XRP/USD Price Analysis
Weekly Chart – XRP/USD Price prediction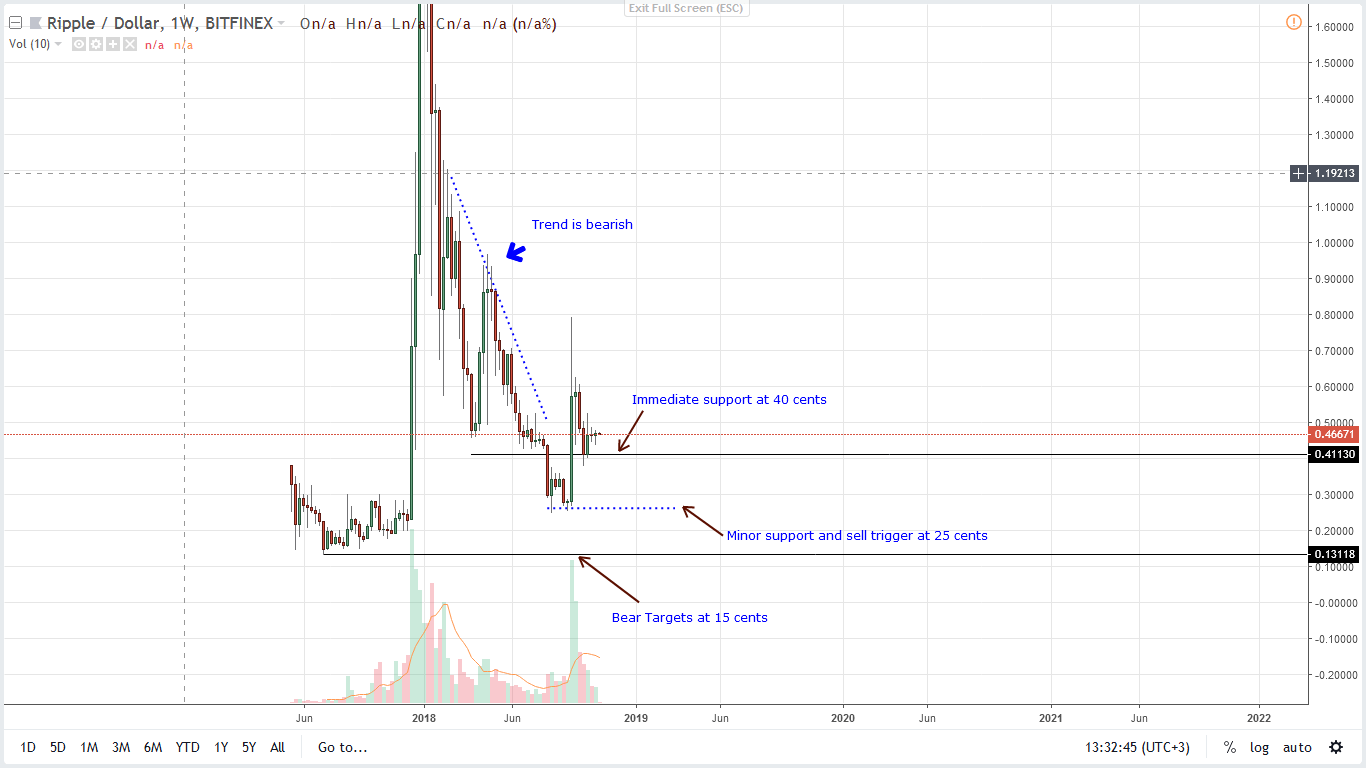 Like before, we shall retain a bullish outlook on XRP since prices are still trending inside our ideal buy zone as defined by Fibonacci retracement levels drawn on Sep high low. As we can see from the charts, XRP is roughly 10 cents away from the main buy trigger line marked by the 50 percent Fibonacci retracement level at 55 cents.
Encouragingly, because of the last two weeks consolidation which ended up as pin bars complete with long lower wicks indicative of bull pressure in lower time frames, it's likely that XRP/USD will build on the bullish wave triggered by BCH strong movements.
Therefore, in line with our previous XRP/USD trade plans, we recommend buys in lower time frames with stops at 40 cents. However, risk-on, conservative traders should hold off trading until there are solid moves above 55 cents triggering buyers who should instead aim for 80 cents.
Daily Chart – XRP/USD Price prediction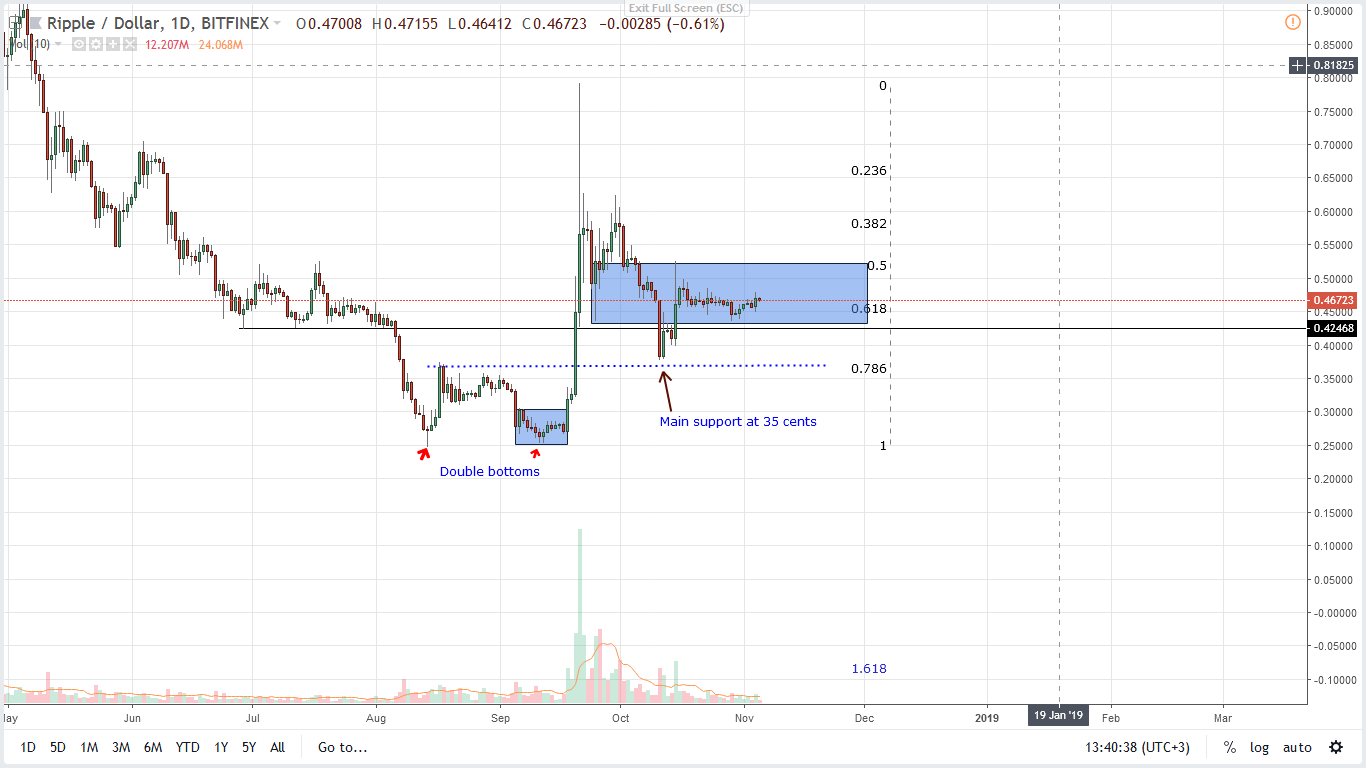 Momentum is building up and after Nov 4 gains, XRP/USD is on a recovery path printing higher and reversing Oct 29 losses. Although prices are still technically within a consolidation inside Oct 15 high low, we expect bull momentum to pick up following the deep retracements of this year and the widespread bullish sentiment in the market.
Therefore, as aforementioned, bulls should begin picking up at spot prices with stops at Oct 29 lows, at 45 cents. First targets would be at 55 cents and later 80 cents.
Disclaimer: Views and opinions expressed are those of the author and aren't investment advice. Trading of any form involves risk and so do your due diligence before making a trading decision.