Latest Ripple [XRP] News
Without a doubt, the digital era changed the way businesses and individuals interact. In place of fragmentation, there came globalization. Slow processing and high latency were replaced by speed and real time or instantaneous processing. As such, there need to be an equally efficient, ubiquitous and satisfying system that fills this gap and Ripple Inc solutions stand to be sufficient in fulfilling this need.
At the moment, three of Ripple Inc solutions promise speed, safety and real time settlement. That is exactly what the US Federal Reserve are desirous of and sensing their capability, Ripple made a submission: Potential Federal Reserve Action To Support Interbank Settlement Of Faster Payments back in Dec 2018 where Ryan Zagone, the Head of Regulatory Relations at Ripple, is involved.
Since the Fed is looking to transition and are locked in discussion with the payment industry of which Ripple will be a key player, their timely plan of enabling the general public enjoy efficiency and convenience will demand the rolling out of a 24/7/365 RTGS system.
That translates to a robust retail network with no downtime that necessitates the roll-out of a liquidity management tool to enable this high reliable RTGS. Clearly, Ripple has both. Its ledger is decentralized and powered by validators spread all over the world therefore has no downtime. At the same time, the need of a liquidity tool would be solved by XRP, a token specifically designed to create liquidity within the network.
XRP/USD Price Analysis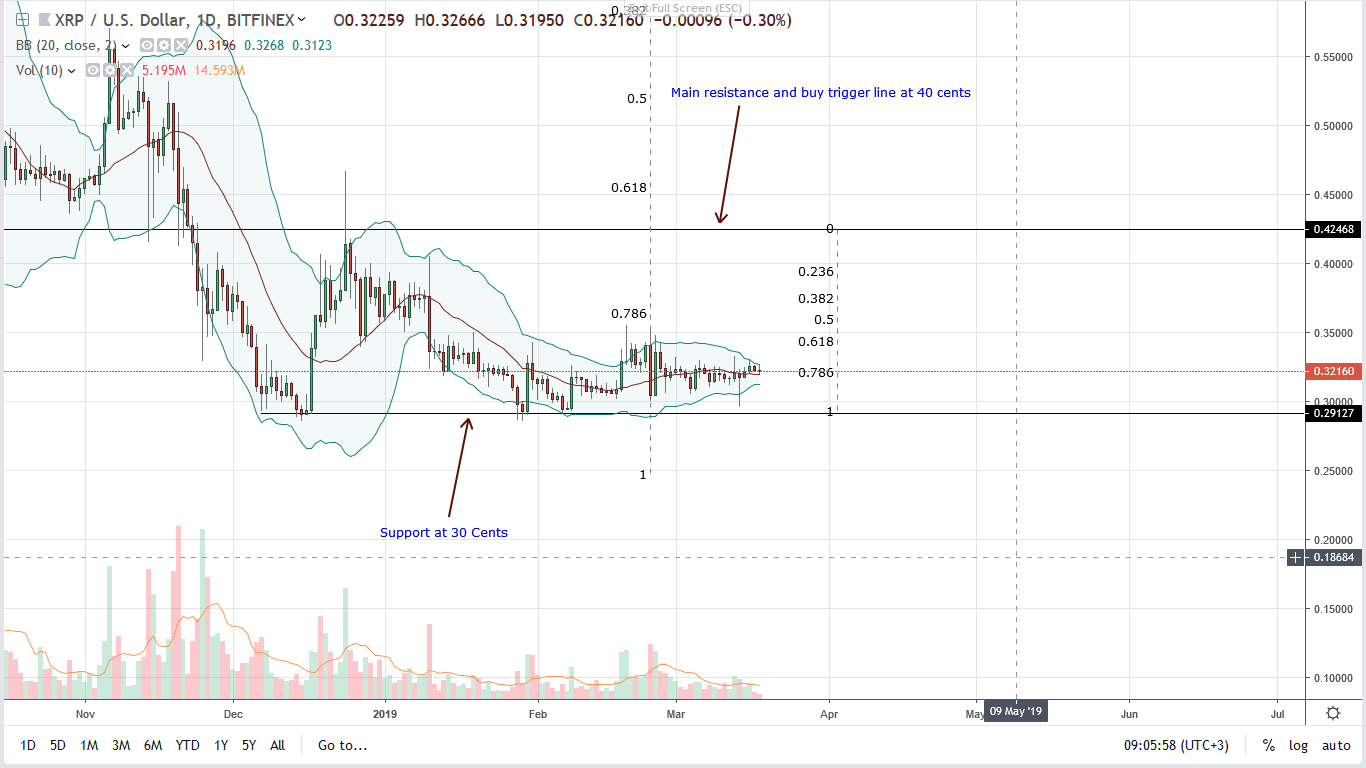 At the time of press, XRP is stable but under pressure. Since we are settled on the asset's trend, we expect prices to edge higher in days ahead. However, from candlestick arrangements, it appears as if prices are under liquidation and struggling to register gains. Note that prices have been in consolidation mode for the last three months or so.
With clear supports at 30 cents and resistance at 34 cents and 40 cents, an extended ranging market builds strong momentum that would either lead to a breakout above 34 cents or a drop below 30 cents. If the latter is the case, then our trade plan would be binned as bears of Feb flow back.
All the same, odds of the breakout above 34 cents or the 61.8 percent Fibonacci retracement level is high but unless there are movements on the chart, we shall recommend adopting a neutral position until after there is confirmation of Jan 30 and Feb 8 bulls.
All Charts Courtesy of TradingView—BitFinex
Disclaimer: Views and opinions expressed are those of the author and aren't investment advice. Trading of any form involves risk and so do your due diligence before making a trading decision.