Ripple is about seven percent from last week's lows and looks relatively firm, reading from the formation in the daily chart. Technically, XRP prices are steady and trading within a bullish breakout formation following sharp gains on September 22 that saw the coin soar to new Q3 highs.
Even though prices cooled off, aligning with the primary trend visible across the crypto markets, XRP stands a chance to spearhead recovery due to its solid fundamentals. Thus far, the primary support lies around the $0.40 and $0.45 zone, while resistance is marked clearly at September 2022 highs at $0.55.
If there is a retracement, how prices react, especially at last week's low, would shape the short to medium-term trend.
Layout Proper Regulations
Dominating headlines are on the proceedings of the ongoing court case between Ripple and the U.S. Securities and Exchange Commission (SEC). It has been roughly two years of a hotly contested case pitting the best legal minds in the sphere.
However, what's clear is that the market demands proper regulations to see the emerging space flourish. This is why Rep. Tom Emmer believes that DeFi decentralization is of utmost importance and shouldn't, at any point, be substituted with over-regulation.
Decentralization is the point. If we sacrifice DeFi for legislation, we're throwing away the opportunity.

— Tom Emmer (@GOPMajorityWhip) October 20, 2022
If the latter is the case, it might see DeFi, and all ideas tagged by decentralized lost. The U.S. SEC has been blamed countless times for overreaching and trying to quash crypto innovation.
Ripple Price Analysis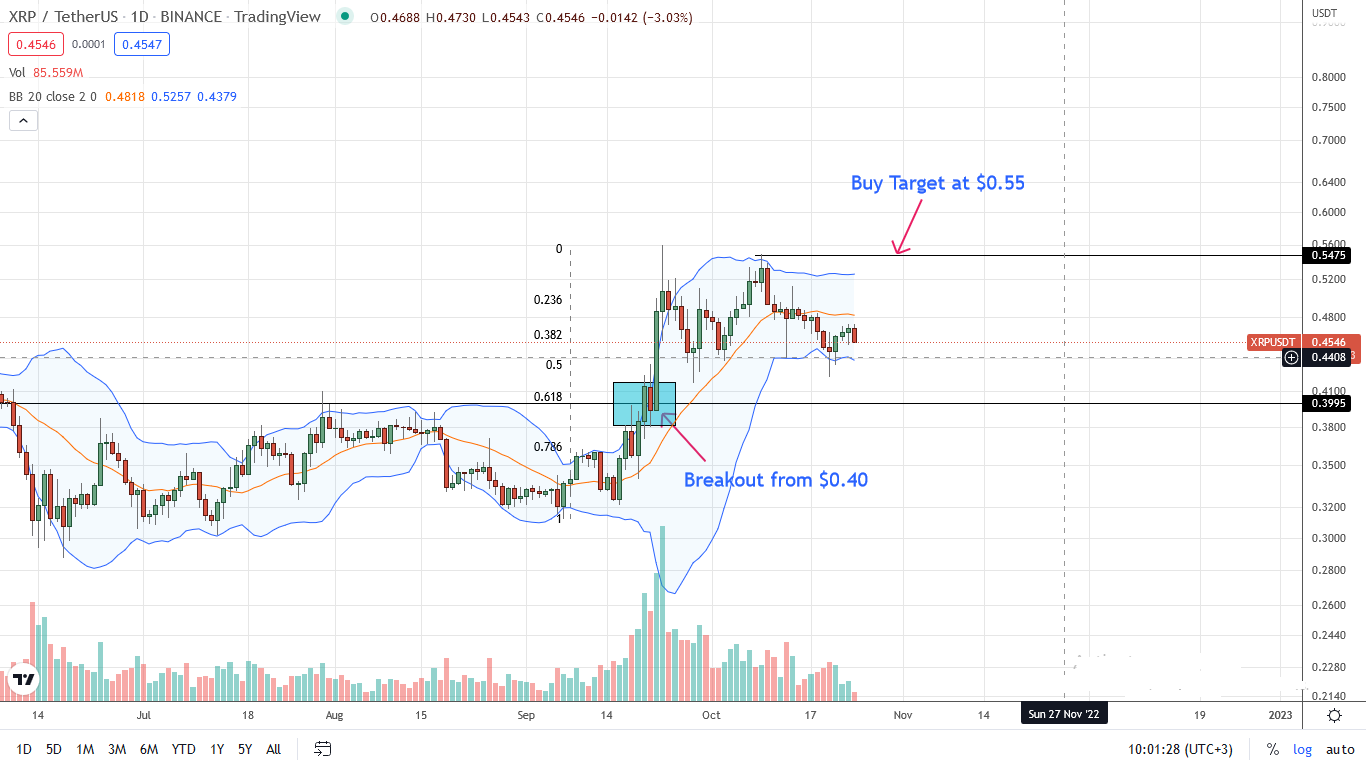 Ripple is firm, up seven percent in the last four days, and is within a bullish breakout formation. After sharp retracement from September peaks, there are hints that the established trend of late September might resume, an opportunity for aggressive traders.
Therefore, in light of this, traders may search to load the dips as long as prices are above the $0.40 to $0.45, targeting $0.55, September peaks, in expectations of short-term gains. The $0.40 to $0.45 zone is the 50 to 61.8 percent Fibonacci retracement level, a key reaction line.
If XRP reverses from spot levels, it may drop $0.35, the 78.6 percent Fibonacci line of the same trade range, invalidating the bullish breakout—and thus, expected reprieve for bulls.
Disclaimer: Opinions expressed are not investment advice. Do your research.