The drop in XRP prices in November saw the coin reverse gains from early September to October 2022.
Technically, the contraction swung Ripple back to bearish territory as sellers reasserted their influence on the coin.
Overly, the path of least resistance remains southwards. Unless there are sharp gains above immediate liquidation levels, bears are in control in the short to medium term.
Presently, XRP is stable, adding roughly 23 percent from November 24 lows. Despite favorable fundamental events, prices remain under pressure. Notably, XRP is within the November 8 and 9 bearish engulfing candlesticks, an indicator of weakness.
XRPL Supports Smart Contracts, NFT Ecosystem Growth
The XRPL, the blockchain for XRP, now supports smart contracts. For the new capability, supporters expect activity to rise. Subsequently, this could boost XRP activity because the coin is for settling fees.
This is a massive development, a move that would increase the utility of XRP. Moreover, it could attract more partners, and help solidify the project amid the ongoing court case.
As Ripple progresses, Mintable said it is partnering with the blockchain company.
In a press release, Mintable, an NFT marketplace and minting platform, said the objective of supporting NFTs native to XRPL is to bring creators and developers together while promoting the development of high-quality NFTs.
Mintable cited the reliability, energy efficiency, and scalability of XRPL as factors advising their support.
Ripple Price Analysis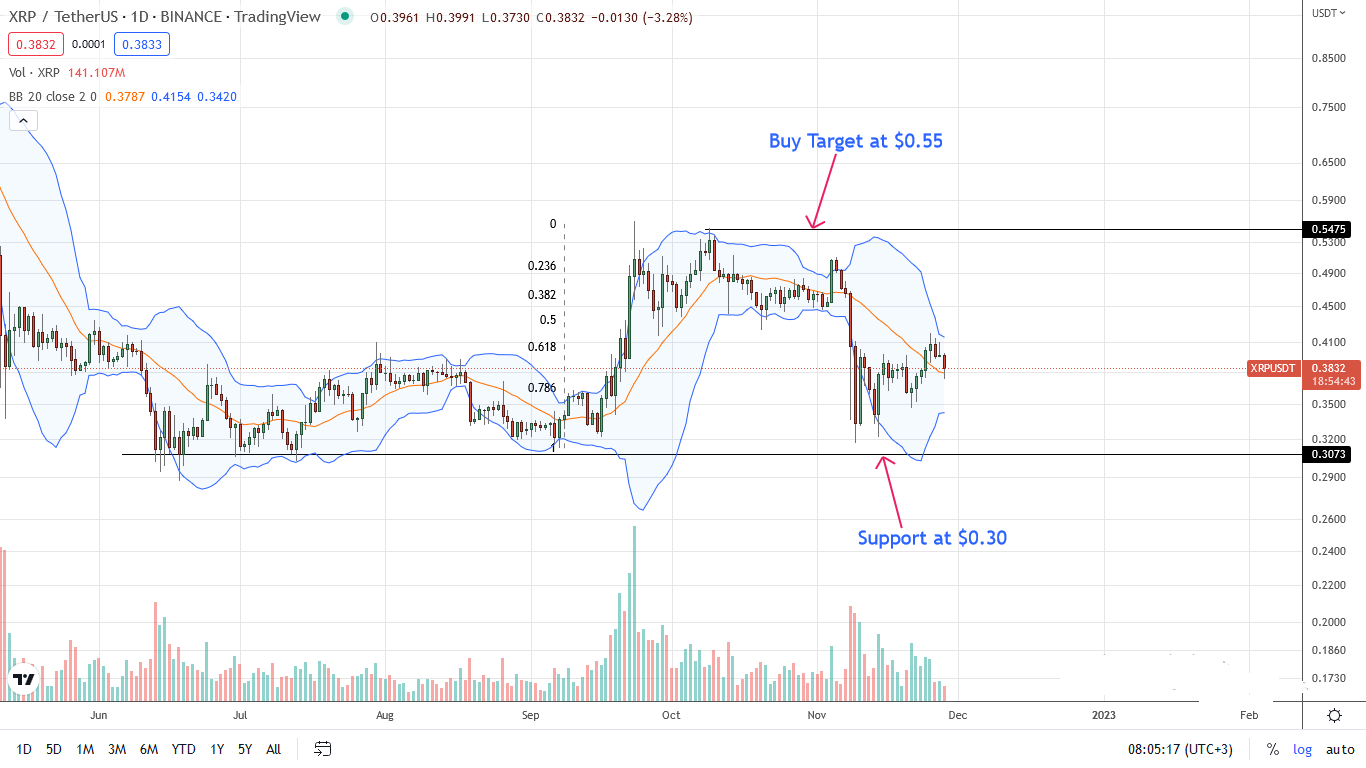 From a top-down preview, XRP is under pressure. The current broad consolidation between $0.55 and $0.30 present a bear flag.
XRP prices might recover after deep losses. However, bulls need to clear $0.55 and October highs before conservative traders double down, adding to their longs in expectations of a recovery. A notable observation is that between early October and mid-November 2022, XRP prices crumbled 45 percent, reversing gains from September to October.
In the short term, the November 8 and 9 bear candlesticks shape price action. From an effort versus result analysis, buyers must clear $0.43 with a spike in trading volumes to indicate participation. If not, there is a high probability of XRP recoiling from around November 9 high to $0.30 in a bear continuation formation. Any surge above $0.43 might provide the impetus for a welcome rally to $0.55, an opportunity for aggressive buyers to hitch.
Technical charts courtesy of Trading View. Disclaimer: Opinions expressed are not investment advice. Do your research.
---
If you found this article interesting, here you can find more Ripple news.