The world of cryptocurrency has always been exciting. Despite the rather mundane week, Ripple [XRP] and Binance Coin [BNB] have not just managed to stay in the green zone but also became the top-performing crypto-assets among the top 10. 
Several crypto-assets retested to key lower support levels right after Bitcoin's price took a plunge below $56,000 on the 7th of April. While the retracement was brief, the damage was already done as top altcoins suffered the bearish pressure.
However, Ripple [XRP] and Binance Coin [BNB], on the other hand, had managed to bounce right back up and went on to rake in impressive weekly gains of worth 72.96% and 25.38% respectively.
Ripple [XRP] Hits Multi-Year High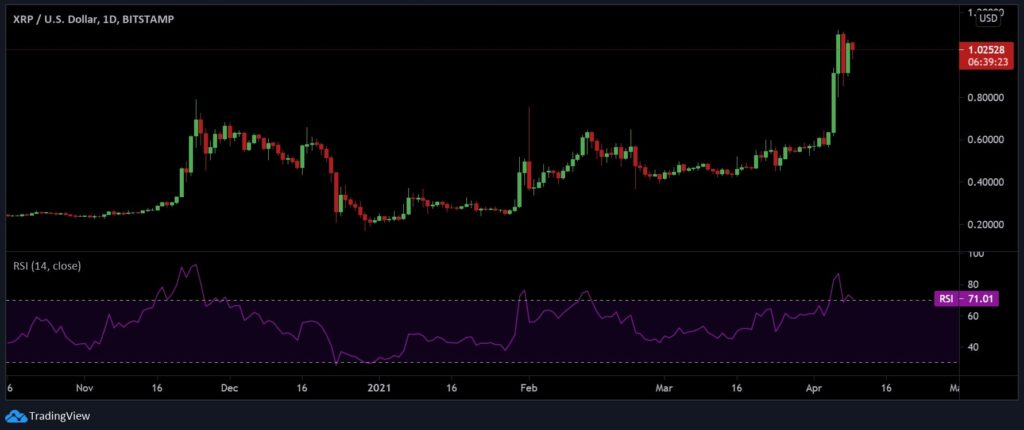 Ripple [XRP] has exploded with a quick recovery posting double-digit gains over the last seven days. The altcoin met the crucial target of $1.14 target on the 6th of April before a minor retracement as short-term investors booked profits near this target objective.
It was currently priced at $1.02 after rising by almost 6% in just 24-hours alone. The crypto-asset registered a market cap of $46.48 billion and a 24-hour trading volume of $67.59 billion, a the time of writing.
As depicted by the above chart, the RSI turned down from the overbought zone but has managed to afloat above the 70-mark. This essentially meant that the sentiment of buying pressure has continued to remain intact despite the minor pullback from its ATH level.
It is important to understand that the crypto-asset has remained nearly undeterred even after the initiation of the lawsuit by the United States Securities and Exchange Commission [SEC] lawsuit.
Binance Coin [BNB] Strong Uptrend:
The price of Binance Coin [BNB] is still hovering near its all-time high once again. Over the past day, it was up by 7.26% and was priced at $446.14 currently.
It strengthened its position as the third-largest crypto-asset with a market cap of $67.59 billion and a 24-hour trading volume of $4.42 billion. The RSI has made headway to the overbought zone meaning that there is still room for growth as the buying appetite has not cooled down.
In short, even as the bulls purchased the short-term dip aggressively, BNB found new buyers above $400-level that have continued to advance its bullish impulse. The traders of the exchange token are expected to see a broader uptrend.
One of the major contributors to the major contributor to this uptrend is the growth of Binance Smart Chain [BSC] as the decentralized finance [DeFi] ecosystem continues to grow leaps and bounds.