Rari Capital has integrated Chainlink price feeds as its recommended solution for its recently launched Fuse, a permissionless framework for creating and running user-created open interest rate pools with customizable parameters.
Rari Capital, a defi yield aggregator platform, announced the news in a blog post on Monday, April 5. According to the announcement, this integration is the expansion of already being used Chainlink ETH/USD Price Feed within Rari Capital's yield aggregation products.
Rari Capital's Fuse is a permissionless framework where users can create new pools on-chain through an intuitive user interface that allows any combination of tokens, custom pool parameters, including liquidation thresholds, loan-to-value ratios, and interest rate curves.
According to the Rari team, Traditional on-chain pools risks such as one toxic collateral causing under-collateralization of entire pools. Fuse is designed to mitigate such risks by offering a "heterogeneous framework where users can create their own pools using any combination of tokens and parameters." This will enable yield aggregators to choose pools that best suit their risk preferences.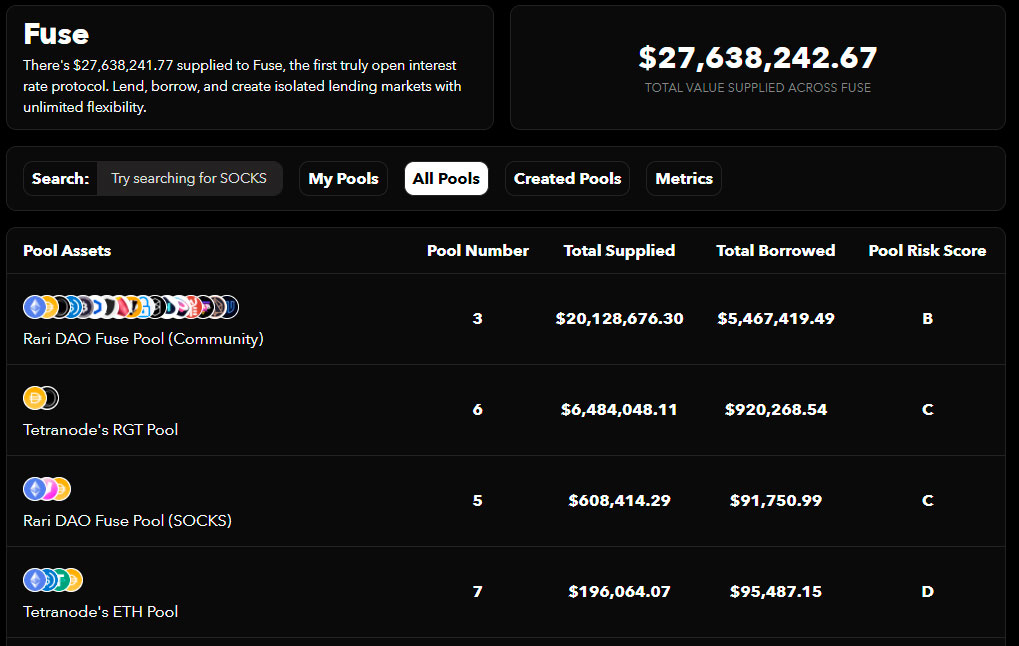 Fuse pools will always be secure via over-collateralization and therefore, price feeds for supported assets are a necessity to protect lenders from under-collateralization. Rari team has selected Chainlink to be the only oracle solution to meet the most stringent standards for protecting user funds and supporting long-term adoption due to its wide market coverage and robust infrastructure
Chainlink's tamper-resistant and hyper-reliable decentralized oracles will provide Fuse pool creators access to fair and secure pricing of different DeFi tokens, stablecoins, synthetic assets, and more.
Chainlink price oracles will be critical for obtaining the most up-to-date asset valuations when issuing loans and checking their current collateralization.
For the Fuse launch, Rari Capital has created six on-chain pools with different parameters, all of which are fully secured by Chainlink. Rari said:
"These pools provide users with a way to immediately start earning yield on their on-chain assets and borrow working capital, as well as get a feel for the multitude of integration possibilities with Fuse."
Jack Lipstone, Co-Founder of Rari Capital, commented:
"Providing users the most robust oracle solution is essential to ensuring that user-created pools are fully secured at all times. Expanding upon our previous integration with Chainlink was the obvious choice given their extensive track record of securing top DeFi protocols, even amidst challenging network congestion periods and the string of flash loan attacks. Their approach to prioritizing the safety of user funds aligns with our own, making this integration an ideal combination."
---
If you found this article interesting, here you can find more Chainlink News