Rand Labs, a Boston and Buenos Aires-based blockchain development lab specialized in Algorand technology, has released the brand-new version of My Algo Algorand Wallet, My Algo 2.0.
Michel Dahdah, the co-founder of Rand Labs, announced the news in a blog post on Tuesday, February 16. My Algo 2.0 comes with a complete redesign of the user interface to increase productivity, improve ease of use, limit user errors, and most importantly, prepare it for the DeFi products and dApps to come on Algorand blockchain protocol.
According to the announcement, the newer My Algo 2.0 version supports multi-sig accounts. Users can easily create or import a multi-sig wallet in My Algo in a remarkably simple way. Michel Dahdah said that this would improve the security of everyone in the Algorand ecosystem and will open lots of new possibilities for institutions and individuals alike.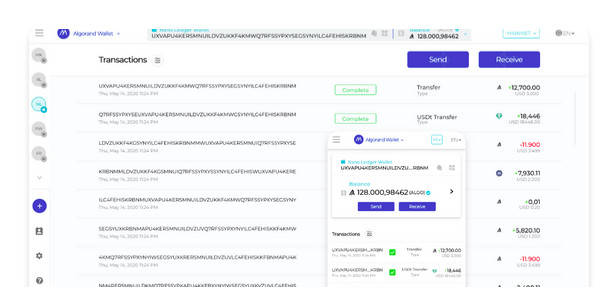 This release has come with features that will help My Algo to become the browser of Algorand and the gateway to all of Algorand's economy. With My Algo 2.0, third-party websites, applications, and dApps can now be integrated with My Algo through an innovative technology that does not require our users to download any browser extension. Through this functionality, users connect can integrate any website with My Algo wallet.
According to Michel Dahdah:
"The My Algo Integration supports all sorts of transactions, including application calls and bulk transaction signature. This will enable users with My Algo accounts to participate in all types of Algorand applications in a highly secure and intuitive way. All of this functions in a similar way to how PayPal pop-ups work for e-commerce checkout and is compatible with all types of devices and browsers."
My Algo is a non-custodial wallet developed by Rand Labs to interact with the Algorand blockchain. It enables users to send and receive ALGO and all other ASA tokens. It also comes with Ledger's hardware wallet support. It also allows users to earn a 6.66% annual yield as staking rewards. Unlike other custodial wallets and exchanges, My Algo enables users to automatically earn rewards directly without requiring any actions on their part.
According to Michel Dahdah, the new release is vital to prepare My Algo Wallet for the great things to come to the Algorand including DeFi, institutional adoption, and more. He concluded:
"We are excited for the things that are coming to Algorand soon and we look forward to seeing the Algorand community leveraging My Algo to make full use of the capabilities of this network and the applications that will be built on it."
---