One of the most important general characteristics of all the projects that are looking for financing through ICO's is to solve situations and problems that used to be an unlockable locking stone. On this occasion we will talk about the exchange platform for cryptocurrencies Qvolta and their coming ICO.
Qvolta is a global crypto-currency exchange platform that enables its users to quickly and easily convert cryptocurrencies into fiduciary currencies and vice versa.
Qvolta emerges as a direct response to a huge market problem that exists in the global cryptocurrencies market. In most countries around the world people are not able to convert cryptocurrencies into fiduciary money quickly. While some exchange platforms are available, most lack scale and offer sophisticated technology solutions that are unsafe and challenging and complicated to use. In contrast, Qvolta will provide individuals with a reliable and convenient platform to quickly buy or sell cryptocurrencies with the help of the most popular payment methods for fiat coins available in the country of their residence. Initially two cryptocurrencies will be available for exchange – Bitcoin and Ethereum, with the later planned addition of Monero and other altcoins.
The main problems that the Qvolta team solves, among others are: The rapid addition of fiat coins to exchanges is extremely challenging due to difficulties in connecting merchant accounts to enable acceptance of major payment systems; In order to be able to buy cryptocurrencies, the user has to participate in operations without the ability to quickly make the purchase at fixed price and in a single click; and Cryptocurrency portfolios offering the cryptocurrencies purchases overload options to users, with high commissions and added fees.
With the help of Qvolta, any resident of any country in the world will have the opportunity to: Sell cryptocurrencies for fiduciary coins using their preferred local payment methods; Buy currencies for fiat coins using preferred local payment methods; Take advantage of the services of the guarantor to protect transactions and secure trades.
There are currently 51 crypto- trading platforms in the world. The target audience of Qvolta will be people who want to quickly buy / sell Crypto Coins at a fixed price without taking part in Forex trading. The Qvolta platform will allow its users to complete the transaction in 5-10 minutes.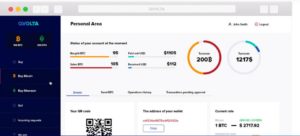 While market potential has long been recognized, it has not been until 2017 when the growth of cryptocurrencies has exploded. Given the current large market capitalization and the huge volume there is an increasing number of services and startups trying to take advantage of the newly emerging market opportunity. Cryptocurrencies sector presents a perfect momentum for new strong traders to enter the market.
ICO Details:
Date of the ICO: from 10.10.17 to 20.10.17
Number of tokens in ICO: 18,000,000
Token value 1 ETH = 1 000 QVT
The official name of the token: QVT
Deposit Methods: Ethereum
The QVT token will be used to pay for tariff plans on the platform. The merchant will have to pay for the rate plan to begin creating an offer for the sale / purchase of crypto coins in Qvolta. Each tariff plan allows the trading of cryptocurrencies in the amount foreseen by this plan.
To learn more about this interesting platform, you can review the project's white paper.