Pulsar is an investment platform that focuses on blockchain / cryptocurrency startups, IT, hardware and related issues. It helps entrepreneurs identify business needs, choose target markets and define solutions. With the experience, international connections and extensive experience of the Pulsar team, they help to promote innovations, facilitate startup challenges and start seeds for the next stages of product launch and market acceptance.
The initial investments of the Pulsar team allow entrepreneurs to create new innovative companies. The investments in Pulsar seeds will generally range between US $ 100,000 and US $ 500,000 and the initial investments will generally range between US $ 500,000 and US $ 2,000,000 million to help the business achieve its objectives. At Pulsar, they see their success as being based in part on their International Acceleration program that is linking innovation and capital in global markets together with the provision of first-class business flow by partners.
In recent years, the Pulsar acceleration program has seen more than 1,200 applicants, more than 110 alumni, including 29 portfolio companies. Some of its portfolio companies, such as Vango Art, Pinscreen, AgFunder, ChannelMeter, DB Pipeline, Vyng, TryFit, Agelon, Agroinnovations, have raised funds from international institutional investors. In Europe they run a TechTour (www.techtour.com) and work with leading European, American and Asian investors such as Y Combinator, 500 Startups, Google Ventures, Andreessen Horowitz, Data Collective, Silicon Valley Angels, TEC Ventures, EndeavorVision, The. Guinness Enterprise Center, NDRC, Vertical VC, Golden Gate Ventures, Silicon Valley Partners, Garage Ventures. Pavel Korolev, founding partner of Pulsar, is currently the president of Russian TechTour.
Pulsar invests in companies that harness the power of data to create new platforms, tools and market-leading analytics that are intrinsically harmful and have a network effect. They get the flow according to their acceleration program and partner network. The goal for the acceleration program participants is to access the global market, raise funds and find strategic partners within the 180-day program. They focus on the companies that need funds for the initial stage. As a classic risk fund, they offer an average annual return of 157% to investors.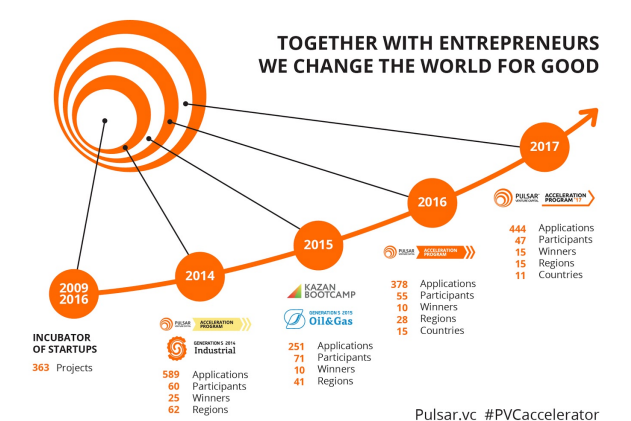 ACCELERATION PROGRAM
The program is combining innovation, experience, advisors and venture capital in global markets. The program offers top-tier companies from Eastern Europe, initial financing and broad support for the commercial development of industry experts, mentors, advisers and investors.
The Pulsar VC cards ("Pulsars") will be offered for sale, issued in Ethereum blockchain.
The ICO of Pulsar began on November 13, 2017 and will last Thirty days.
The accepted contributions are in BTC and ETH. The Price of each token is 1 Pulsar = US $ 1.00
See more about the project in your White paper.