Marketing has been one of the sectors best used in this new trend of application of blockchain tokenized solutions. This time we will talk about Pryze, a marketing platform based on blockchain whose proposal of contests we will explain.
Contests have always been an excellent way to attract followers and promote a business or campaign, and it is not something that is preposterous since it is well known that by nature we humans any chance to win a prize, no matter how small, tends to call our attention.
As a result, companies rely heavily on contests and games in their marketing efforts. They are an excellent way to encourage customers and followers to share personal information, subscribe to email lists or follow a social media account.
But what exactly is a sweepstakes? A sweepstake is a contest in which participants enter a raffle in the hope of winning a prize.
In general, entry barriers are quite low: participants may have to share their email address or a Facebook page to have the opportunity to win.
Why use a sweepstakes?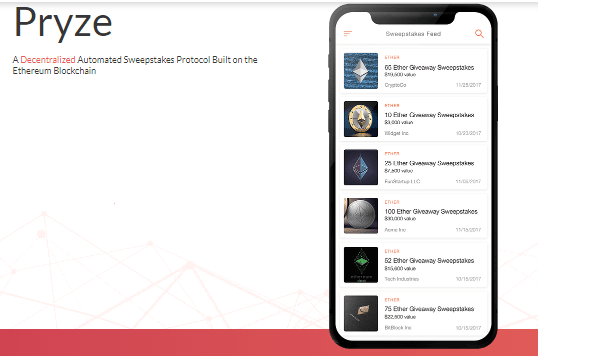 The beauty of the sweepstakes lies in its simplicity. In most cases, contestants only take a few seconds of their day (and maybe win the trip or prize of a lifetime), while the company takes advantage of a potentially huge amount of almost free advertising.
The people of Pryze are creating the first rake automation protocol built on Ethereum blockchain.
On their website they explain that they are developing their application so that creators of new and veteran draws can easily manage and maintain draws.
They also point out that their goal is to achieve compliance, security and scalability in the Pryze protocol and, therefore, eliminate the need for expensive administrative services and hosting platforms. All this will be possible through the power of the Ethereum blockchain.
When draws are created in the Pryze protocol, the protocol will be used to create a smart contract that holds the prize "in deposit" until a winner is selected.
This technology will eliminate the need for specific user acquisition costs by having a group of users who sign up through the mobile app and the previous draw website to send alerts to new sweepstakes opportunities.
The Pryze application will facilitate entry into many draws with common requirements when saving consumer input data and, finally, allow the entry of 1 click in the draw for regular users.
The Pryze protocol has several randomization methods to automate the winner selection process, and will select the winner using the decentralized blockchain. The Pryze protocol will use the Ethereum blockchain to announce the winner of each contest.
Pryze will also provide a secure platform that requires lottery participants to submit their tax information before receiving their winnings, thereby automating the burden of collecting tax information for lottery creators.
There are more details to know that you will probably be interested in reviewing, in terms of the use of the applied tokens and others, which can be reviewed in the Whitepaper of the project.