Founded in 2018, PrimeXBT is a trading platform that offers not just spot market cryptocurrency trading but also trading with leverage of various cryptocurrencies and other assets, trading with stock markets or with commodities.
It is rare to come across a cryptocurrency exchange that also doubles in traditional stock markets, so we will carefully investigate this project.
"We have always followed a client-oriented approach and placed our clients' interests at the center of all our operations. Prime XBT team has a goal to be among the best online trading platforms in the cryptocurrency industry and to retain our reputation as a most reliable and trusted partner," a note on their website states.
To understand how PrimeXBT works you will need an account so in the following section, we will show you how to create one.
Registration in PRIMEXBT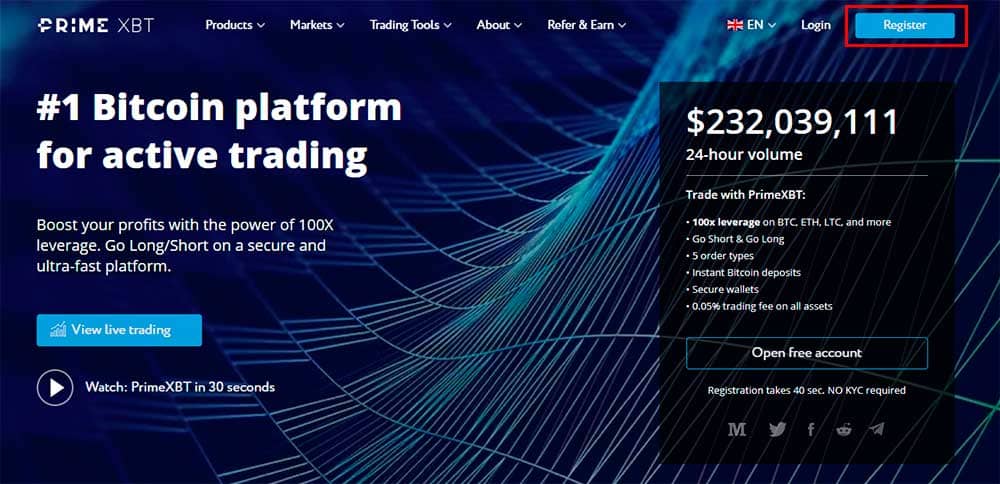 The registration process is quick, easy, and best of all, you don't need to jump any KYC / AML hoops to start using the platform.
Head on over to the PrimeXBT website, click on the [Register] button at the top right of the screen and fill out the registration form, you just need an email and a password.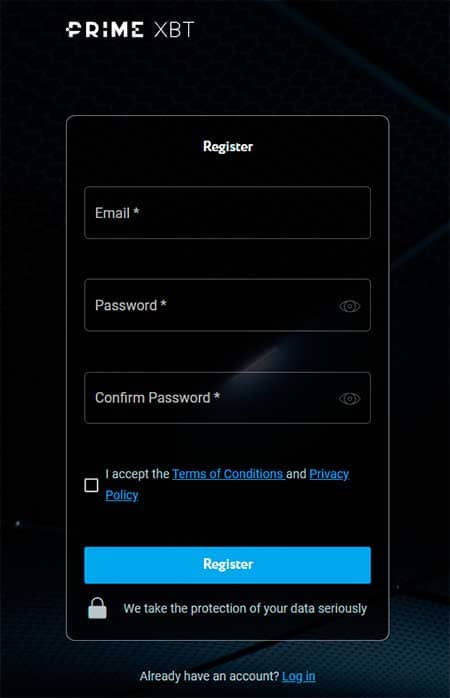 After completing this step, a confirmation email will be sent to your email address (the one used to create the account.) Click on the link provided on the confirmation email.
PRIMEXBT Interface

Once you have completed the registration, verified your email, and successfully logged into your account, you will notice that the menu that appears in the top bar of the homepage (and every other page) now shows us different options:
Account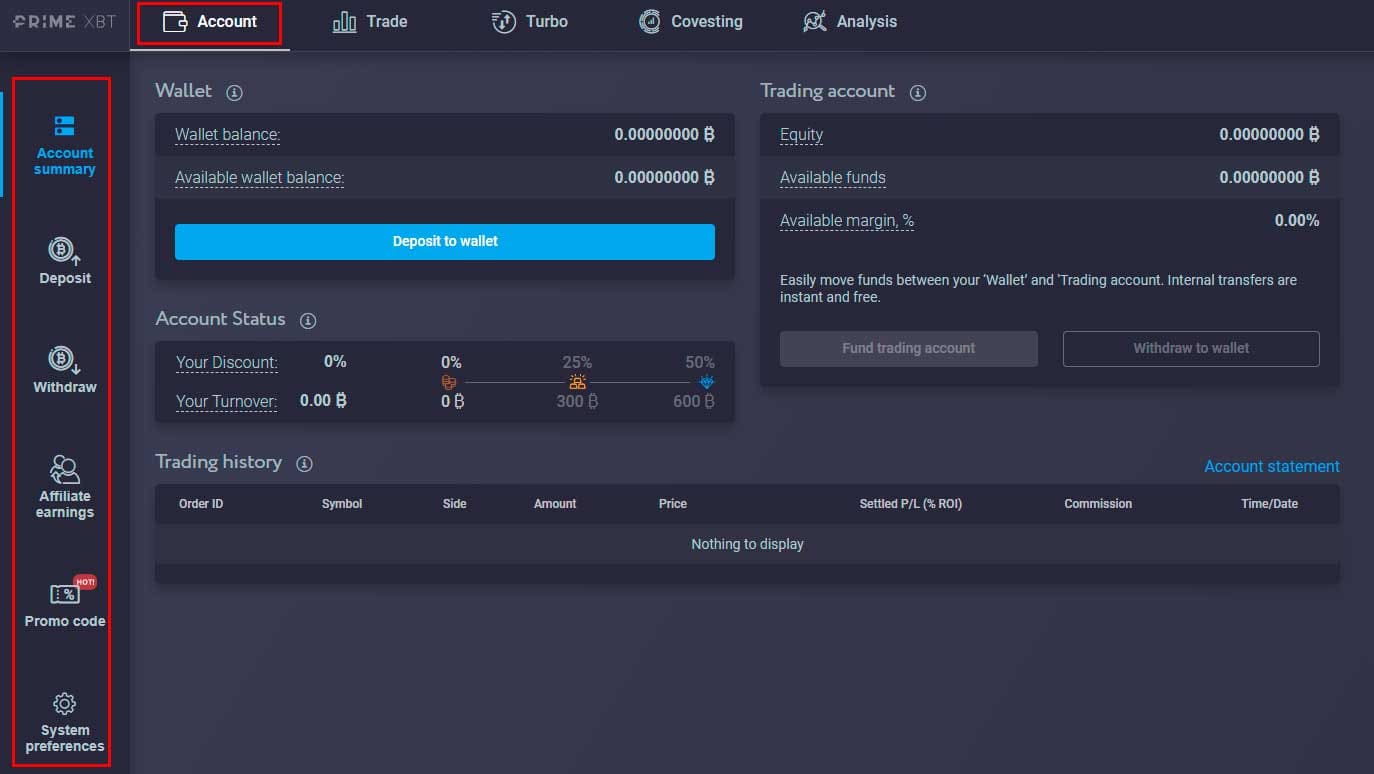 This section is divided into several parts, we will analyze one by one.
Account Summary
From here, you will see the wallet balance and the trading account. To trade on PrimeXBT, you must first deposit funds into your wallet and then transfer the funds from the wallet to the trading account.
In the account summary section, you will also be able to see whether or not you qualify for any trading fee discounts. Depending on your monthly transaction volume, you may be eligible for various discount tiers.
Deposit
As mentioned above, before you start using your PrimeXBT account, it is necessary to deposit some funds into your account wallet. You can do this by clicking the deposit button, which will reveal a QR code and a BTC address to which you will send the funds.
Alternative Deposits
PrimeXBT also allows you to buy Bitcoin with a credit card. The process is also just as quick and intuitive.
If you opt for this method, proceed to press the [Buy Bitcoin] button, choose the amount you want to buy and click [BUY]
Enter your email address and select your country of residence.
Now you just have to verify yourself using any one of the requested identity documents, enter your credit card details and complete the purchase, the BTC purchased will be deposited into your account wallet.
Withdrawals
Withdrawals from PrimeXBT are made once a day between 12:00 and 14:00 UTC.
You just have to enter the destination wallet address, enter the amount to withdraw, and press [Submit to withdrawal].
Affiliate earnings
PrimeXBT offers rewards for bringing users to the platform. With the platform's 4 tier affiliate program, you will get the following rewards:
20% of the commissions from your direct referrals
15% for commissions from your second-level referrals
10% for commissions from your third level referrals
5% for commissions from your fourth level referrals
Once you have created your PrimeXBT account and received an affiliate link, share it with your friends and followers to start generating passive income.
Promo Code
If you get a PrimeXBT promotional (promo) code, you will be able to benefit from discounts on the platform's trading fees.
System Preferences
From this section, you can change your preferred language, change your login credentials, or increase security by activating the 2-factor Google authentication security feature.
Connect to the Telegram Bot to receive notifications about your trading activity.
You can also enable and disable email notifications when your session starts, when open orders are filled, among others.
The history of the previous logins into your account is shown at the bottom.
Trade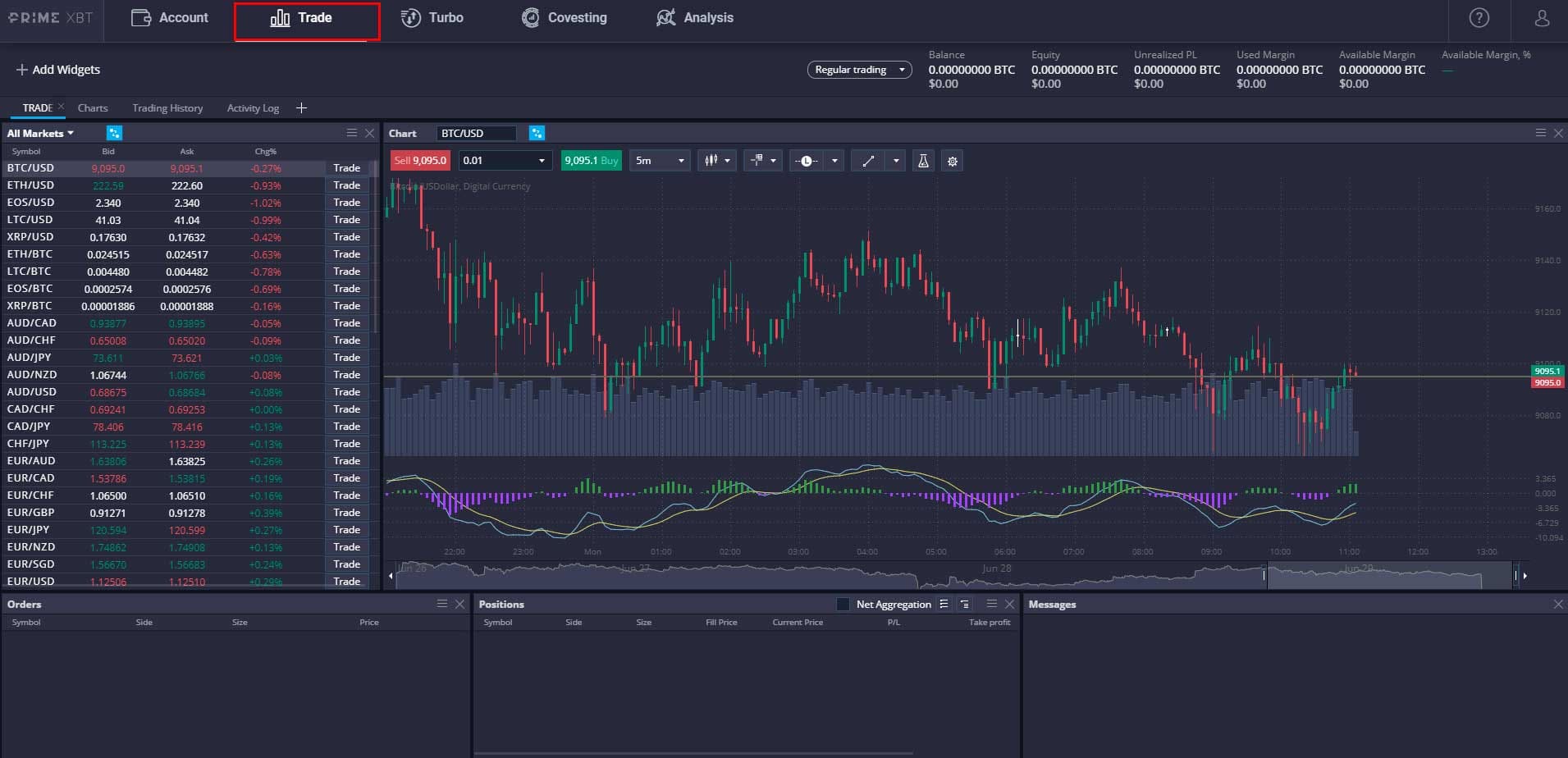 As the subtitle implies, this section will walk you through how to trade on PrimeXBT. The platform has a wide variety of options and settings under this section.
The first thing you should know is that you can rearrange, delete, add, or customize the size of any panel on the trading interface. In each panel, you will see an X [close] and three stripes at the top right. From the X you will close the panels and clicking and dragging from the 3 stripes will move the panel to wherever you want.
If for example, you have deleted the Charts panel, don't worry, you can add it again from the "+ Add Widgets" menu, located in the top left corner.
Trade: From the trade tab, you can choose the asset you want to trade.
Charts: View different charts at the same time and perform technical analysis, thanks to the number of tools that PrimeXBT provides.
Trading History: View your trading history in your account at any given movement for any given time range.
Activity Log: This section tracks all the actions performed on your account.
Turbo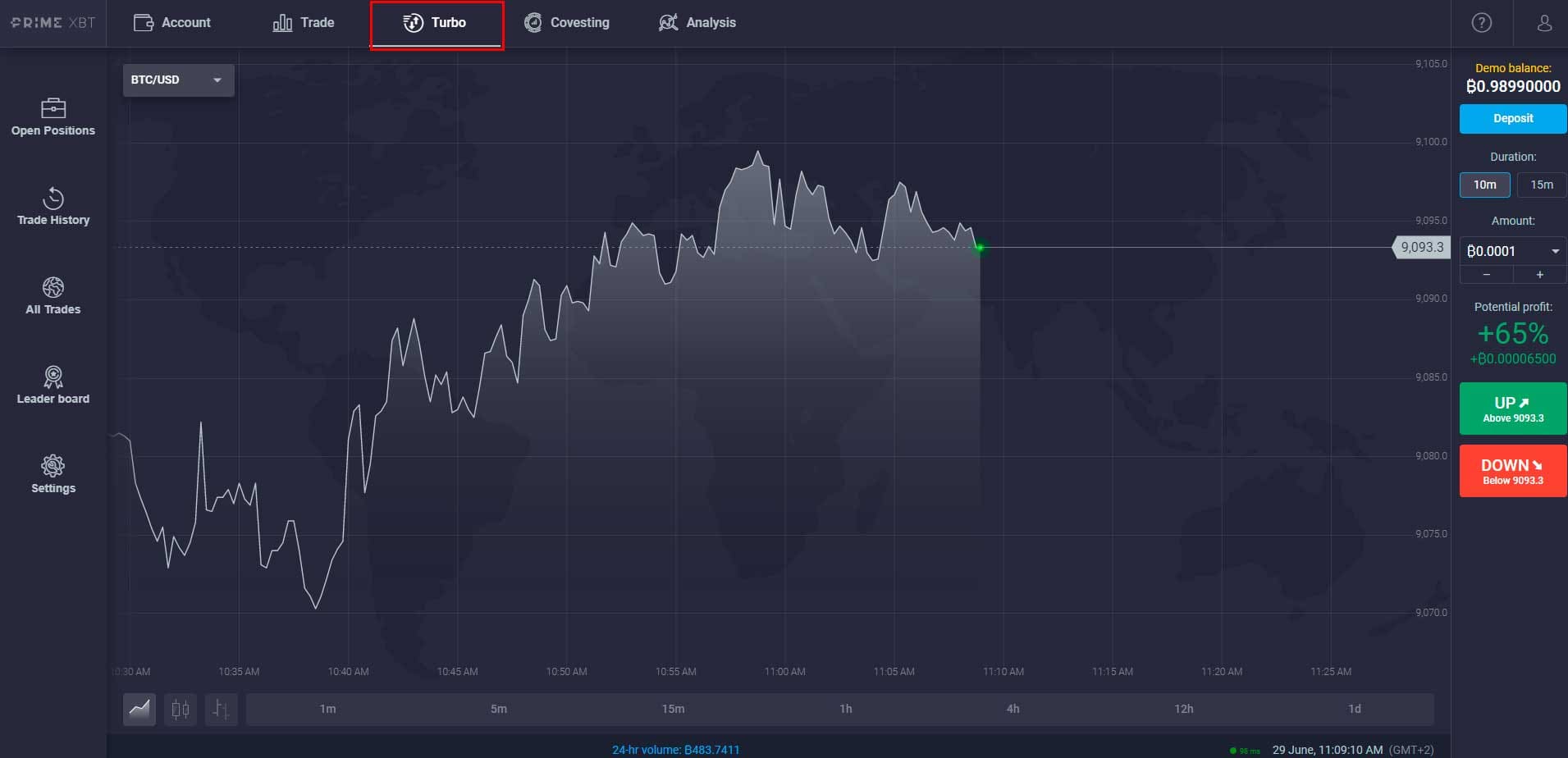 The Turbo service is an additional service offered by PrimeXBT, through which you can speculate whether the price of a given asset rises or falls within a given time. This could be 1 minute, 5 minutes, 10 minutes … (this time varies depending on the chosen asset).
If you are correct in your forecast, you could win between 60% and 90% of your bet (the profit margins vary depending on the chosen asset).
Example
If the price of BTC is currently $9500 and you believe that in the next 10 minutes that price will rise, you can proceed to choose the amount you want to bet on the price of BTC rising in the next 10 minutes and press the Green button to bet Upward.
Automatically a line will be created at your predicted price. This line ends with a green arrow, which indicates the exact moment in which the bet ends and checks the price of the asset to assess whether or not you won.
Covesting
Covesting is a service offered by PrimeXBT that has great profit potential for both beginner and experienced traders.
Covesting is still in its BETA phase, but thanks to this service, new traders can avoid the hustle of choosing an asset to bet on and will be able to contribute to bets made by the more experienced traders.
On the other hand, traders who create a bet will earn fees for the service provided to traders who join their covesting funds. The higher the benefit of the fund created, the higher the fee will be received by the creator of the fund, for which everyone wins.
Additionally, you can see which covesting funds are generating the most returns, the ratings of other traders, and the number of traders subscribed, among other pieces of data.
Analysis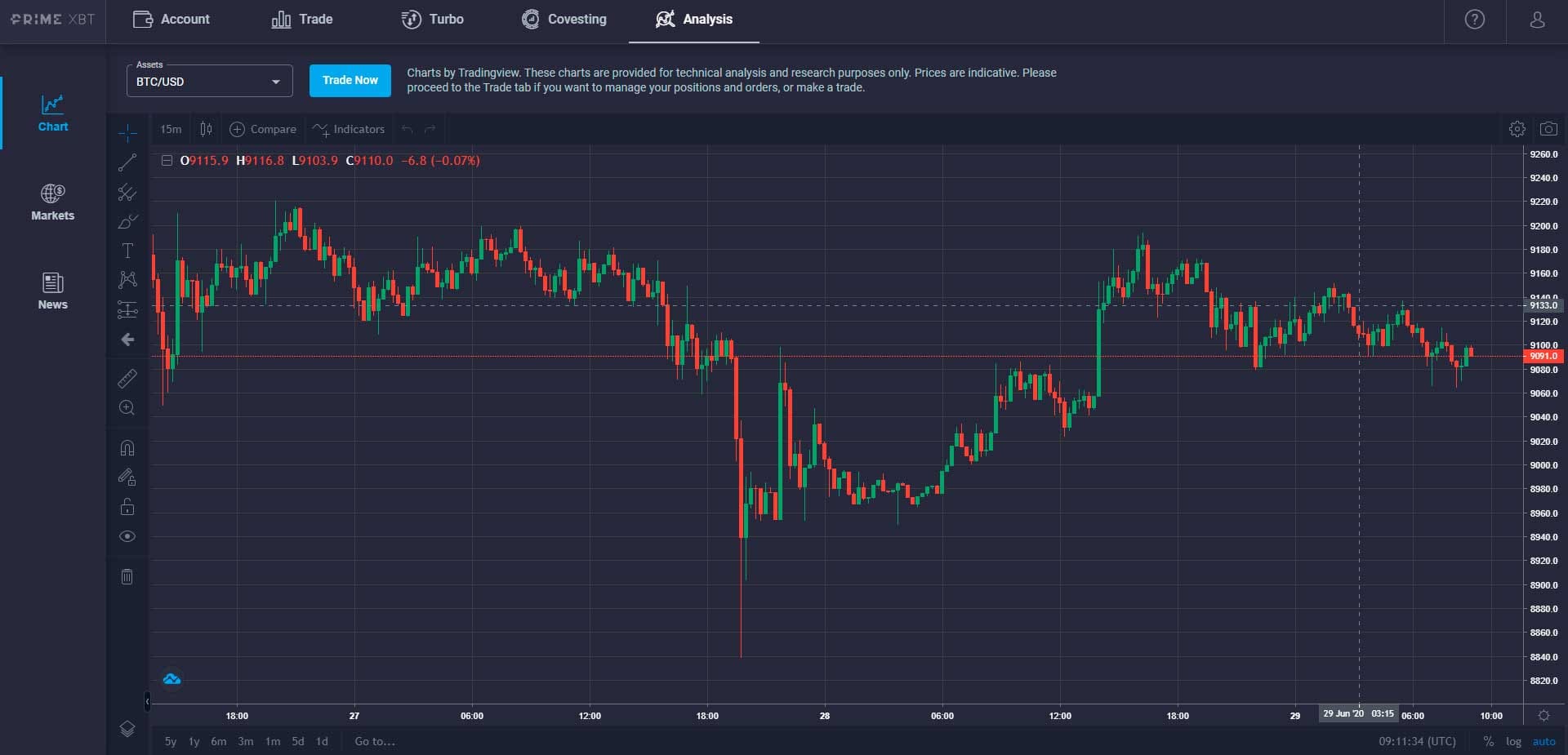 For the experienced traders who can perform technical analysis, this section will provide you with all the necessary tools. Also, PrimeXBT is working on a section so you can access the latest news, economic calendars, margin and profitability calculators, AI-generated trading ideas, and so much more.
Security
The security of an exchange platform is essential to build trust amongst users and PrimeXBT takes this part very seriously. Here's a note picked off from the website describing PrimeXBT's approach to safety and security of users' funds on the platform:
"A comprehensive cybersecurity framework has been implemented to ensure that strict measures and practices are in place to protect customer assets against potential risks and threats. We carry out regular stress tests and safety audits to ensure compliance with the strictest safety standards. "
The platform offers:
2FA (2-factor authentication)
SSL To encrypt and protect web traffic
Whitelisting of bitcoin addresses
Cold storage
FIPS PUB 140-2 Level 3 or higher hardware security modules
Passwords have cryptographic hash functions
DDoS protection through Cloudflare
Additionally, the platform performs risk controls, tests, audits, and continuous evaluations to ensure correct operation and maximum security.
Leverage on PrimeXBT

PrimeXBT supports leveraged trading with leverage of up to x100 for cryptocurrencies, up to x500 for gold and silver, x100 for traditional stocks and commodities, and up to x 1000 for the forex market (currency).
This offers potentially outsized returns to the users of the platform since it allows them to make bigger bets with small investments.
Leverage can be a very powerful tool with which to generate great profits, but this feature is only recommended for users with a medium to high trading experience.
Example
Imagine that you are using x100 leverage on your trade of 0.1 BTC. What this means is that you can make as big a bet as someone who is using 10 BTC. Leveraged trades enable the trader to make bets much larger than those that would be made without leverage and giving the possibility of obtaining greater profits.
However, you must be careful with using leverage since the moment your bet goes wrong and generates losses of 0.1 BTC (the capital with which we are operating) you will be liquidated and lose all your capital.
Conclusion
Whether you are an experienced trader or just started, PrimeXBT Exchange is a good choice.
This platform offers many features to its users making it a one-stop-shop for all trading needs. Trading with leverage, trading cryptocurrencies, stock markets, or commodities, providing tools for technical analysis, the Covesting service that is sure to get the community talking, the option of using Turbo for those who want to bet and generate profits quickly, without forgetting the 4-tier referral system.
And to all this, we must add the efforts of the platform to offer class-leading security features and 24/7 customer support.
PrimeXBT is undoubtedly one of the best exchanges out there for a beginner to the world of trading.
Links of interest