PrimeXBT, the multi-asset Bitcoin trading platform offering up to 500x leverage on cryptocurrencies, forex, commodities and stock indices, announced the reduction of its fees on FX instruments and lowered financing on leveraged trades.
Already, PrimeXBT's fees are considerably lower than the majority offered by other trading platforms, with this move to decrease the commission incurred on all forex instruments by a further 10X, from 0.01% down to 0.001%.
The per-day borrowing cost (financing) has also been significantly lowered across all crypto instruments for positions that are held longer than a day, and positions executed within the same day incurring no financing fee at all.
10X Lower Trading Fees on Forex, Spot Gold, & Spot Silver
PrimeXBT's 10X fee decrease is noteworthy when considering the foreign exchange market is the largest and most liquid market in the world, trading on average more than $5 trillion per day. This huge trading volume makes forex ideal for intra-day traders using leverage as it allows them to yield more of their profits on successful trades.
The PrimeXBT platform offers access to 18 of the world's most popular forex instruments, all of which have been reduced by the factor of 10X. In the table below you can see all of the available forex asset pairs and their new lower commission rate: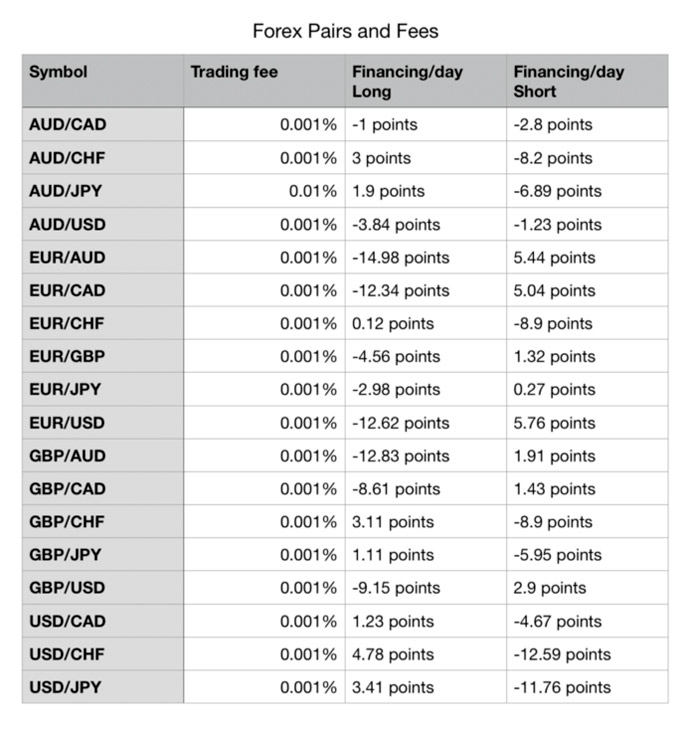 Additionally, the trading fees on spot contracts for Gold and Silver have also been reduced by 10X, see below:

Overnight Financing Fees Reduced
PrimeXBT's fee restructure allows traders to open and hold long-term positions with significantly reduced overnight financing fees which ultimately leads to an increased ROI. Therefore, trading at PrimeXBT is made more appealing not only to intra-day traders, but institutional investors, and long term retail investors alike, with the benefit of these financing fee reductions being most pronounced when executing strategies that require trade durations longer than one day.
PrimeXBT's modified overnight financing fee structure: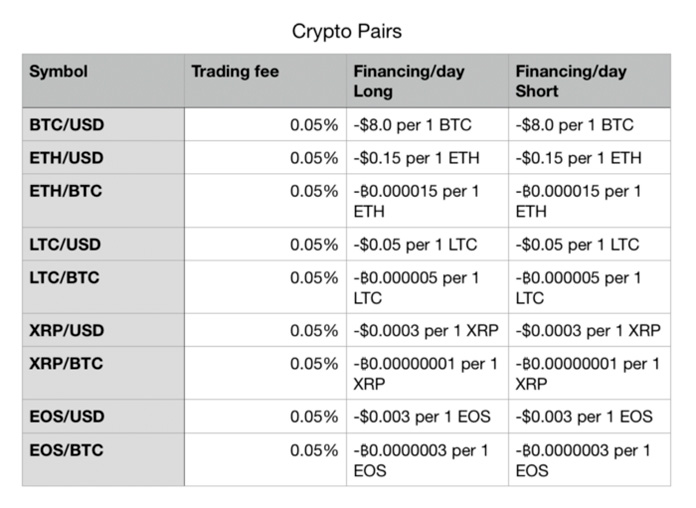 Covesting Fund Management Module Coming Soon
In yet another first, PrimeXBT is to become the first major crypto trading platform to provide its traders with the capacity to create or join investment funds, with the impending release of a full-scale peer-to-peer Fund Management Module.
The module is the product of a collaboration with digital asset exchange, Covesting, and marks an innovation that will combine the partner company's sophisticated copy-trading technology with PrimeXBT's world-class asset variety, industry-leading leverage, and advanced tools.
This unique technology will allow traders and investors to work together to maximize their profits, and share in their successes.
Traders of varying degrees of experience will be able to use the module to create funds, where investors may analyze a range of statistics, including the performance of the fund's past trades. Traders who would prefer to invest into funds with appealing ROIs and risk profiles will soon be able to easily do so, via this module.
All Features to be Integrated into PrimeXBT Mobile Apps
The Covesting Fund Management Module, as well as all of the web platform's existing advanced features, including high leverage positions, customizable trading interface, and the ability to trade a broad range of the world's largest cryptocurrencies and traditional assets, will also be available on the PrimeXBT iOS and Android apps.
Now, with this move that sees the further reduction of the trading platform's already low fees and financing, alongside its impressive array of features, positions PrimeXBT as one of the most attractive offerings for traders on the market.
About PrimeXBT
PrimeXBT is a fintech company established in 2018 which offers a Cryptocurrency, FX, Indices and Commodities trading infrastructure with up to 500x leverage for long and short positions, and aggregated liquidity from multiple liquidity providers. The company provides access to real-time market data and a wide range of trading analysis tools while maintaining security, liquidity, and enabling a safe and efficient trading environment for everyone.
For more information about PrimeXBT, please visit https://primexbt.com
Follow PRIME XBT on Facebook and Twitter.
For more information on this and other press release topics, contact Prime XBT PR department — [email protected]