Latest Bitcoin [BTC] News
True, Bitcoin bulls are back and it's pretty exciting catching this train up. After weeks of calamitous performance, traders as well as investors are relieved that prices are at least inching higher, reversing some of last year's crypto winter losses.
But, it has been this way if we take a close look at history. In fact, if we mesh recent performance with what happened in 2013-14 boom- bust cycle—then, prices dropped 90 percent; there are some similarities with recent trend.
Like what happened in subsequent years when BTC accumulated, we expect the same to print out this year. However, considering the level of market penetration, education levels and public awareness of the crypto space, volatility won't be as high and knee-jerk kind of reactions low if not non-existence. Instead, what will print out is a long accumulation and higher highs in lock steps. And many analysts agree with this projection.
After all, with infrastructure in place, favorable regulation and increasing investment in a shaping field, the depth of the Bitcoin market will gradually increase and that translates to low volatility which is perfect for high-grade, institutional level investors angling to participate with minimum exposure.
The launch of CME and CBoE futures back in late 2017 was supposed to pave the way for these HNWI but it did backfire as the asset prices slumped. Now that there is guidelines from the SEC, odds are the same agency could approve any or multiple Bitcoin ETF proposals spurring capital funneling.
BTC/USD Price Analysis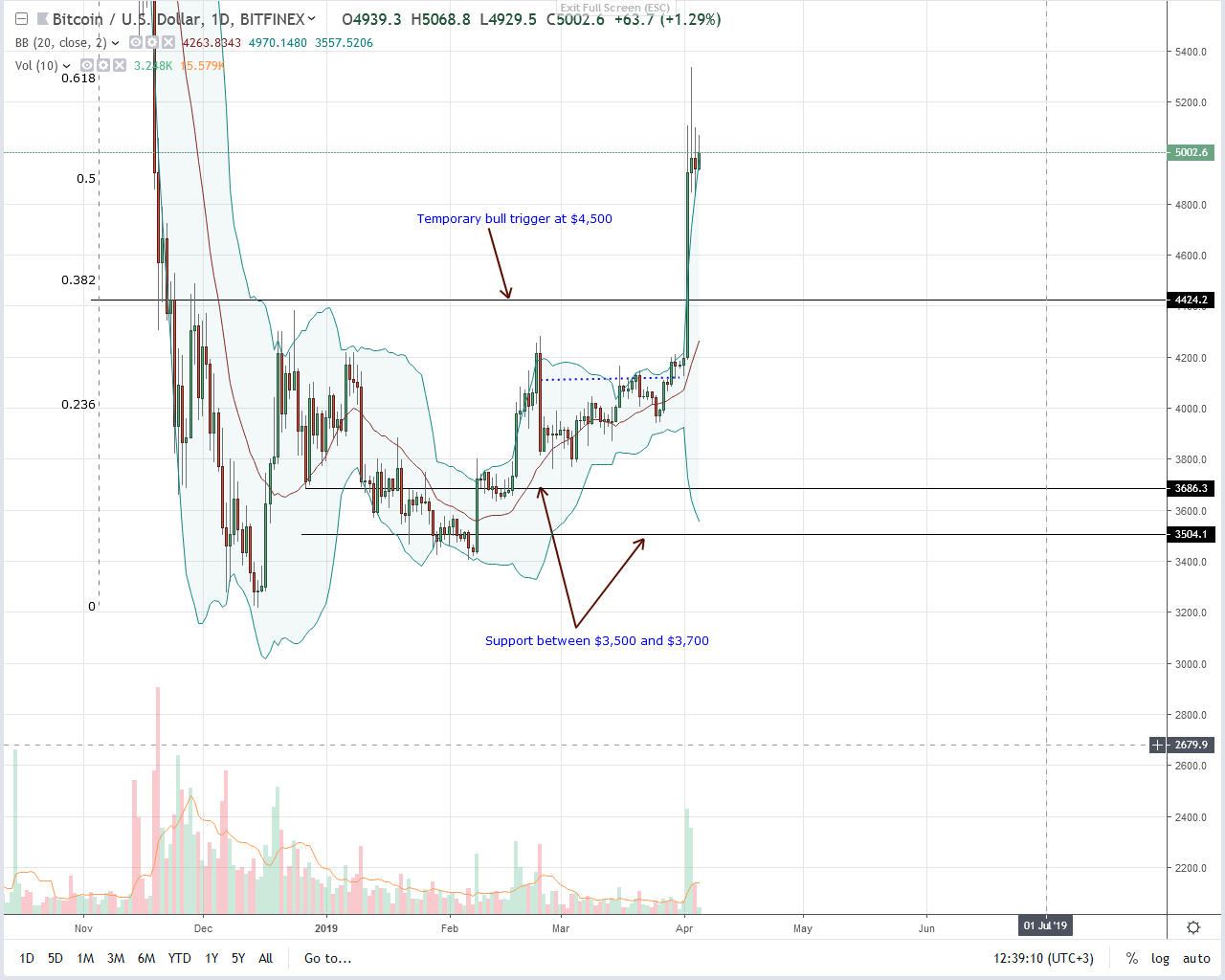 At spot rates, Bitcoin [BTC] is up 23 percent in the last week thanks to Apr 2 upswings. However, typical to such breakouts, prices are cooling down and to that end, Bitcoin is down 1.1 percent in the last day, dropping from the $5,000 round number.
All the same, the simple fact that bulls are stable above $4,500, an important previous resistance, now support level mean buyers are in control and every low is technically a buying opportunity. Overly though, there is weakness and the only time when participants will be in control is when there is a strong close above $6,000, our first bull target.
If that is hit and prices are maintained above $5,800, then the sell-off of Nov 2018 will no longer stand allowing for trend continuation towards $8,000 or higher. At the moment, what we have is a consolidation and it is likely that BTC could dip towards $4,700 now that we have several bull bars above the upper BB pointing to an overvaluation.
Chart courtesy of TradingView—BitFinex
Disclaimer: Views and opinions expressed are those of the author and aren't investment advice. Trading of any form involves risk and so do your due diligence before making a trading decision.