Latest Bitcoin (BTC) News
Bitcoin prices are swinging, dipping to $7,500 at some point yesterday but swiftly recovering. However, it is what is behind the strong bounce that is piquing interest from industry players. At spot rates, BTC did manage to wipe out yesterday's losses and even though prices are ranging within a $1000 zone, investor optimism will likely drive prices higher.
Already, participants have their eyes fixed on next year's halving and with expectations of scarcity allowing supply-demand dynamics to fairly price Bitcoin, prices will likely expand in response. It is for this reason that Brian Kelly, a crypto perma-bull and fund manager, says his team is buying in, holding, in expectation of higher highs in days ahead:
"We are going to hoard Bitcoin at this point. We're not going to sell it. You generally have a rally a year into [a Bitcoin halving], and a year out of it. And so, we're just at the beginning of that stage […] a supply cut is generally bullish."
Meanwhile, the adoption wave is unstoppable. AT&T, a big US phone carrier, now allows their customers to pay their phone bills with Bitcoin. By partnering with Bitpay, a crypto payment processor, users can easily clear their bills. The move is a boost for crypto in general with some convinced that the move is strategic as the phone carrier want to be part of the larger wave just in case Bitcoin use becomes common place.
BTC/USD Price Analysis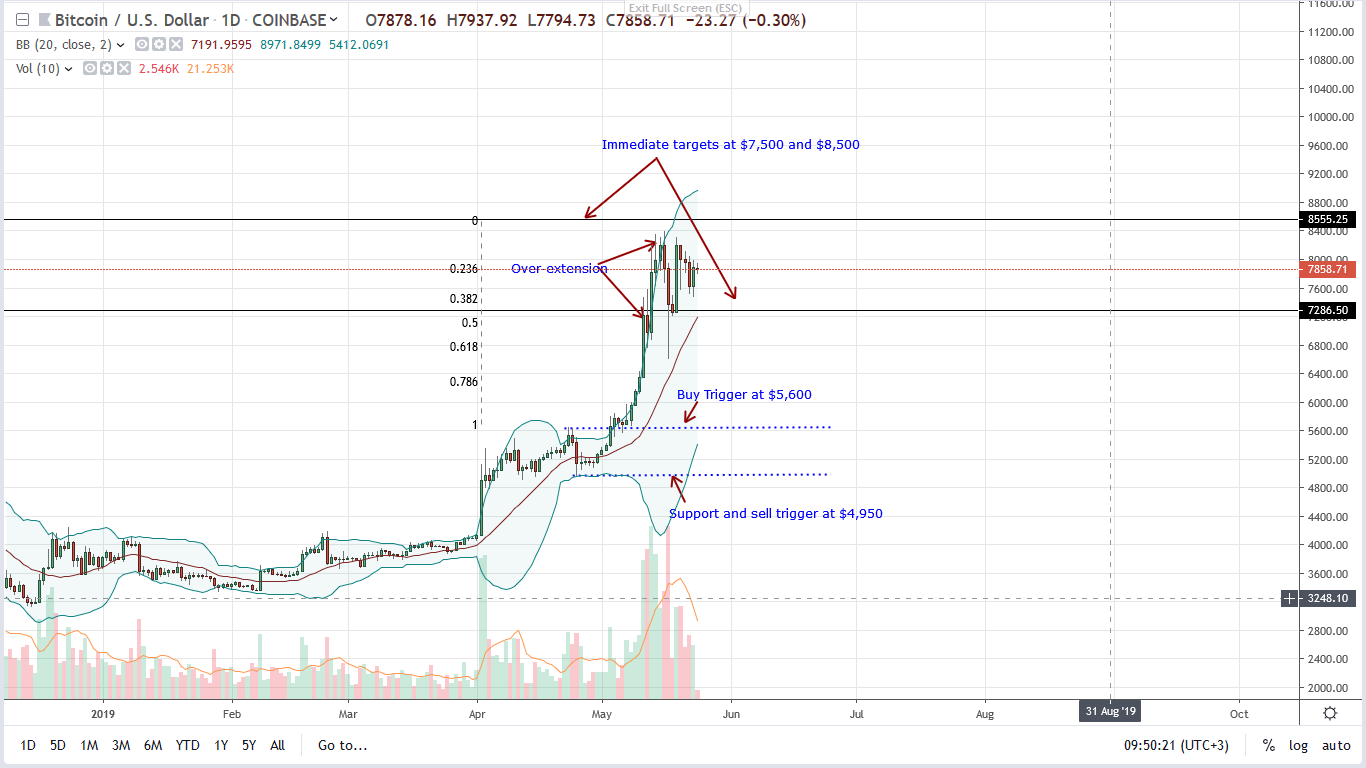 At the time of press, Bitcoin (BTC) is stable and consolidating inside a narrow trade range. Largely unchanged in the last few days, bulls are steadfast.
Despite sell pressure in the last few days, there is opportunity for risk-off, aggressive type of traders to ramp up in smaller time frames as long as prices are trending above $7,500, the minor support line.
The level flush well with the 38.2 percent Fibonacci retracement level of May 2019 trade range. Even so, any dip and sell off that will see Bitcoin sink below the middle Bollinger Band (BB) and $6,600, the 61.8 percent Fibonacci level of the same May trade range could temporarily nullify our trade plan.
On the reverse side, should prices expand and close above $8,500 in a trend continuation phase at the back of high trading volumes exceeding those of May 23rd average of 24k and more importantly 47k of May 13th thrusting prices above $8,500, then conservative traders can buy on dips with first target at $9,500 and later $10,000.
All Charts Courtesy of TradingView—CoinBase
Disclaimer: Views and opinions expressed are those of the author and aren't investment advice. Trading of any form involves risk and so do your due diligence before making a trading decision.