It is a sea of red for Bitcoin. In a low-level description of the current state of matters: Bitcoin is struggling.
And there are several metrics to support this point of view.
A case for Bitcoin Bears?
First, even with endless raving from supporters, the Bitcoin price broke below the Apr 18 bear bar as determined sellers flew back.
Second, for the first time since $10.5k, prices fell below the main support level—the 20-day moving average.
Third, there is a shift away from Bitcoin towards Ethereum and other altcoins judging from how dominance charts have been performing in the last few days.
A glance reveals that BTC dominance now stands at around 53 percent. It is a consistent, worrying decline from over 57 percent of mid-February.
Around that time, BTC bulls propelled prices to multi-month highs.
The Positives: Wellington Shields Has Bitcoin Exposure
All these bearish signals merge, dumping down expectations and holding the world's most valuable coin below $60k.
There are, however, flashing lights that may suggest a possible reversal of fortunes and resumption back to the primary trend.
First off, bulls are, as always, ecstatic. Second, institutions are bullish on BTC.
A recent SEC filing by Wellington Shields—a wealth management firm, revealed that they held shares of the GBTC.
These are approved crypto products regulated by the SEC since Grayscale's GBTC is an SEC-reporting company.
Bitcoin Price Analysis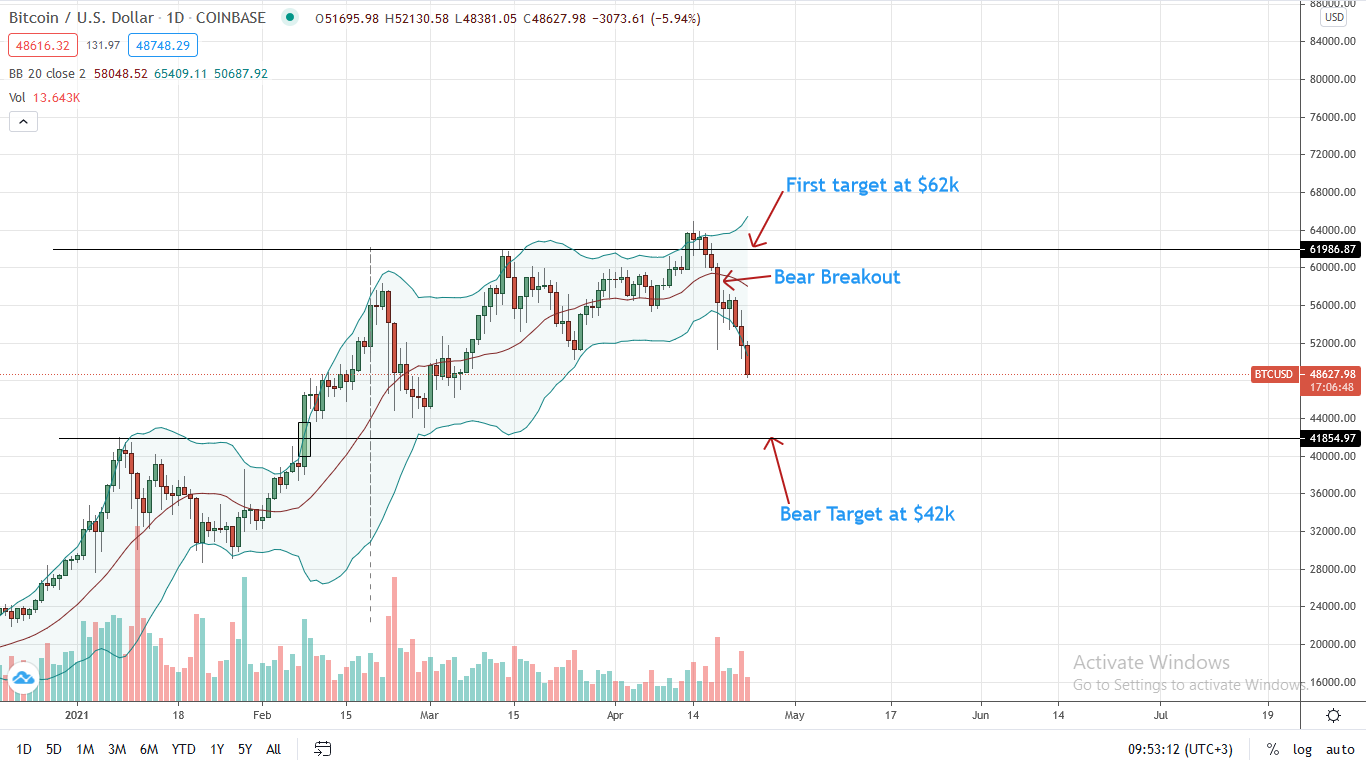 The question is: Is Bitcoin prepping a contrarian move now that most traders are bearish?
Week-to-date, the BTC/USD price has cratered 22 percent while trading volumes remain steady. At the same time, the Bitcoin price has broken below $50k.
From the daily chart, bears are in control after $50k fell. Notably, bears have broken below Apr 18 bear bar, foreshadowing sell pressure from an Effort-versus-Result perspective.
In light of the above, traders can adopt a cautious approach. Meanwhile, aggressive traders can ride the bears by selling on pullbacks.
Since BTC/USD is now below $50k and bear bars banding along the lower BB suggesting strong sell pressure, odds of Bitcoin sliding back to $42k—or Jan 2021 highs, in a retest remain high.
Chart Courtesy of Trading View
Disclosure: Opinions Expressed Are Not Investment Advice. Do Your Research.