Polygon [MATIC] has defied the overall market movement and flashed green like no other cryptocurrency on the leaderboard. It surged all the way to the 15th position after a phenomenal performance this month. But there is more than what meets the eye.
The multichain scalability platform for Ethereum, Polygon's native token, MATIC witnessed a ten-fold surge in terms of its market cap since February alone to $15 billion. After amassing gains of nearly 160% in a seven-day trailing period, even as the broader crypto market suffered major corrections, MATIC broke the top 20 crypto assets by market cap.
Over the past 24-hours alone, the digital asset was up by approximately 50% which pushed its price to $2.47.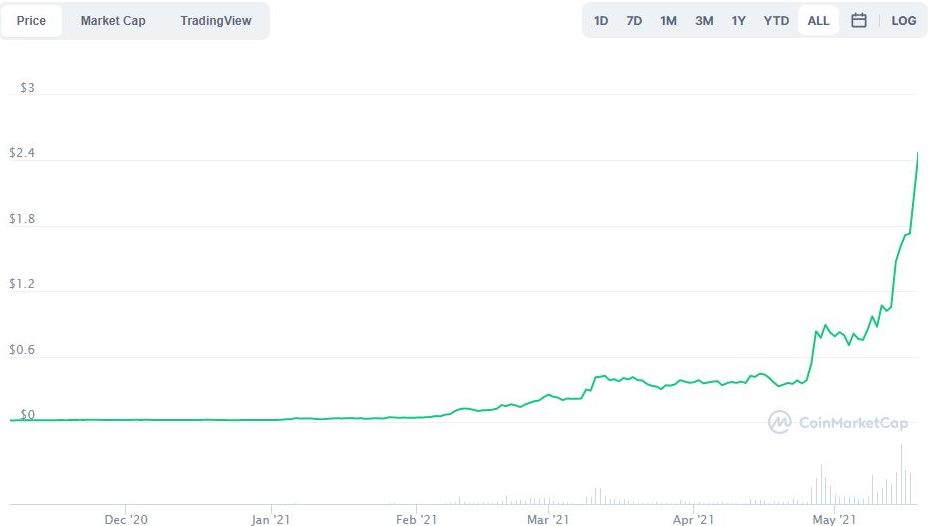 One of the fundamental factors that have strongly contributed to the increased adoption of its blockchain in the rising players in the field of gaming, non-fungible tokens [NFTs], as well as decentralized finance [DeFi].
In a crypto-wary India, Polygon is touted as one of the biggest success stories. Since the beginning of 2021, the number of applications built on top of it, which is based on the Ethereum blockchain, has grown by eight times to nearly 400 which is no less feat.
Recently, the platform had partnered with an Indian multinational IT company called Infosys' consulting branch to incorporate NFTs, DeFi, as well as insurance in its ecosystem.
More Stats On Polygon
In just a matter of a week, Polygon had added 75,000 active user wallets which interacted with the top 20 decentralized applications on its network. Notably, 16 of those 20 Dapps, deFi, and exchange cohorts which was indicative of Polygons' emergence as a potential rival Binance Smart Chain and Ethereum. It was speculated that the users flocked into the platform to get a pie of yield farm opportunities on Polygon.
As the usage increased at unprecedented levels, this, in turn, triggered the volume to note a sharp increase of almost $1 billion. Over the span of four weeks, DappRadaer revealed that the number of submitted and now tracked Polygon decentralized applications had risen from 61 to 93.
Actual Activity
But the activity might have been exaggerated. Research Analyst Igor Igamberdiev claimed that "arbitrage bots have spammed Polygon with failed transactions." He revealed that from the beginning of this month, failed transactions consumed up to 70% of gas on certain days. While these transactions do not have any notable impact on the sidechain performance, however, the data regarding the activity on the platform are "significantly overestimated."
His tweet read,
"Let's take a look at the Top-2 recipients of failed transactions. On May 7, the first serious arbitrage bot appeared, which generated over a million such transactions due to incredibly low fees. In recent days, they have a lot of competitors."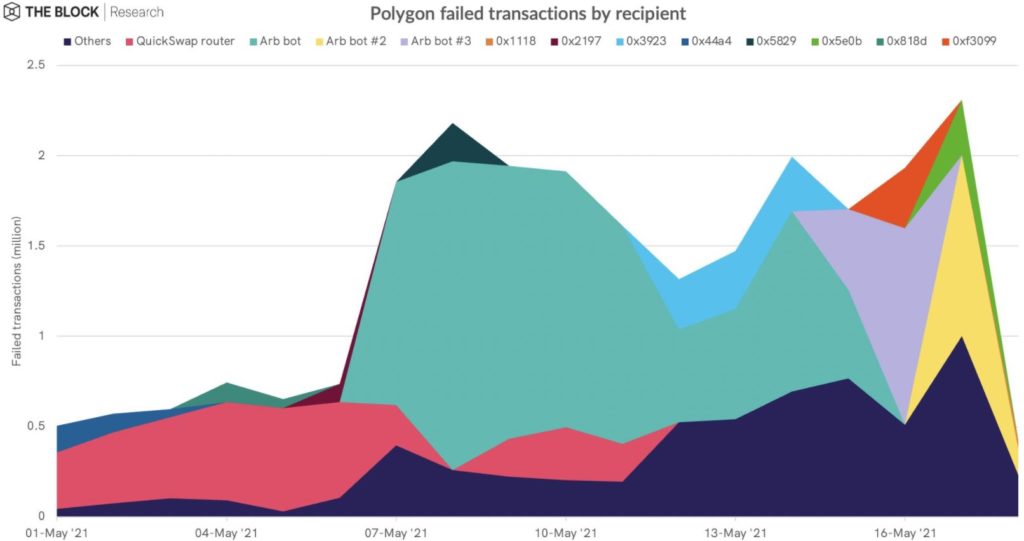 Igamberdiev went on to add,
"While scaling solutions have successfully lowered fees, they are already starting to run into problems due to adverse activity. My user experience on BSC continues to deteriorate with each day, so it seems like the same will happen with Polygon."
---
If you found this article interesting, here you can find more Blockchain and cryptocurrency news