The Polygon network is on the rise in terms of network revenues, but some other metrics are declining, DAU, for example. It seems that despite the pullback in daily active users, the revenue in this network is increasing and may result in more price jumps for the MATIC token, too.
The declining trend for daily active users can happen because of many reasons. One of the biggest ones is a decline in some projects that were responsible for the biggest jumps in these metrics.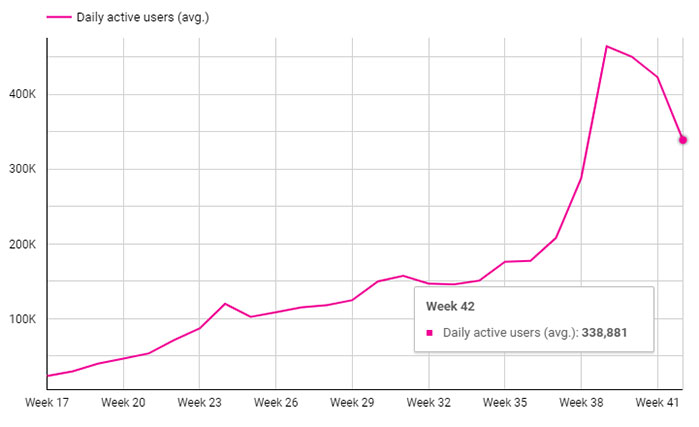 Twitter user @RaphaelSignal published a new analysis about the current stats of the Polygon network. The data shows that fewer users are actively using the network, but the revenue is on the rise.
The biggest drop happened in the DAU metric that experienced a -19.73% drop in the last week. It's the third week we see a decline in DAU on Polygon that can be because of many reasons.
1/ $MATIC sets ATH in network revenues +51%!! Active addresses pullback. Net bridge metrics positive.

DAU: 339k (-19.73%)
Tx/day: 3.7mm (+11.15%)
Rev/day: $64k (+51%)
Cost/tx: $0.017 (+36%)
Bridged Users (net): 25k (+17%)
Value Bridged (net): +$46mm (-75%)

Full analysis 👇👇👇 pic.twitter.com/5ZNBKW9PgR

— Raphael (@RaphaelSignal) October 28, 2021
One of the biggest reasons is that the active users metric in Arc8App was declining and recorded a -78% DAUs in the last week. This game was one of the biggest forces behind the last growth in DAU on Polygon.
But there are still some games that take the responsibility of increasing the metric. Games like REVV, idle Mystic, and Neon District experienced growth in terms of daily active users in the last week.
Despite the recent decrease in daily active users on the Polygon network, it's still showing a significant increase in month-over-month comparison. Compared to similar blockchains like Ethereum and BSC, Polygon still needs to fight to grow.
The number of active users on this network is currently 60.87% of Ethereum and 25.10% of Binance Smart Chain. But the overall trend in Polygon charts is an uptrend, and we can expect it to grow even faster in the near future.
Net depositors show another metric that is in favor of the Polygon network. MATIC saw a new 25.5k net depositors in the last week that continues the uptrend of the week over week net deposition with a 16.98% increase.
The most interesting increased metric was network revenues in the last week on Polygon. It reached a new ATH with a whopping 51.17% increase.
The overall stats show that still, the gaming sector is the biggest moving force on the Polygon network. There are many games coming to the network soon, and they can bring more mainstream users to this ecosystem. NFTs are still very popular, and we can expect them to have big effects on the Polygon network.