Polygon prices are up 212 percent from 2022 lows, expanding with decent participation levels and spearheading the general recovery in the crypto markets.
Currently, the coin is stable on the last trading day. From the daily chart, there are lower lows relative to the upper BB, signaling general weakness in the uptrend.
Overall, how prices react at $1—the primary resistance, the middle BB or $0.75—which are two key support levels–, will shape the short to medium-term price trajectory. Technically, buyers are in control, and bears have failed to reverse recent gains despite the contraction at the tail end of last week.
Polygon Joins the Walt Disney Accelerator Program and Tests zkEVM
The coin's stellar performance could be attributed to various factors, including Polygon being picked to be part of the Walt Disney Company accelerator program.
This is a major milestone for the Ethereum sidechain as it became the only blockchain company to qualify. Under this program, Polygon will be building Augmented Reality, NFTs, and Artificial Intelligence experiences. Polygon is ideal for NFTs and other smart contracts-powered solutions because of its low fees and high throughput.
The announcement is after Polygon said it was testing its zero-knowledge Ethereum Virtual Machine (zkEVM) implementation. According to the co-founder of Polygon, Mihailo Bjelic, this solution will slash trading fees by around 90 percent and boost transaction processing speeds by approximately 50 percent.
MATIC Price Analysis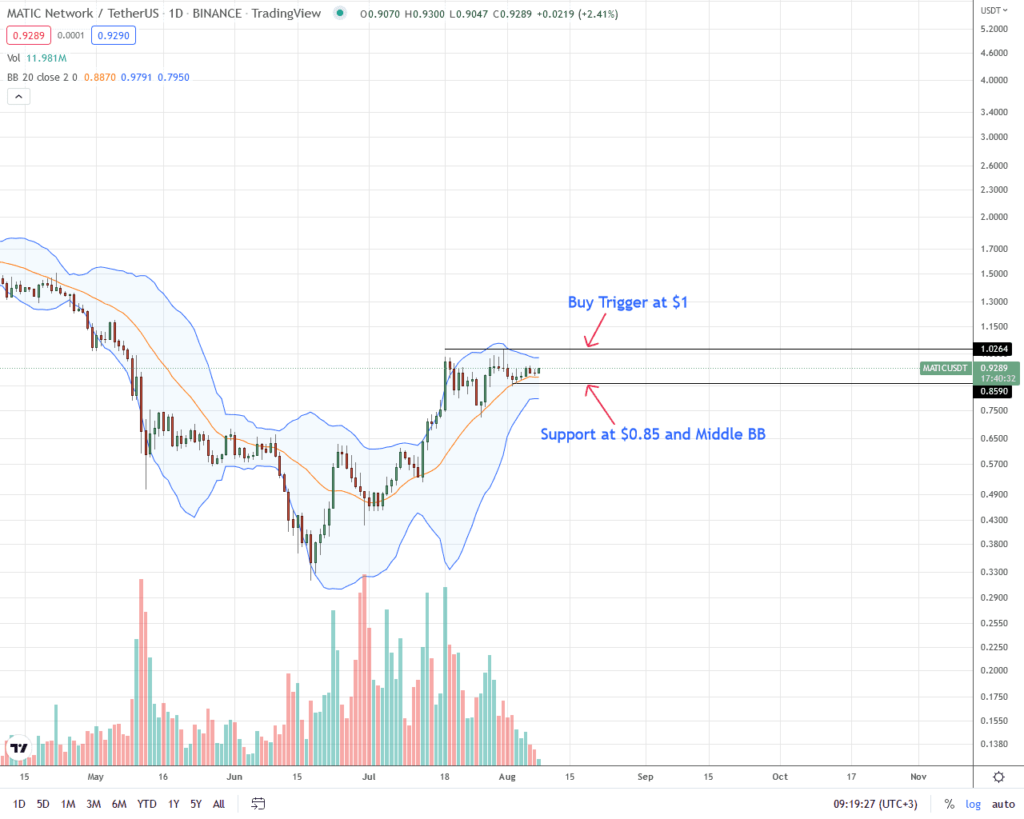 The MATIC uptrend is still solid, and the coin is up 212 percent in the last two months.
From the daily chart, the immediate support levels stand at the middle BB, or $0.85, and $0.75, on the lower end. Meanwhile, primary resistance is at $1, a round number.
As prices consolidate inside a bull flag, the coin is generally within a bullish formation, with the July 27 and 28 bull bars defining the current trend.
A close above $1, confirming gains of July 27 and 28, may propel MATIC towards Q1 2022 lows of around $1.35 in a bullish continuation formation, especially if the breakout is with rising trading volumes.
Conversely, any dip below the middle BB may draw bears that may unload; targeting $0.75 in what could mark the beginning of a retest back to June 2022 highs.
Technical charts courtesy of Trading View
Disclaimer: Opinions expressed are not investment advice. Do your research.
---
If you found this article interesting, here you can find more  Polygon news