Like the rest of the crypto market, Polygon is under pressure despite a vibrant dApp ecosystem.
As of writing, MATIC is down 5% in the last week of trading, losing double digits from February highs.
Changing hands at $1.14, the token is within a bearish formation in the short term, trending within a clear bear candlestick of last week.
While Bitcoin prices steadied, MATIC remained under pressure, only pausing temporarily on March 5.
For this formation, sellers are dominant and have resistance at $1.30 and support at $1.10 in the short term. These lines are critical and, if broken in any direction, would shape the short to medium-term formation.
The Future is Layer-2
Polygon is one of the most active smart contracting platforms, factoring in the number of projects launching on their network.
As a layer-2, helping scale Ethereum, that's also compatible with the most active smart contracting platform, projects choosing the network to opt for scalability and low transaction speeds. All this, it should be noted, is without losing Ethereum interoperability.
For the advantages layer-2s present, Sandeep Nailwal, the co-founder of Polygon, thinks competing public blockchains like Avalanche and Cardano might fizzle out over time.
This is because most developers will prefer to launch on layer-2 protocols while maintaining a connection with the Ethereum mainnet.
So, this happened earlier! https://t.co/j1idDwrp5G

— Ran Neuner (@cryptomanran) February 22, 2023
In his view, the future won't be multichain. Instead, considering the current state of dApp deployment and activity, Ethereum would emerge as a leader.
Polygon Price Analysis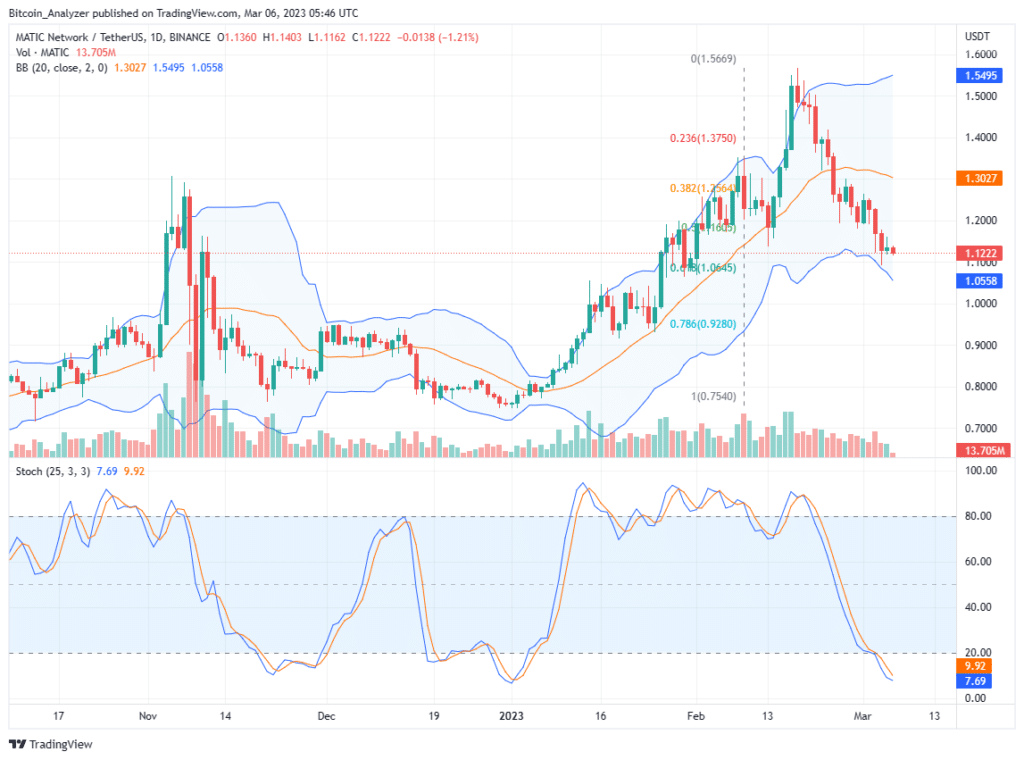 Even though the token is stable on the last day of trading, it is yet to be seen whether bulls will recover, blasting above immediate resistance lines.
Since prices are low and within the bear bars of March 3 and 4, traders can expect more losses. In that event, losses below last week's lows might cement bears' stand, setting the base for further drops towards $0.95—December 2022 high.
On the other hand, a recovery above $1.30 could lift MATIC towards $1.58 in what would be a bullish continuation formation.
Technical charts courtesy of 
Trading View.
Disclaimer: 
Opinions expressed are not investment advice. Do your research
.
---
If you found this article interesting, here you can find more  Polygon news.