This article will be focusing on the Poloniex exchange, in particular, one of the earlier exchanges launched in 2014 and based in Delaware, United States. This Poloniex review will take a look at the features that the exchange offers including the fees and markets available, have a brief description of creating an account with the exchange and making your first deposit and conducting a trade.
The Poloniex review won't be complete without a look at the pros and cons of trading on the platform.
The cryptocurrency industry is going mainstream and the biggest players helping achieve this is cryptocurrency brokers or exchanges if you will.
With over 200 exchanges listed on the CoinMarketCap platform, there is an exchange for every geographical location and crypto asset.
However, markets aren't evenly distributed and places such as the United States, Chain, and South Korea are more active than others.
This means that their digital assets economies are more advanced and this demands that the brokers serving such markets have to adapt to effectively cater to the demand of investors in these markets.
About Poloniex

The Poloniex Exchange was launched in January 2014 by Tristan D'Agosta and registered in San Francisco, California, however, it has since moved its headquarters to Delaware.
In March 2018, Poloniex was acquired by Circle international, a US financial institution with $140 million in venture capital financing.
Most of Poloniex's users are based in the United States but the platform serves other customers from close to 200 countries.
The exchange has three products which are the exchange platform, the margin trading platform, and the lending platform. -Poloniex has recently removed two of these products for US residents.-
It is the exchange's margin trading platform though that has been a big hit with the crypto community.
According to CoinMarketCap, the exchange is ranked 46th in adjusted digital assets trading volume reporting as much as $26.5 million in the past 24hr period.
Another reason for the popularity of Poloniex is the markets that the platform supports.
There are over 100 altcoins available for exchange and these can be traded on 5 different markets i.e., BTC, ETH, USDC, XMR, and USDT markets.
Creating an account on Poloniex
Signup & Login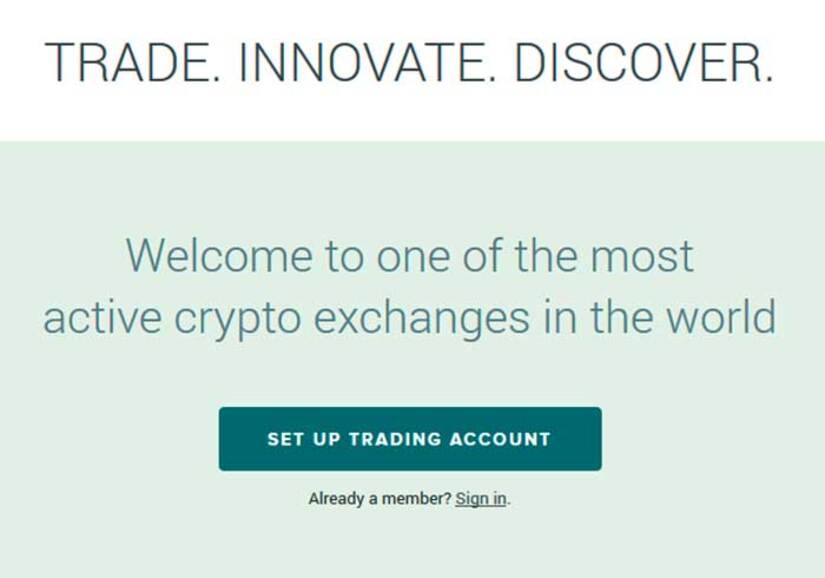 If you wish to create an account with Poloniex, it shouldn't take you more than a few minutes. The interface is clean and intuitive.
The sign-up button is hard to miss. Just navigate to the homepage and click on the "SET UP TRADING ACCOUNT" button at the center of the screen.
The signup process involves five-step where you will go through the description information page, after which you will be prompted to activate your account by confirming your email address.
The activation email sent to your address will contain a link back to the homepage where you will then use your login information to access your new account.
Once logged in, you will be required to update your profile, verify your identity and set up security measures for your account including activating 2-factor authentication.
How to make trading in Poloniex Exchange
One thing to note before opening an account with Poloniex to trade with cryptocurrencies, is that the exchange does not offer fiat-to-crypto trading pairs, therefore, the Poloniex exchange is not ideal for purchasing crypto using fiat currency.
If you wish to acquire crypto using credit cards or bank transfers, then you have to use another exchange.
However, once you have access to virtual currencies, you can easily deposit those into your account on Poloniex and proceed to trade.
The process is really simple, Poloniex offers users three options when trading on its platform.
You can opt to purchase or sell the particular asset (coin or token) you wish to trade at the prevailing prices or you could opt to place a limit order to either purchase or sell your asset above or below the prevailing market price.

As mentioned previously, Poloniex exchange has five major crypto markets that you can make trades in which include the newly listed USDC stable coin from Circle International.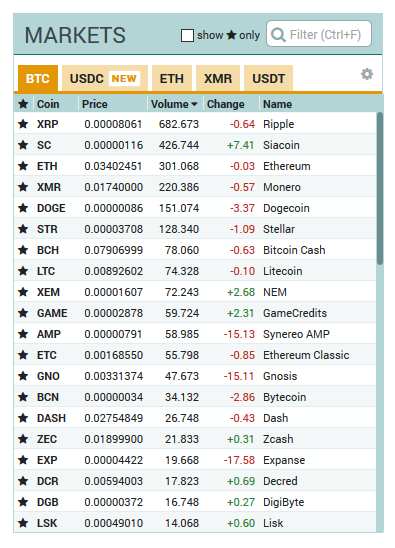 Now since you're familiar with the interface and trade setups, let's have a look at the features that investors love so much about Poloniex.
Poloniex Exchange Features
It would be interesting to note that the Poloniex exchange has very high liquidity and last year (2017) alone it accounted for most of the Tether (USDT) trades than any other exchange.
The layout is also very intuitive and clean making it easier for new exchange users to find their way around. Experts as well won't be disappointed by the simplicity.
Fees
Poloniex exchange fees are some of the least in the market. It is free to deposit assets to the exchange.
In order to encourage more trades on the platform, the exchange has implanted a volume-tiered fee structure where the more you trade the cheaper it gets with time, therefore, ensuring that the large volume traders are rewarded.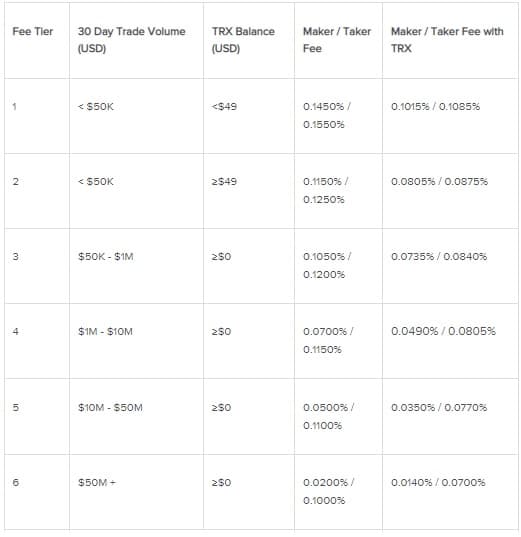 Looking at the fee schedule you'll notice that the fee is divided into 'maker' and 'taker' fees.
A maker is an individual who offers to buy or sell a certain amount of asset by listing it on the order book prior to a trade.
A taker, on the other hand, is the individual who accepts to sell or purchase assets available on the order book at the quoted price.
Poloniex rewards makers for creating liquidity by charging fewer fees as opposed to takers.
Therefore maker fees range from 0.10% to zero (!). Taker fees also vary according to volume traded ranging from 0.20% down to 0.10% of the trade value.
For customers of the margin platform, their fees are a little bit higher as they have to pay interest on the borrowed cash on top of the standard fees.
The lending platform is also quite lucrative especially for the lender earning interest figures as high as 15% on their money.
Withdrawal & Deposits
https://www.youtube.com/watch?v=YjfXqSg2Pzw
As mentioned previously, Poloniex does not support fiat currencies such as dollars or pounds (government currency).
Therefore if a user wishes to use the platform, they will have to deposit and withdraw in crypto.
Deposits and withdrawals are free to execute as opposed to most exchanges that normally charge for withdrawing funds.
As an example, if you want to deposit or withdraw an asset, the first log into the exchange then navigate to the 'Balances' button on the top navigation panel.
On the drop-down list select 'DEPOSITS & WITHDRAWALS'.
The page has a list of all supported assets and on the far right of each row is an option to either deposit or withdraw.
Select the appropriate link depending on your intention.
Poloniex Security

Poloniex offers wallet services but for safety precautions don't store large sums of crypto on any exchange for long periods of time.
As a Poloniex user, you have the option of enabling 2-factor authentication (2FA) and also two-step security codes mostly sent to your email address.
These extra steps will ensure that whenever you perform risky operations such as withdrawals, you are doing them consciously and also it is proof that you (the actual owner) are performing the transactions.
(The extra steps are worth it.) As an added precaution, Poloniex offers cold-storage services for its wallets.
This means that private keys are stored in air-gapped computers to ensure that in case of an attack on the exchange through online cyber-attacks, the funds of its customers will be safe.
Poloniex even says this about their security,
"The vast majority of customer deposits are stored offline in air-gapped cold storage. We only keep enough online to facilitate active trading, which greatly minimizes risk and exposure."
Payment Methods accepted
The Poloniex exchange is really a crypto-only exchange and therefore all transactions are processed in cryptocurrencies.
BTC is the main payment currency used to calculate the trade volume and fees for transactions.
Cryptocurrencies supported
According to CoinMarketCap, Poloniex lists a little over 100 digital assets on its platform.
However, this figure keeps changing as more assets are added and others are delisted.
Poloniex Pros & Cons

Now finally to the good, the bad and the ugly, no Poloniex review would be complete without highlighting the advantages and disadvantages of Poloniex as an exchange.
First, let's start with the advantages.
Advantages
The exchange has support for several digital assets (CoinMarketCap reports over 100 different assets)
The exchange offers two additional services I.e., margin trading and lending that help traders increase their funds.
The other thing that you will love about Poloniex is the clean and intuitive interface.
Finally, as an exchange platform, the stop-limit purchase and sell order option is a nice addition that will allow you as an investor to get into and out of trades at more profitable points.
Not to forget that the fees on the platform are low and can get even lower with higher transaction volumes.
Disadvantages
Now, of course, every good thing has its downsides and Poloniex exchange is not an exception. Here are some of its now sides:
Poor customer service. The most glaring fault that Poloniex has and which has been plaguing it for several years now is its borderline horrible customer service.
Several users of the platform have reported that their inquiries and complaints going as much as 45 days without a reply.
Some have even reported discrepancies with their balances after canceling trades (of which cannot be explained for 45 days).
Now, of course, this is not a feature of the exchange but something that sadly happens more often than it should not and we hope that now that Poloniex is under new management (Circle), it will invest on better customer support.
The platform supports KYC. Now this may not look like a disadvantage but for die-hard blockchain supporters, giving a company your identity to the store goes against their believes that "trusted third parties are security holes"
Poloniex review – Conclusion
There is a lot going on for the Poloniex exchange but the exchange is facing steeper competition that it will have to keep innovating to ensure that it maintains its position in the market.
Recent news on the regulation of the crypto space especially in the United States has forced the exchange to bar its U.S. customers from engaging in margin trading and lending.
Considering that most of its customers are based in the United States this means that it will be losing a lot of customers.
Other than that Poloniex has a lot going for it as an exchange with a few faults that several investors can ignore and focus on the huge upsides that it offers. It is a solid exchange.