Having established itself as one of the most innovative crypto projects on the market, Polkadot has been able to solve one of the biggest issues facing the crypto industry, a place where a lot of interesting projects are struggling to interact with each other and exchange information effectively and efficiently.
DOT is Polkadot's token and is the first crypto asset that offers unparalleled interoperability for blockchain businesses around the world. With its strong presence in the crypto market and its increasing popularity, this project has firmly established its place in the industry. Because of this, it attracts a lot of investors' interest, as a result of which it has become very popular. We have outlined our Polkadot price prediction for the years 2022-2025 in the following article.

Polkadot (DOT) Price Prediction and Forecast 2022, 2023, 2024, 2025
As one of the first crypto projects to prove that it is reliable and innovative crypto project, Polkadot has attracted a lot of attention from investors. Leading crypto experts have made some predictions about Polkadot, which can be found in the following list.
Polkadot was considered bearish by many investors over a year ago, as they believed it would fall both in the short-term and in the long-term. Nevertheless, the DOT price has shown them all to be wrong. There are many experts who are bullish on Polkadot these days and believe that this project has great potential and a lot of promises.
In some predictions, the token is still expected to go into the $13-15 range in 2022, according to some pages, while others are more bullish on it in the short term. They do, however, predict that Polkadot's price might rise nearly 50% in the next year, according to many Polkadot cryptocurrency price predictions.

Polkadot Price Prediction 2022
There was a continuing decline in the price of DOT in 2022, with a price tag of $26.67, a price that detracted from the price in the previous year. There has been a notable rise of 16.84% in digital assets since the 4th of January when it broke $30.79 in value. 
However, since then, DOT's price has been spiraling downwards, resulting in the price declining significantly. There was a test of DOT's support at $22.36 in January when it tested its high of the year. The price continued downward to $6.24 in September but may rise in the last months.
Price Prediction Websites
DOT is expected to reach an average price level of $7.44 by the year 2022, and Polkadot will reach a minimum price value of $7.18 by the end of this year and is expected to cross a maximum price level of $7.83. All these predictions are according to PricePrediction.

Polkadot is forecasted to price at $8.84 at the end of 2022 by CoinPriceForecast – which is a change of -68% from the previous year. It will be about a 38% increase from today to the end of the year. The Polkadot price is expected to climb to $9.20 at the beginning of 2023; it will rise to $10.39 at the end of the year, which is an increase of 62% from its current price of $8.38.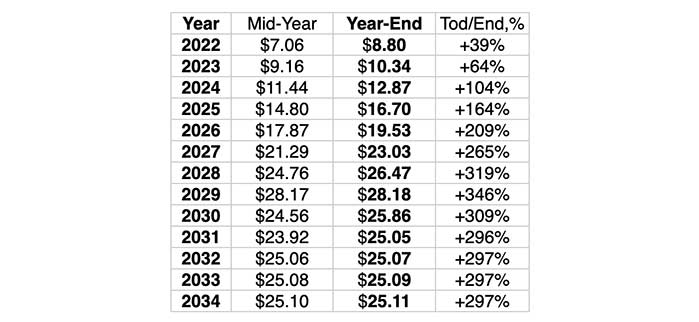 Prediction and Forecast Youtube Channels
According to a video from Coffee' N' Crypto, the Polkadot price may have seen its bottom in 2022. The video predicts the possible ways DOT can go, and one of them may lead to a $100 price tag in the coming years. $12 and $17 prices are some of the predictions for 2022 in this video.
Polkadot Forecast 2023
The growth of Polkadot will be accompanied by adoptions and utility, along with its rise with parachains. It is likely that sentimental belief and volume will increase over the course of the network.
Price Prediction Websites
DOT price has been predicted to cross the level of $14.15 at some point in the next few months, according to DigitalCoinPrice. There is an expectation that Polkadot will reach a minimum fee level of $13.67 by the end of the year. DOT prices are also capable of getting to a maximum level of $14.72, which is one of the highest levels in the economy.

There are several bearish prediction sources on the market, but WalletInvestor is among the most prominent. A few websites predict that DOT will be below $1 in 2023, and one of them is WalletInvestor. On this website, there is a maximum predicted price of $11.791 for DOT in April 2023. However, the minimum price is predicted to be $0.000001.

Polkadot Price Prediction 2024
It is possible that bigger institutions will become interested in using the protocol because of its interoperability, security, and user-driven governance. As a result, a wider audience would be attracted, who could contribute to the price reaching new highs possibly, as a result. 
Price Prediction Websites
In order to determine the price of Polkadot by the end of the current year, PricePrediction predicts that the price will cross the $15.70 mark in 2024. Therefore the expected minimum price value of Polkadot during the current year should be $15.27. Furthermore, we can expect that DOT may reach a maximum price level of $18.04.

The CoinPriceForecast forecasts that Polodot will move from $7.59 to $12.94. At the beginning of 2024, Polodot is expected to be valued at $10.39, but by August, it will rise to $11.50, and by the end of the year, it will be valued at $12.94.
Polkadot Forecast 2025
There is no doubt that Polkadot will become a strong competitor in the coming years. In addition, there can be a growth of the currency towards a new ATH due to certain perpetual contracts issued by exchanges. Collaborations between the community and more prominent blockchain networks might be extended in the future.
Price Prediction Websites
A recent report by DigitalCoinPrice shows that DOT's price will cross the $24.9 level sometime later in 2025. In other words, Polkadot is forecast to reach a minimum fee of $24.66 by the end of this year based on its trade volume. It is also possible for the DOT price to reach a maximum level of $29.19 at some point in the near future.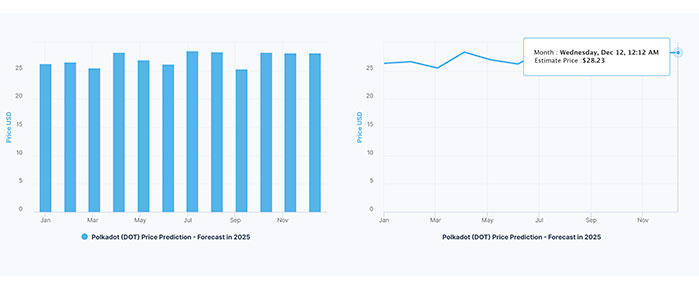 WalletInvestor is bearish for Polkadot price even in 2025. The minimum price on this source is predicted to be $0.283. The important note is that this website thinks DOT won't go higher than $2.89 in 2025.

Prediction and Forecast Youtube Channels
According to a video from Crypto University, Polkadot may have a very bright future in 2025. if the adoption rate and expansion continue as it has been in the past years, the price may even rise to $46 in 2025. After all, the video is very bullish about DOT and calls it one of the market influencer projects.
Is Polkadot (DOT) a good investment?
Despite Polkadot's youth, it has already achieved a great deal. You could reap big rewards in the long run if you are willing to take risks with your investment. If a better, newer technology comes along that is superior to Polkadot, then it could also go bust and go out of business.
When you invest in DOT, you are investing in Polkadot's network, which is the foundation of this ecosystem. There might be a better way to assess investors' faith in web3 as the third iteration of the internet that's currently emerging than to rely on far-off price predictions, but the concept of interconnected parachains could serve as the building blocks for investors' faith in web3.
Despite the fact that Polkadot's promises of bringing the world closer together are complex and require significant research, it is possible that some of these promises are already being fulfilled anecdotally.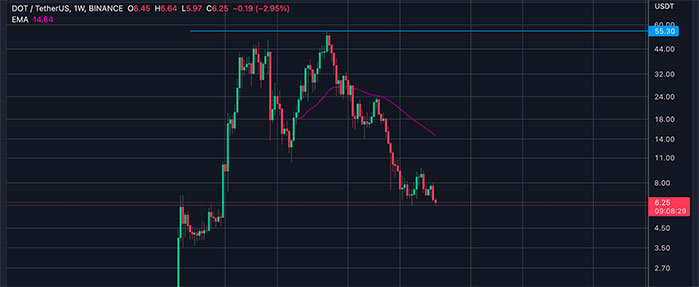 A unique digital asset, Polkadot is a popular and rapidly gaining traction in the world of cryptocurrencies. The blockchain is further decentralized with the use of revolutionary technology, which allows you to create new chains.
In spite of this, Polkadot is facing strong competition from a number of powerful projects that may, over time, outcompete it. It is Polkadot. However, that has set itself apart from other blockchain platforms by providing cross-chain functionality that allows different blockchains to be seamlessly interconnected. In the end, the price of Polkadot will depend on the future projects and uses that it is put to.
Conclusion
Since the DOT token's public launch in the summer of 2020, the spot-market price has grown by 500%. Considering you escaped Polkadot's clutches in less than two years, that's an impressive return, but it doesn't imply you missed out on anything.
As an alternative to studying those huge gains from the past, you might be able to look at the current DOT price in terms of a 88% discount from the all-time high price in November 2021.
It is expected that Polkadot's developers will be able to come out with a lot of game-changing projects in the next couple of years, such as decentralized finance and blockchain-based games and the next generation of payment systems. Polkadot's ecosystem should be able to provide investors with wealth-building gains as the company continues to expand.
---
The Price Predictions published in this article are based on estimates made by industry professionals, they are not an investment recommendations and it should be understood that these predictions may not occur as described.

The content of this article should only be taken as a guide, and you should always carry out your own analysis before making any investment.