Pickle Finance announced the launch of the platform on Polygon blockchain. It was nine months ago that Pickle launched on Ethereum. The new Pickle Finance is ready to provide financial services to Polygon users with similar interfaces and tools that are available on Ethereum.
The new platform may be successful in attracting more users because it benefits from the attractive solutions of Polygon, like lower gas fees and faster transactions.
Polygon Ecosystem Expanding at High Speed
Polygon is one of the most successful cross-chain solutions in the industry. It combines the best offerings of various blockchains like Ethereum and offers a comprehensive solution with interesting benefits.
Lower gas fees and faster transactions are two of the most popular benefits for projects launching on Polygon. It's the reason we see many projects migrate to this blockchain or launch a new version on that.
Pickle Finance is the latest project to launch its services on Polygon, next to Ethereum. The platform was launched nine months ago on Ethereum and is now trying to expand its user base by coming to the popular Polygon blockchain.
Pickle Finance team believes Polygon has some advantages over similar blockchains like Polkadot, Cosmos, Avalanche, and others. It relies on the security claims of the Polygon blockchain. Besides, the ability to communicate with the Ethereum blockchain and supporting its dApps is a very important benefit for the Pickle team. Many similar DeFi services have launched their platforms on Polygon Sushi, Aave, and Balancer are some of the most famous ones.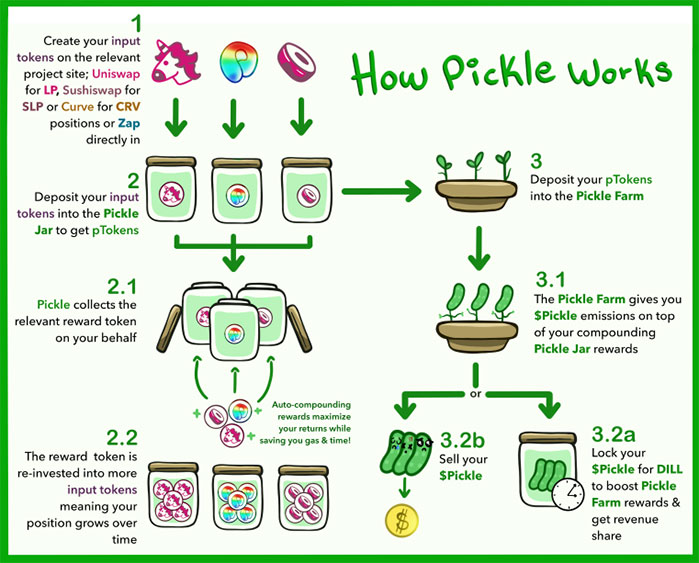 Most of the DeFi platforms that launch on Polygon next to other blockchains offer similar services in the new blockchain. Pickle offers its Jars and Farms service on Polygon, too. The former is a solution for compounding yields and maximizing them, and the latter is an option that adds rewards to Jars. But Pickle provides more on Polygon. It has a plan to incentivize users to join the Polygon version. According to the announcement:
"Pickle will allocate 0.1 Pickle per block, which equates to 1/3rd of current emissions, to incentivize polyFarms for the foreseeable future. At the time of writing, this equates to around USD $44,000 per week. We're pleased to announce that Polygon will also be providing $100k of MATIC to further reward Pickle users, which will be spread over the coming eight weeks at $12,500 per week."
Launching in Polygon isn't the final step for Pickle. It wants to expand partnerships with the Polygon team and the ecosystem members to offer more services on the new blockchain.
---
If you found this article interesting, here you can find more DeFi News