Pepe Coin (PEPE) is dominating headlines, considering its impressive rally in the past few days. Presently, the token is at near all-time highs but dropping in the last few hours. Notice that after peaking at $0.00000448, PEPE has fallen roughly 45% from last week's highs.
It remains under pressure when writing and the token could post in the days ahead should prices fall below immediate support levels.
Still, the uptrend remains from a top-down preview with PEPE inside a wedge anchored by the May 5 bull candlestick.
FOMO and Binance Pump
PEPE is leading the surge, bringing to prominence the role of meme coins in the ecosystem.
PEPE has no utility or value support mechanism. Instead, the token's performance depends on FOMO and hype.
With early adopters making money, the crowd is joining, pumping prices.
The meme token has been listed on Binance's Innovation Zone and the platform's derivatives exchange.
With this, volume is shifting from Uniswap to Binance since the latter offers better liquidity, and it also got listed by OKX.
The launch at Binance also coincided with the number of PEPE holders falling.
Etherscan data shows that PEPE holders have flat-lined at around 105,000.
As the token's price surges, more will likely exit for other tokens like USDT or coins like Bitcoin or Ethereum.
PEPE Technical Analysis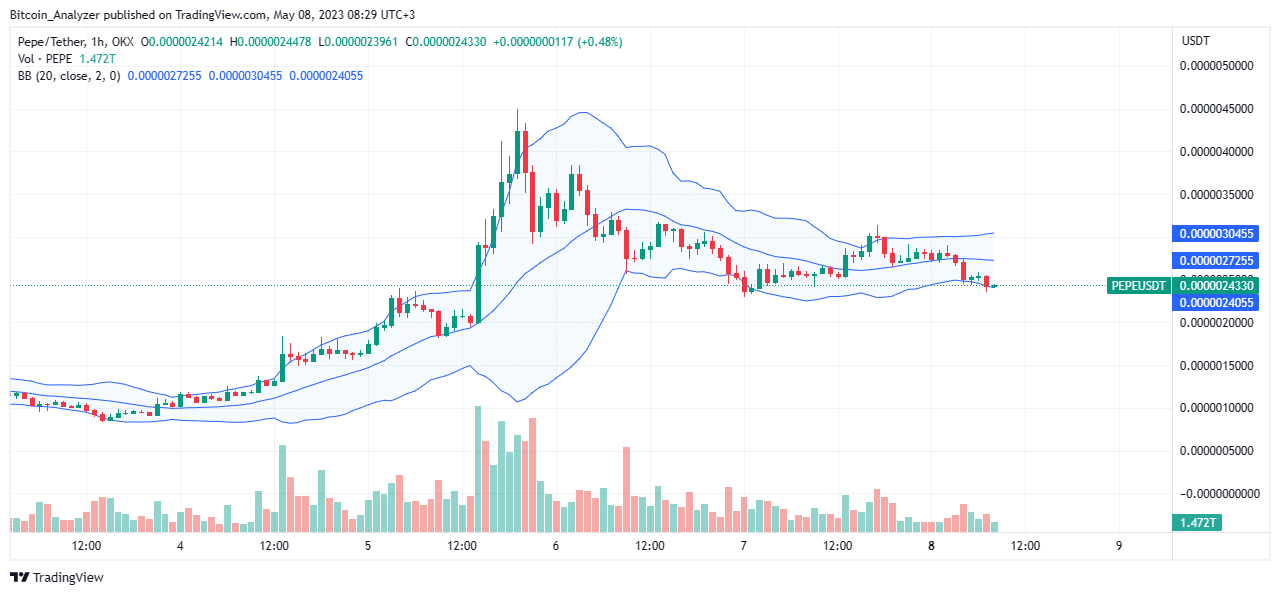 The uptrend remains when writing. The May 5 bull bar anchors the current Bull Run.
As it is, buyers have the upper hand from an effort-versus-result perspective.
Though prices may surge above all-time highs of $0.00000448, prices must hold above $0.00000235 in the short term.
This support line flashes with the May 7 lows. Any dip below this level, preferably with expanding volumes, may trigger more sell-off towards May 5 lows at $0.00000200 in a bear trend formation.
Conversely, a rally above $0.00000310, propelling the meme token above the three-bar formation in the 1-hour chart, may trigger demand, especially if the accompanying volumes are high, similar to those of May 5.
In that case, PEPE may soar to $0.00000380 in a bull trend continuation.
Technical charts courtesy of Trading View.
Disclaimer: The opinions expressed do not constitute investment advice. If you wish to make a purchase or investment we recommend that you always conduct your research.
---
If you found this article interesting, here you can find more Cryptocurrency News.