Due to the ease and speed of transactions, more and more customers, especially Gen Z and millennials, prefer making payments via cryptocurrency. Not only are they secure, but crypto payments offer a level of convenience to customers that remains unparalleled by fiat currency. Moreover, they also make it easy for international customers to send payments.
In order to stay on top of current payment trends and attract customers who prefer using digital coins, several day and medical spas have started accepting payments in the form of cryptocurrency. This means you do not have to carry around any cash or credit cards. The spas can also rest easy knowing that they will be protected from fraudulent chargebacks. This move will also attract more of the younger generations who prefer cashless payments. It is a win-win situation for all.
The following is a list of 7 medical and spay spas that allow customers to pay for their treatments using digital coins, so let us look at each one in detail.
Day Spa in Brooklyn, New York City

Located in Brooklyn's hip Williamsburg neighborhood, Bathhouse is a day spa and bathhouse all combined in one that allows customers to pay using Bitcoin.
This spa is also running a whole Bitcoin mining operation and using the heat generated from this process to heat up their pools by using a circulating system. Later on, after all the heat is absorbed by the pools, this water would go around to cool the hardware, so instead of using PCs to play games only, they made it into a win-win situation. Pretty efficient, right?  Bathhouse announced this on an Instagram post and told people that now they could "enjoy a hot pool while supporting the Bitcoin network."
Bathhouse is a stylish spa with stunning interiors and boasts a wide variety of services such as deep tissue massages, Hammam scrubs, thermal pools, saunas, and even cold plunges.
Pool Spa Resort in Koh Samui, Thailand
Located on the island of Koh Samui in Thailand, the Silavadee Pool Spa Resort became the first resort on the island to accept cryptocurrency. Digital coins are accepted only for direct bookings, and customers can pay with either Bitcoin, Ethereum, or USDT. For this endeavor, the pool spa resort has partnered with Bitazza, a digital asset platform from Thailand.
According to Chonlada Soonthonvasu, the managing director of the Silavadee Pool Spa Resort, this move was to embrace the technology of cashless transactions and make online booking easier for everyone, including international guests. The resort also wanted to make digital payments safe and allow several options for the younger guests.
Silavadee is technically a resort, yes, but it is not your typical resort. Each room has all the luxuries of a spa—such as a jacuzzi and a luxury bathtub with ocean views. The resort also has a dedicated spa where you can let trained massage therapists work their magic and pamper you.
Medical Spa in Boca Raton, Florida

The Peace Love Med Spa is a medical spa clinic in East Boca Raton, Florida that has become the first med spa to accept digital coins as payment for all their services. Ever since 2021, this aesthetic rejuvenation center has been accepting Bitcoin. The spa clinic recently expanded to accept Ethereum and Dogecoin as well.
When asked about their motivations for this move, the spa owner, Ilana Brit Mechoullam, said that since cryptocurrency is becoming more mainstream, they wanted to stay on top of the trends and put themselves ahead of their competitors.
The Peace Love Med Spa has several staff, all of whom are trained professionals and have years of experience. The services they offer include transformation and rejuvenation techniques such as Botox, HydraFacial, dermal and lip fillers, lip corrections and injections, and non-surgical nose jobs, among others.
Foot Reflexology and Massage Spa in San Diego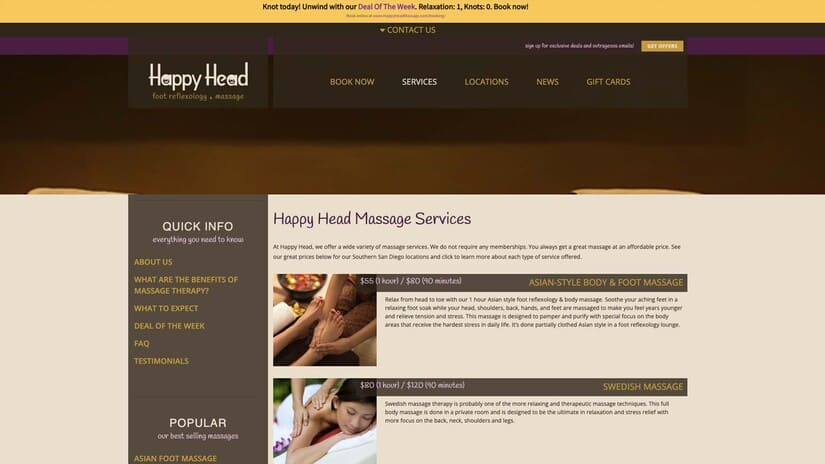 Happy Head Massage is a foot reflexology and massage spa spread out across 8 locations in San Diego. This spa has been accepting Bitcoin since 2017 at all of its centers! It became one of the first businesses—and the first massage spa in San Diego to start accepting cryptocurrency payments for services. For this, the wellness center partnered with BitPay, one of the most famous payment processors for digital currency.
When announcing this news, Happy Head Massage Spa mentioned that cryptocurrency could very well be the payment method of the future. So, they simply wanted to ensure that they stayed on the cutting edge of technology by allowing different payment options for their customers.
The spa also talked about how one of their goals, when it came to accepting Bitcoin, was to reduce the costs of running their business by reducing merchant transaction fees. This would, in turn, lead to reduced massage costs for customers. For example, merchant processing fees for credit card transactions can be anywhere from 2-4%. These costs are often offset by the business by increasing the prices of their services. But, since crypto transactions do not need third-party processors, this fee is eliminated, meaning customers can enjoy lower costs. Even if third-party processors are used, their fees rarely go beyond 1%.
The Happy Head Massage Spa offers both feet as well as full-body massages to help you relax. Among their services, you will find Swedish massages, Asian fusion combo massages, deep tissue massages, and even pregnancy massages! Each massage lasts at least 1 hour, and prices begin at $55.
Coolsculpting Medical Spa in Las Vegas, Nevada
Coolsculpting is a non-surgical weight loss procedure that includes freezing your fat cells. The Anthem Secret Body Medical Spa in Las Vegas is a luxury spa clinic that specializes in this treatment. Apart from being a leader in Coolsculpting, it would seem that the spa is also staying on top of new trends in the world of digital payments.
In 2021, this luxury spa announced that it would accept Bitcoin in collaboration with BitPay. Their goal was to allow for faster and seamless transactions that would also be safe. The medical spa also mentioned that customers will be able to easily buy VIP packages online using Bitcoin. Kate Robertson, the manager of the body contouring medical spa, said that the reasons behind this decision were to provide their customers with a modern-day guest experience and to make the transactions more convenient for them.
In addition to adopting digital coins as payment, the Anthem Secret Body Medical Spa is going one step further. In 2022, the wellness center fully embraced the metaverse by launching a virtual spa in the Crytovoxels Metaverse that is built on the Ethereum blockchain. There were also talks about possible NFTs by the med spa. Talk about dedication!
Day Spa in Manhattan, New York City
If you thought Happy Head Massage Spa was ahead of the game by accepting Bitcoin in 2017, wait till you hear about the Metamorphosis Day Spa that began accepting cryptocurrency in 2014!
Since its inception in 1997, this day spa has been something of a crown jewel. Moreover, the spa also made a name for always bringing in new things and evolving according to the current trends. So, it comes as no surprise that this relaxation center adopted cryptocurrency way before other spas.
Since 2014, the customers of Metamorphosis Day Spa have been able to pay with Bitcoin. Apart from spa treatments, the adoption of cryptocurrency also includes purchasing skin care products from websites like emergeskincare.com and organicskincare.com.
The Metamorphosis Day Spa offers an array of wellness treatments such as Green Peel facials, waxing, body treatments, massages, and Hydro lifting facials. The center is proud of being a little haven of relaxation in the midst of busy Manhattan.
Day Spa in Nairobi, Kenya
The Health Land Spa in Nairobi began accepting payments from customers in cryptocurrency in 2018. But the reason is not what you think it is. It was not to attract more customers or offer faster transactions; it was to prevent theft.
Tony Mwongera, the CEO of the day spa, told BBC that he was losing a lot of revenue due to thefts. Since cryptocurrency was on the rise in East African nations at that point in time, he decided to embrace it as a payment method. This allowed for secure payments and a way for his business to stay on top of technological trends. Customers at the health spa can get pampered and pay using Bitcoin and Dash (an open-source cryptocurrency).
---
Press releases or guest posts published by Crypto Economy have sent by companies or their representatives. Crypto Economy is not part of any of these agencies, projects or platforms. At Crypto Economy we do not give investment advice and encourage our readers to do their own research.