CAKE, the token of the decentralized exchange (DEX) PancakeSwap, has rallied nearly 3% over the past day after the PancakeSwap team revealed it has burned 6,827,850 CAKE tokens (worth $27 million) this week.
PanecakeSwap (CAKE) has experienced an upsurge following a roller-coaster ride for the past several weeks. According to CoinMarketCap, the cryptocurrency gained 2.78 per cent in the last 24 hours to currently trade at $3.99. CAKE has exploded more than 10 per cent in the past one week to become one of the most trending digital assets. Earlier today, CAKE breached the $4 mark before dipping marginally to its current price.
CAKE Jumps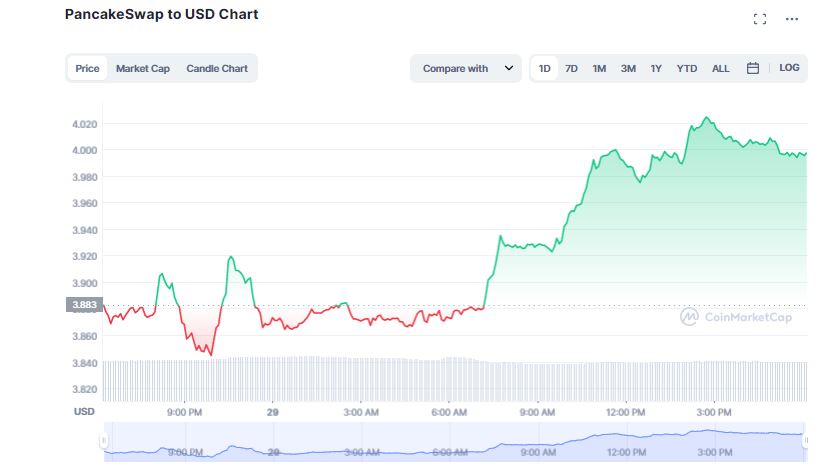 On November 8, PancakeSwap (CAKE) increased significantly to more than $5 with a trading volume of $126.28 million over a period of 24 hours. The most recent monthly low for bulls was $3.57 on November 22. This year has proved to be quite a turbulent one for CAKE causing its price to crash.
The coin is still down more than 60 per cent year-to-date, even though the downturn has slowed. The bull market of 2021 led to CAKE's most substantial increase to date. The cryptocurrency surged to its all-time high of $44.18 in April 2021.
The latest rally of CAKE can be ascribed to its recent burn of nearly 6,827,850 CAKE tokens. According to the PancakeSwap team, the decentralized exchange generated $1 million (356k CAKE tokens) in trading fees for its Swap and Perpetual market. The Predictions and Lottery markets generated 59k CAKE ($229k) and 43k CAKE ($168k), respectively. The NFT marketplace generated 469 CAKE ($2k).
🔥 6,827,850 $CAKE just burned – that's $27M!

💰 Trading fees (Swap and Perpetual): 356k CAKE ($1M) +28%
🔮 Prediction: 59k CAKE ($229k) -5%
🎟️ Lottery&Pottery: 43k CAKE ($168k) +46%
🔒 NFT Market, Profile & Factory: 469 CAKE ($2k) -40% pic.twitter.com/b22HuSGjGu

— PancakeSwap 🥞 #Multichain (@PancakeSwap) November 28, 2022
A 'Sugar Rush' of Collaborations
We are beyond thrilled with our partnership with @CelerNetwork.

Last month, we launched Cross-chain farming through their inter-chain messaging

— PancakeSwap 🥞 #Multichain (@PancakeSwap) November 14, 2022
Moreover, in the recent months, PancakeSwap has carried out several collaborations in the crypto ecosystem including Celer Network to develop a cross-chain DEX. This will allow customers to offer liquidity on the networks of Aptos, a scalable layer 1 blockchain and Ethereum in a transparent, trustworthy, and seamless manner.
In October, PancakeSwap proposed its mainnet deployment to Aptos in order to allow the deployment of CAKE to another chain facilitating numerous technical and user improvements.
🎉TOP #BNBCHAIN Projects with Highest Social Engagement🚀$QUACK @RichQuack$CAKE @PancakeSwap
$BABYDOGE @BabyDogeCoin$FLOKI @RealFlokiInu$SFM @safemoon$SFUND @SeedifyFund$SFP @iSafePal$YOOSHI @yooshi_official$DOME @Everdome_io$CATE @catecoin$VOLT @VoltInuOfficial#BNB🔥 pic.twitter.com/uu0FK5OWwQ

— BSCDaily (@bsc_daily) November 14, 2022
More recently, the decentralized exchange has launched its Smart Router solution that aims to harness the router to enable users enjoy best possible price while trading through StableSwap. In addition, Pancakeswap (CAKE) has also made it to the list of top BNB projects with the highest social engagement.