Another wave of news shocks the cryptocurrency market as new reports indicate that the founder and CEO of OKEx Star Xu is arrested. Moreover, it was revealed that XU was already questioned by Chinese authorities a week ago, prior to today's event. Chinese financial news platform Caixin reported the turn of events on October 16.
The report claims not only that Xu was questioned by the police in China, he was also absent from work for a major period of time. When news platforms questioned the exchange and asked for a comment, OKEx replied by stating that they are no longer affiliated with the OK Group. Star Xu is a senior executive at the group and therefore OKEx is in no position to comment on his activities in that company.
News of the investigation and subsequent arrest have circulated social media platforms like Crypto Twitter since earlier this morning. Around 6 AM in local European time, the OKEx exchange announced that it temporarily disabled cryptocurrency withdrawals for all digital assets.
The announcement stated that one of the private key holders of the exchange 'cooperates with a public security bureau' in an ongoing investigation. As a result, he cannot approve withdrawals as long as he is unavailable.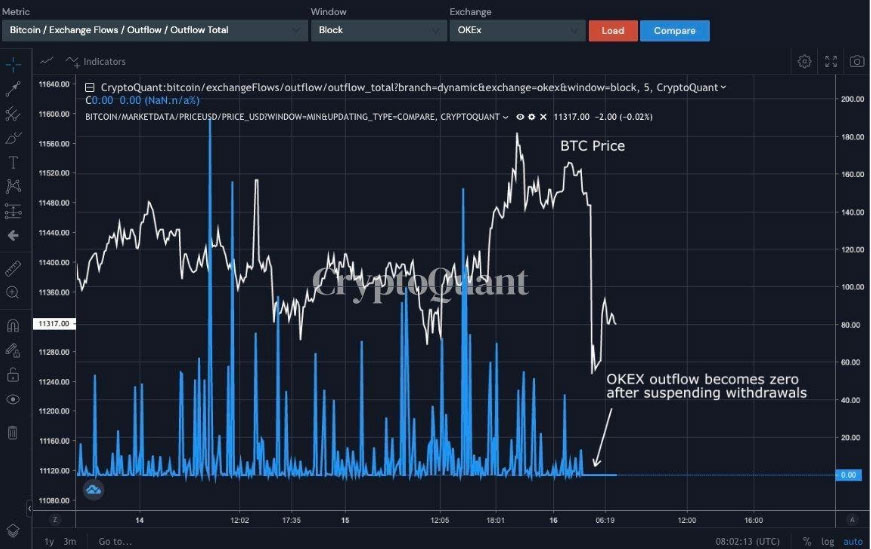 The announcement further notes that it will immediately enable withdrawals on the exchange as soon as the private key owner returns. At the same time, OKEx claims that all funds are safely stored and unaffected. How long this period will last is unknown. However, it is certain that this will leave a deep mark on the reputation of the most popular Asian crypto exchange.
Bitcoin tumbles following OKEx announcement
The leading cryptocurrency reacted quite negatively to the news, along with the rest of the market. Last night, Bitcoin managed to reclaim the $11.5k area as support and reached a local high of $11,620. However, the digital asset was unable to move further and finally fell down after this morning's news.
At the time of writing, Bitcoin trades at $11,360. The asset dumped to strong support levels at $11,200 and quickly bounced.
It remains unclear how the situation will further develop, regarding both markets and exchanges. Unexpectedly, the markets did not take an extremely heavy toll and have bounced since noon. This may be a sign that the situation may not be as bad as it first appeared. However, this may also be a quick and unplanned reaction that will lead to an even larger fall in prices.
Since this morning, the crypto analytics platform CryptoQuant revealed a great deal of information regarding whales and miners. The two groups have transferred a large number of Bitcoin to centralized exchanges.

One message on their CryptoQuant Alerts Telegram group notes that whales have transferred 2,152 Bitcoin to the Binance exchange. In another case, the firm caught a move of 7,116 BTC to major exchanges such as Gemini, Huobi Global, and Binance. In total, this single transfer is valued at $80 million. One smaller that transferred 1,015 BTC was also caught by CryptoQuant. A similar quantity that moved to Binance was also reported shortly after.
Apart from whales, miner activity grew as well. Cryptoquant reported 'unusual miner outflows' around 1 PM. A single mining pool called 'Unknown_m1' moved 545 BTC, valued at $6 million. These 'hidden' market movements to exchanges may indicate that a larger move might be coming. If so, the price of Bitcoin would fall even harder as whales and miners would be looking to sell their assets on exchanges.
---
If you found this article interesting, here you can find more Blockchain and cryptocurrency news