Regulators and Privacy Coins
Privacy coins, by and large, are treated with caution by regulators. Their main argument, a proven fallacy, is how these coins can be tools for criminals and the society by extension. A majority of policy makers, mostly no coiners, are outright in their stand: Cryptocurrencies are tools for money laundering and terrorist financing.
However, sound investigations on these claims reveal that fiat, not cryptocurrencies, are fuel the world's sufferings.
From banks incriminated in money laundering vices and being fined billions for their activities, there are different angles critics of the traditional banking system can attack from.
Privacy Coins the Next Big Thing
Privacy and anonymous coins like NIX and Monero for example, are based on sound economics. Even so, during the crypto winter of 2018, most of them suffered deep losses and most have yet to recover.
Impact was more than 10X, John McAfee says, yet they are the future. The next big thing, and investors should pay attention. But even for what they represent, these special coins are at a risk.
FAFT Guidelines set for Enforcement
Regulators are proposing possibly existential rules that could pose a big danger to these tokens.
Since privacy networks automatically obfuscate transactions making it impossible for law enforcement to track them, a new FAFT guideline would be enforced with the body tracking how member countries are implementing them in a bid to stem out what they have termed as illicit financing.
NIX/BTC Price Analysis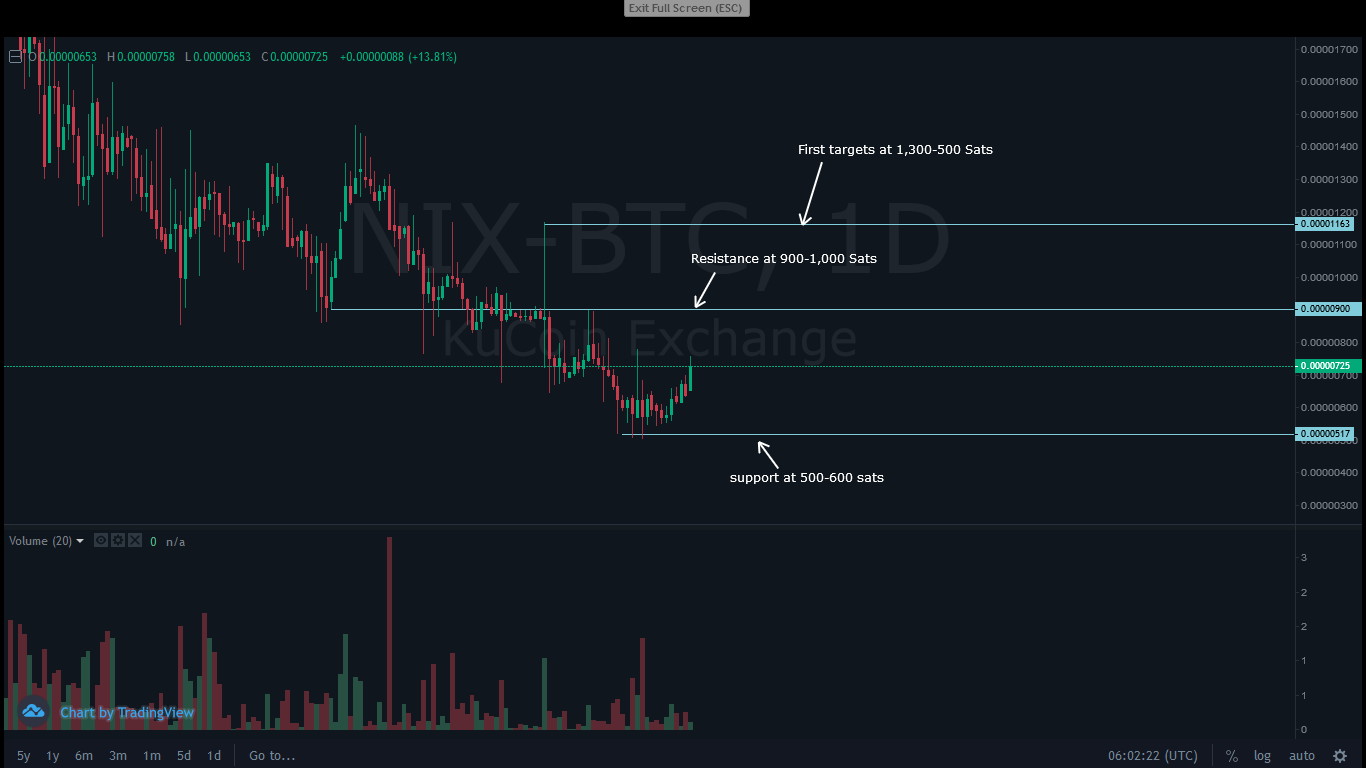 At press time, like all coins and tokens, NIX is struggling at the USD. It is down 15% week-to- date.
However, it has registered impressive gains against BTC and ETH, adding 10% and 18% respectively.
Going forward, and with continued weakness of BTC, it is likely that NIX will edge higher as prices bottom up after a rout in the past three quarters.
On Nov 15, there was a sharp spike in trading volumes when 1 BTC worth of NIX were traded in what appears to mark the end of the down trend.
In a climactic sell-off followed by an accumulation, prices reacted by printing higher and that could be the trend going forward.
In light of this, aggressive traders can buy the pullback with a safe stop loss just below the main support line at 500 Sats.
On the other hand, risk averse traders can wait for a high-volume break above 900-1,000 Sats resistance line before trading entering the pullback with first targets at 1,300 Sats and later 1,800 Sats.
Chart courtesy of Trading View – KuCoin
Disclaimer: Views and opinions expressed are those of the author and is not investment advice. Trading of any form involves risk. Do your research.