Privacy and Data
In the digital age, data is said to be the new gold. It is the gem that companies can use to improve their profitability or sell to third parties-often without the consent of the generator.
While data-driven companies are minting billions and forging profitably companies with mainstay firms lacking the time to innovate on their front, the user is not only violated but gets absolutely nothing out of these behind-the-scene deals. Only excuses and empty promises as regulators heavily penalize violators.
Blockchain is a Shield
Understandably, that is why the new fight for data privacy and implementation of people-facing legislation that will better processes is being advocated around the globe.
As a much sought after gem, privacy is rightly endangered if statistics is anything to go by. However, with the emergence of blockchain, the user have a reprieve.
NIX Exploring MimbleWimble as part of their R&D
A platform like NIX, given their well-defined roadmap and the kind of partnership, appears to be a formidable protector of privacy. Their architecture inculcate new features such as the ability of users to launch anonymous smart contracts. Besides, the Ghost Protocol has been a game changer.
The Ghost Protocol introduce new privacy solutions like anonymous cross-chain, interoperability promoting atomic swaps meaning transfer of digital asset between chains will remain as originally meant:
Private and confidential without the meddling of third parties. In Q1/2 2020, Nix will begin the initial research and development of MimbleWimble or Lelantus in a bid to enhance the Ghost protocol.
NIX/BTC Price Analysis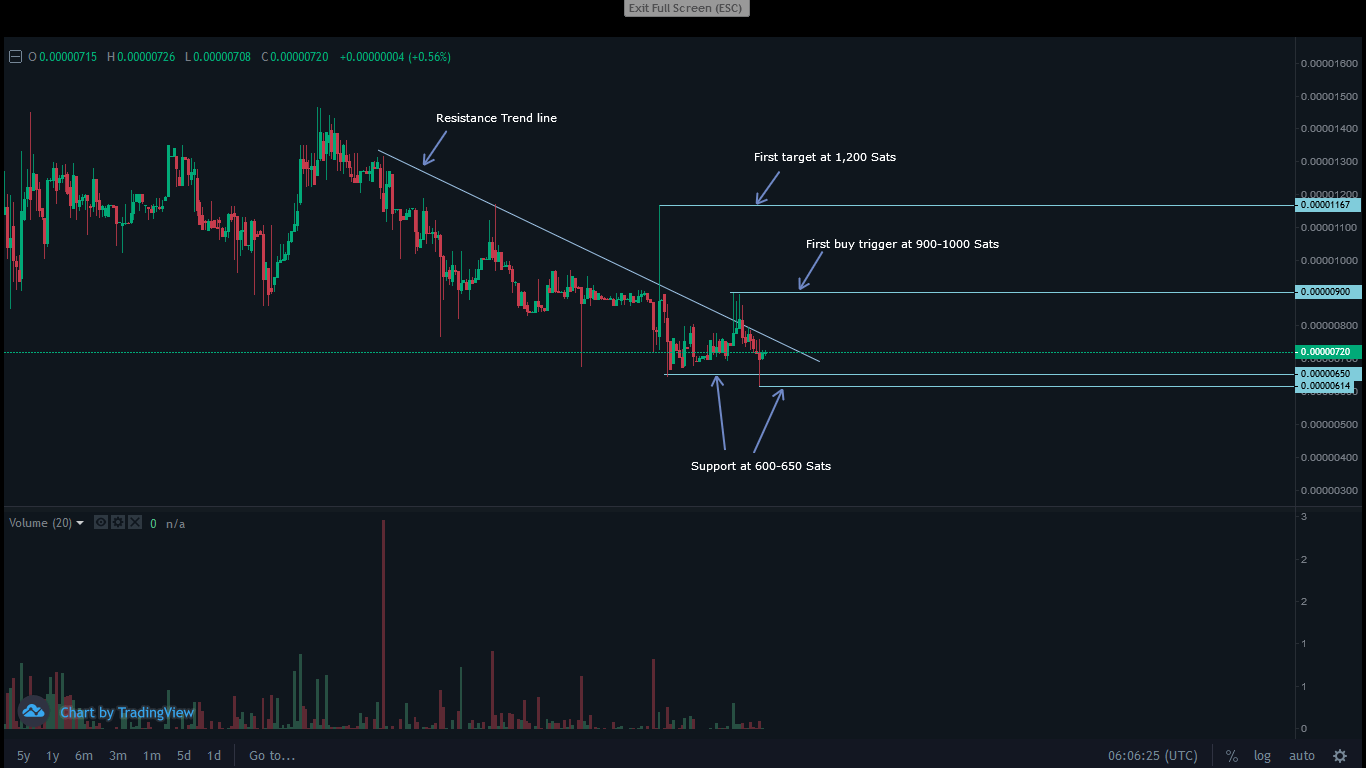 Week-to-date, NIX is up 19% against USD and impressively deep in the green, at 20%, against BTC. Even so, the prevailing trend is bearish and treading lower in a descending channel.
The 650-700 Sats support was broken in this week. Yesterday's bar had a long lower wick meaning there is some degree of support since prices didn't cave in to bear pressure and markedly close below 2019 lows of around 600 Sats.
Price action suggests that NIX may continue to suffer against the BTC.
Only when will prices gain, closing above 1,000 Sats and above the resistance trend line preferably with a spike of trading volumes exceeding 3 BTC of Sep 24 is when NIX could rally to 1,500 Sats and even double to 3,000 Sats in weeks ahead.
Before then, bears appear to be firmly in control and unrelenting.
Chart courtesy of TradingView – KuCoin
Disclaimer: Views and opinions expressed are those of the author and is not investment advice. Trading of any form involves risk. Do your research.