Latest NIX News
That privacy is the future is true. And there is a reason why some governments are unsure about cryptocurrencies. Unlike fiat where there is no guidance on supply, and minted depending on the state of the economy while being susceptible to political intervention-case in point in China and now the US-President Trump forcing the FED to slash fund rates-cryptocurrencies are gradually becoming an option for investors, cryptocurrencies leverage on the blockchain and is guided by mathematics.
As Bitcoin evolve to be an attractive asset that is money, a store of value dubbed the digital Gold and a settlement layer that competes with the like of MasterCard and Visa, ordinary investors are slowly gravitating and taking into consideration alternative coins. And most of them are even better than Bitcoin.
Case in point is NIX. Built on a multi-layer platform that prioritizes interoperability and fuels an environment for "anonymity-focused decentralized applications (dApps) and smart contracts," NIX is a true and viable option for adding "a best-in-class privacy layer to any blockchain."
Unique, the platform is layered, infusing dApp development whilst providing the necessary tools, privacy and consensus layers.
Besides, it recently integrated Sigma, which according to Mario, Research & Development Head, NIX Platform
"will have the biggest privacy set over older privacy protocols, is completely trustless, and scalable. Sigma adapts perfectly to NIX codebase and use cases, making NIX a key player in privacy and decentralization in the near future."
NIX/BTC Price Analysis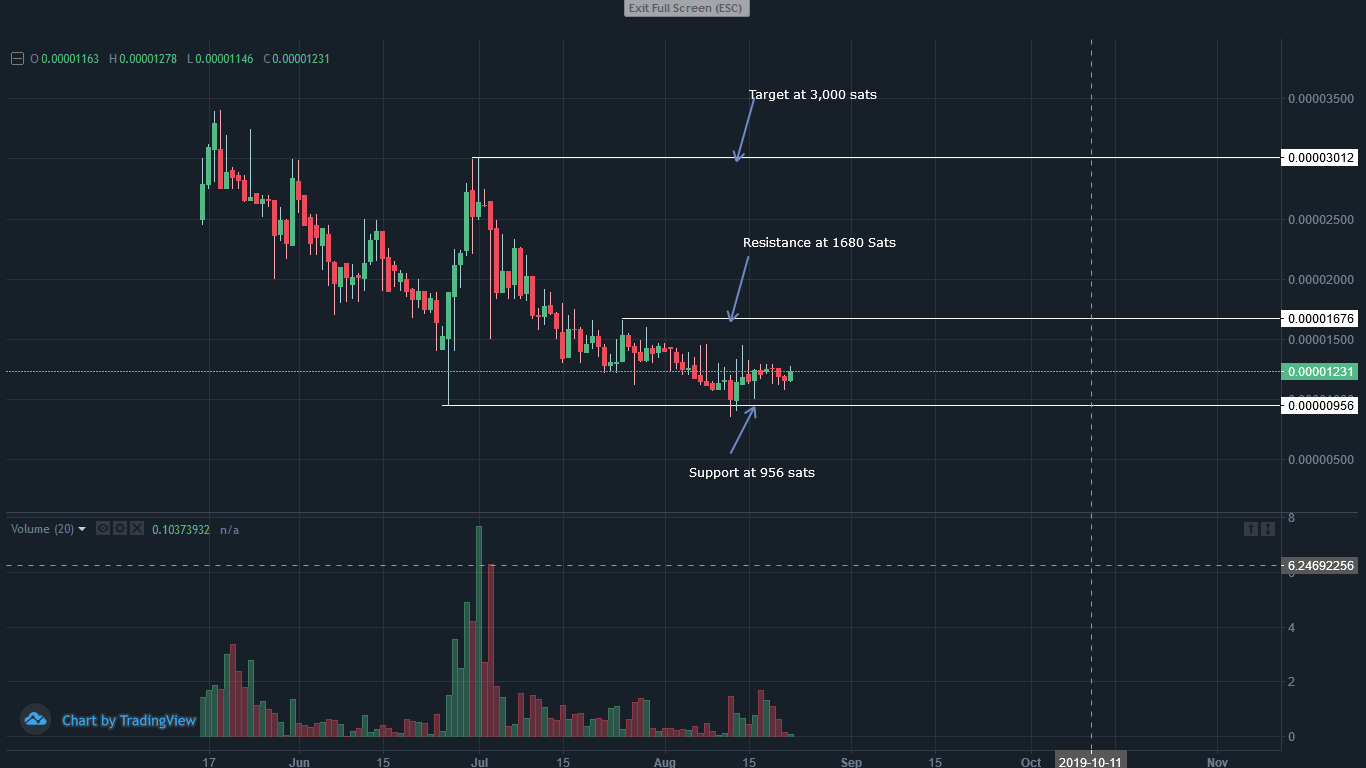 Prices are pretty much unchanged in the last two weeks. Consolidating against BTC, NIX bulls have a chance. A noteworthy observation is that gains of May have been reversed and bears would likely press lower if there is a breach of the main support line at around 950 Sats.
Like in previous NIX/BTC trade analysis, it is imperative that there is a comprehensive, high volume break and close above the immediate resistance line at 1680 Sats. Such will not only spur participation but set the pace for price recovery more so if the break out bar is conspicuous and has high trading volumes exceeding 1.7 BTC of Aug 17.
Such a move will confirm the double bar reversal pattern of Aug 12 and 13, highlight the significance of 950 Sats and usher in buyers of late June. Depending on how strongly NIX buyers blast past 1680 Sats, buyers should aim at 3,000 Sats or June 2019 highs. On the flip side, sharp losses below 956 Sats will heap the pressure on NIX as the coin ends up printing new 2019 lows.
Disclaimer: The views and opinions expressed are those of the author and is not investment advice. Trading of any form involves risk. Do your due diligence.