Meta reported that the social media platform Instagram will soon have an end-to-end toolkit for creators to make, show, and sell digital collectibles.
During Creator Week 2022, which will be held from Nov. 2 to Nov. 4, Instagram's parent company, Meta, announced that its creators would be able to create "digital collectibles" and sell them both on and off the platform.
NFT Social Media
There will soon be the possibility for creators to use Instagram to make their own digital collectibles that they will be able to sell to fans, both on and off the platform. From the moment they start making (which begins on the Polygon blockchain) and showcasing them to the time they sell their products, they will have an end-to-end toolkit.
By purchasing their favorite creator's digital collectibles directly from Instagram, people can easily show their support to their favorite creators. There are a few creators in the U.S. who have been working on these new features. Meta is currently testing them out with a small group and hopes to expand them to more countries shortly.
Aside from adding support for the Solana blockchain and Phantom wallet to the list of blockchains and wallets that Meta currently supports, Meta has also expanded the types of digital collectibles that you can showcase on Instagram to include videos.
As well as this, Instagram users will now be able to find information on select collections whose metadata has been enriched by OpenSea, such as the name and description of the collection.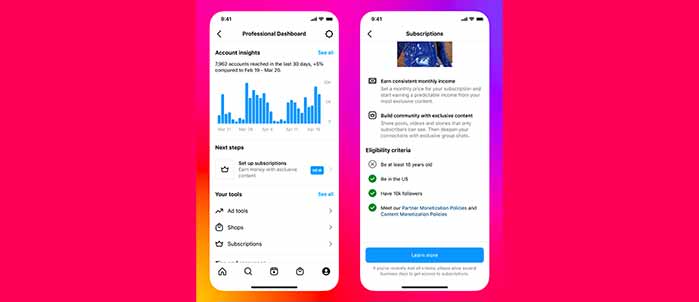 Meta is making it easier for people to support their favorite creators across our mobile apps, which will help creators build their communities and grow their businesses.
It is the team's intent to extend subscriptions on Instagram to all eligible creators in the U.S. so that more creators will have the possibility of earning predictable income and connecting more deeply to their most engaged followers.
Creators like Cole Sprouse (@colesprouse), Alan Chow (@alanchikinchow), Skai Jackson (@skaijackson), and Alan Chow (@alanchikinchow) have begun using subscriptions in order to connect with their most committed fans even more closely since they launched subscriptions earlier this year.
The specific amount of the commission Meta plans to charge for NFT sales has not been disclosed. It is also not clear whether Meta plans to follow other NFT platforms in moving to opt-in royalty models that have been pushed by many NFT marketplaces in recent weeks. As a result, it would be a great step in the right direction for the NFT industry to more adoption.