After gaining stupendous momentum, the overall NFT trading volume witnessed a sharp fall as the contagion effects from FTX collapse continue to reverberate across the crypto ecosystem. NFT trading volume slumped more than 17% while the sales count tanked 22.24% month-over-month.
Non-fungible tokens (NFT) burst onto the scene a couple of years ago and immediately shot into popularity. Within no time, retail investors, celebrities and the world's biggest brands began hopping onto the NFT bandwagon. The prices of these digital artworks skyrocketed with some selling for millions of dollars apiece. However, as cryptocurrency prices began falling in the wake of mishaps such as the FTX debacle and several macroeconomic factors, the NFT industry also took a major hit.
The NFT Market Continues to Drop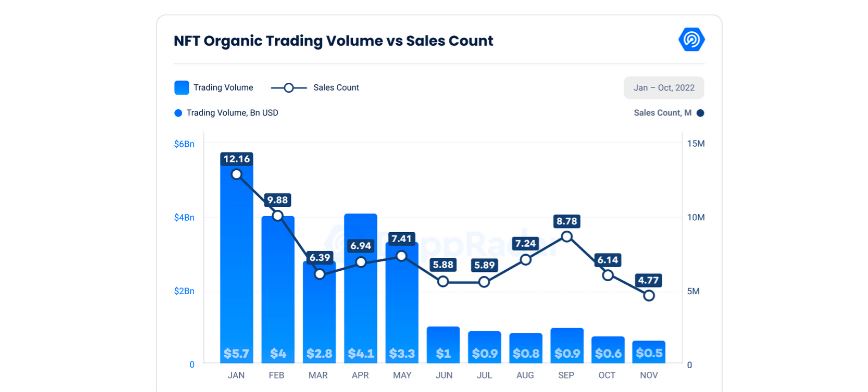 According to a report by DappRadar, the overall NFT trading volume slid nearly 8% in November, while the total number of NFTs sold dipped more than 22% compared to October. The trading volume has declined almost 88% since the market peaked with $5.36 billion in sales volume in January.
The trading volume on Ethereum plunged 14% in November to strike its lowest level since June 2021, reaching $277 million. Solana clinched second place in NFT trading volume that surged a whopping 42%, reaching $95.1 million. But on the flip side, the NFT sales count on Solana decreased 33% in November as a total of 852,780 NFTs were sold on marketplaces.
Meanwhile, Flow, noted a stark decline in the NFT trading volume, which dropped 51% to $7.6 million. DappRadar noted a drop of 22%, as users on the Flow blockchain traded 409,069 NFTs, last moth. Furthermore, Polygon saw a fall of 42% in the trading volume in November, reaching $6.34 million. However, the sales count on the protocol observed an impressive increase of almost 135% reaching 556,434 in the same month.
In addition, the unique traders count also dropped more than 20% to its lowest count, this year. On the other hand, in a sea of crashing numbers, the NFT trading volume on BNB Chain noted a slight uptick of 6%. Amid the broader crypto market downturn NFT sales in Q3 2022 were down 68.2%, compared to Q3 2021.
DappRadar also reported that Unique active wallets (UAW) on OpenSea, Magic Eden, which show how many user wallets are interacting with the platform, nosedived. OpenSea's UAW declined by 12.68%, while Magic Eden's UAW declined by 45.91% in the last month.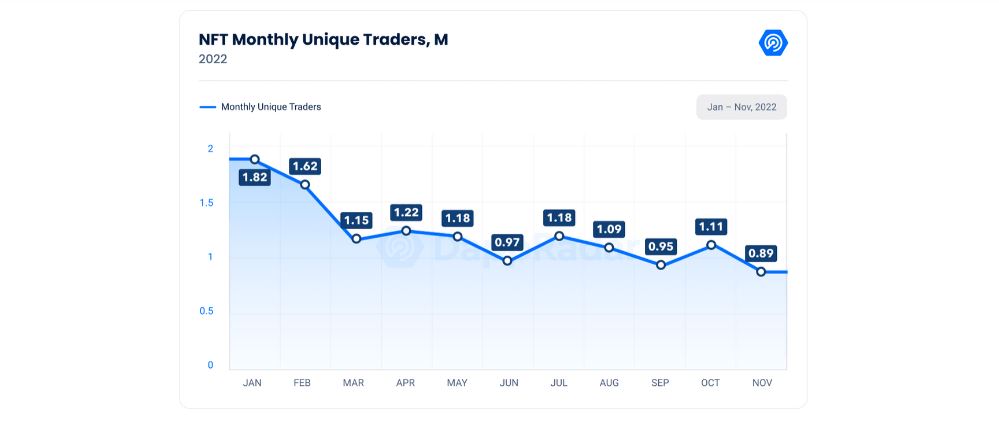 The NFT Space Heats Up
Despite the downturn, many NFT creators and other industry stakeholders are hopeful of a positive comeback. While the crypto ecosystem reeled under pressure, two new NFT market places were launched. On November 23, ApeCoin DAO, a community-led governing body made up of ApeCoin holders, launched its own white-label NFT marketplace.
Meanwhile, Uniswap introduced NFT trading on their platform. In addition, the company also announced a $5 million airdrop to users of Genie, a NFT marketplace aggregator that was acquired by Uniswap in June.
You been waiting for this!!

Today @snag_solutions is launching the official @ApeCoin DAO marketplace 👇 pic.twitter.com/AFFignsokA

— Zach | Zheerwagen.eth (@ZHeerwagen) November 23, 2022
It is worth noting that some innovative NFT projects have been able to buck the trend recently and make huge waves in the industry despite the bear market. NFT collections including Lens Protocol and Crypto Unicorns have seen an increase in the sales count by 21.77% and 203%, respectively.
Trading volume for the Baby Wealthy Club NFT collection shot up 190.38% in November. OpenSea marketplace dominance increased by 0.9% compared to October while Magic Eden increased its dominance this month by 8.3%.
A Hiccup in the Journey
Many crypto experts have suggested the steep fall in NFT trading volume is a testament to the negative sentiment in the broader crypto ecosystem, but it shouldn't be construed as the end of the road for NFTs. Sumit Ghosh, co-founder and chief executive officer (CEO) of Chingari an on-chain social app, said the rising interest rates in the last few months deterred investors from investing in risky assets including NFTs. He added,
"The recent downturn is just a hiccup in the journey to a larger acceptance of NFTs at the global level."
Thru October, 6855 US trademark apps have been filed for NFTs and related goods/services
Jan: 644
Feb: 789
Mar: 1082
Apr: 898
May: 767
June: 729
July: 542
Aug: 522
Sept: 445
Oct: 437

The 2021 total was 2142.#NFTs #Web3 #NFTCommmunity #Metaverse #MetaverseNFT #NFT pic.twitter.com/J9xj2UdPrP

— Mike Kondoudis (@KondoudisLaw) November 7, 2022
Most experts believe it is not the end for the NFT market as trademark applications filed for NFTs skyrocketed in 2022. According to prominent trademark attorney, Mike Kondoudis, 6,855 NFT trademark applications had been filed by the end of October 2022. Recently, NFT marketplace giant, OpenSea launched a new tool that enforces NFT royalties, which applies to new digital artworks.