Nubank announced a new service that will allow customers to purchase Bitcoin and Ethereum in the Nu app. One of the stakeholders in this new neobank is Warren Buffett. In an announcement, Nubank announced that it is now possible to buy bitcoins and ether with Crypto, the new service from Nubank.
Through Nubank Crypto, you are able to purchase and sell cryptocurrencies directly from the Nu application. Basically, what this means is that customers will now be able to buy cryptocurrencies right within the app they already know with a simple experience.
The First Steps
At the moment, Nubank is testing the option of buying cryptocurrency through their service. However, so far, only a select group of customers have access to the service. 
The announcement discusses the reasons why Nu Bank has decided to accept cryptocurrency as a method of payment. It says:
"Cryptocurrency was born with the idea of ​​decentralizing the financial system. Today, people compare bitcoin to gold and tend to buy it to redeem only in the long run. This comparison happens because bitcoin's supply is limited, as is gold's. This limitation is in its code, that is, it was foreseen at the time of creation of the cryptocurrency."
It describes how to find and buy Bitcoin and Ether on Nu's app, as well as how to use the app to find and buy them. Nubank's app has a section called "Crypto" on the main screen of the application. If you click on it, you will be presented with the options for purchasing bitcoin and ether, the currency of the Ethereum network. It should be noted that this option is now in the testing phase, which is why it will be released to customers little by little in the coming weeks.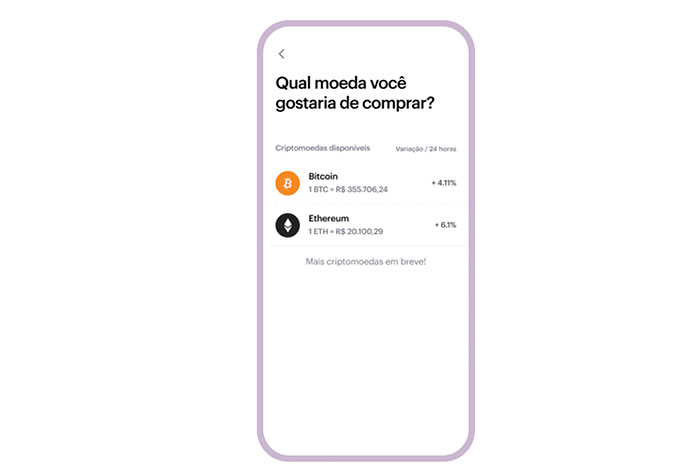 The first things you see when you enter the crypto screen are the names and codes of the cryptocurrencies that you have selected (such as BTC and ETH). Nubank offers you a chance to invest in cryptocurrencies for just R$1: that's all you need to make your first investment.
It is reported that Berkshire Hathaway, Warren Buffett's holding company, purchased 1.0 billion dollars of Brazilian neobank Nubank Class A stock in Q4 2021 while he sold billions of dollars of stock in Mastercard and Visa. In a way, it's a sign that Buffet may be searching for new financial systems in the near future.
This type of system is usually included with cryptocurrency services that Buffet has declared that he is not a fan of. Nevertheless, investors don't completely design the path a company's future takes, and Nu Bank has shown its ability to launch new projects without considering the ideas of investors, even big ones like Warren Buffet.