The financial systems continue to change to provide their customers with better experiences, this is the case of MyCryptoBank, an online bank that allows any client registered in the electronic banking system to perform a full range of banking operations, and additional operations with cryptocurrency (processing of payments, debit cards, credits and cheap investment products, use of cryptoassets as a credit guarantee, among others).
MyCryptoBank uses blockchain technology without a department visit, therefore, it provides remote client access services to accounts, products and banking services to perform banking operations.
A simple system at your fingertips
MyCryptoBank's multifunctional banking service platform has a hybrid system that uses digital and traditional currencies, so transactions are simpler, because the use of digital currencies makes operations faster and cheaper, while Traditional coins guarantee an almost complete acceptance and validity. This combination gives customers the freedom to simultaneously use the advantages of both types of currencies.
Create deposits, receive loans and credits will be possible with the MyCryptoBank platform, customers will be provided with bank cards and with them they will carry the available funds through any ATM in the world, they can also purchase goods and services in physical stores or restaurants.
Among the short-term plans of MyCryptoBank is the installation of ATMs and cryptographic ATMs to carry out purchase operations in cryptocurrencies and receipt of cash.
The main operations of MyCryptoBank will be available through the mobile bank, there they will be able to exchange cryptocurrencies, convert cryptocurrencies to fiduciary money and vice versa, immediate transfer of funds worldwide, request and issue credits, opening bank deposits and operations exchange.
To carry out cryptocurrency transactions in payment systems, commercial networks will receive Visa, MasterCard and UnionPay virtual cards; Apple Pay, Samsung Pay or Android Pay mobile services will also be attracted.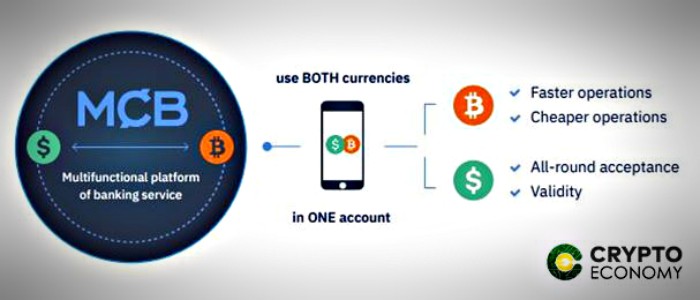 But if you want to send money to other countries, MyCryptoBank also has the service at the speed of sending an email, just have access to the internet and shipments will be executed with a minimum rate, it can be a classic currency or cryptocurrency.
And like any bank, MyCryptoBank also offers loans to its customers under the P2P credit system. These loans are characterized by being a specific type of financial services that offer the possibility of obtaining loans from one person to another. Money can be granted for any purpose and it is not necessary to prepare a large package of documentation for a loan agreement to be created.
The central component of the MyCryptoBank  is its MCB TOKEN, which integrates all the elements of the financial ecosystem. In the course of the ICO, all the tokens of the ecosystem will be issued without any possible extra emission once the ICO is completed.
The project token, the MCB, is a utility token that is used for the internal functioning of the platform and offers access to certain services, depending on the number of tokens that the user has.
To learn more about this platform, as well as about its MCB token, we recommend taking a look at its White Paper, as well as joining its Telegram channel.