This will be a quick overview of the platform to describe what it offers, with my additional side notes and comments based on my experience in cryptocurrency. If you need a deeper dive into staking, masternodes, and other methods of earning rewards with this provider, take a look at a couple of other MyCointainer reviews. The purpose of this review is to give you an idea of whether you like the platform in general and if you should continue with it or not.
MyCointainer crypto staking platform was founded in November 2018. For those of you who have been asking "Is MyCointainer legit?" and "Is MyCointainer safe?" – yes. Headquartered in Tallinn, it's a secure hub for learning and earning crypto that got a financial license in Estonia to trade FIAT currency and crypto (legal license number FVT000255). Since then, it has grown the number of coins represented on its website from 20 to around 150. Let's skim through this cryptocurrency platform to see what it offers.
MyCointainer – what main features do you get access to when you sign up on the platform?
So we're on the Homepage of the website and click the Earning Apps tab. As you can see, MyCointainer is not limited by the PoS method it also offers other ways of earning yield, like airdrops, giveaways, and cashback in crypto. MyCointainer staking platform collaborates with the best providers that allow it to offer you some of the lowest exchange rates on the market.
The Airdrops & Giveaways section allows you to start developing your crypto profile for free. Check out the airdrops available right now (they are usually time-sensitive and take up to 5 minutes.
Another feature of the platform – cold staking – allows you to stake your crypto safely. With cold staking, your coins will be stored in the offline wallet, so it's considered a less risky option. You can also opt for delegations which gives you a chance to earn great rewards. When you delegate your coins to MyCointainer nodes they will stay in your wallet, so no worries, you'll be getting your no-risk rewards.
The EarnBack Google Chrome extension is another cool feature allowing you to make some extra profit by shopping online. Earning cashback is always nice, but how about getting up to 40% cashback in crypto? Check out the link to install the extension.
Conclusion: MyCountainer has a set of most important crypto trading tools + some great bonuses to boost your rewards.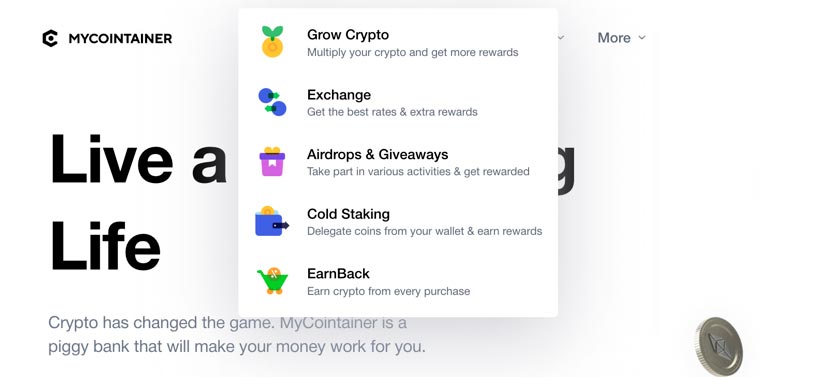 Mobile app – is it a good alternative to the desktop version?
The app is available for both iPhone and Android and the login is quite simple, like in the desktop version. As soon as you log in to the MyCointainer app, you get access to similar functionality with the same smooth user-friendly experience. The home page is your wallet with the rundown of the coins you bought and all the rewards you generate daily. Isn't it utterly satisfying to see your wallet grow every single day?
To be honest, I enjoyed the mobile version even more than the desktop one. 90% of the features you need are in there which means you can buy, sell, exchange coins, and track your rewards on the go, anywhere, anytime. The only feature which is not available in the mobile app is EarnBack, which I think is self-evident, since it's a Google Chrome extension. But you will still be able to track the crypto cashback in your app once you install the extension and make online purchases.
Conclusion: MyCointainer mobile app is a decent version of a platform allowing you to access your wallet anytime you need.
Customer care – will you get support when you need it?
I've got quite a few friends who complained to me about support on the most well-known crypto exchanges – it works really slowly and when you finally get answered, you either resolved the problem yourself or just forget about it. So I decided to test how customer support representatives work on MyCointainer. I submitted my request and got a response via email in 11 minutes. The issue was resolved by several emails in less than an hour, which is sometimes impossible even when you're in a live chat with a customer support rep.
Now they have a regular chat box for a live chat on their website, so you can get in touch with them even faster in case you need some help. It also gives you an option to connect via email or Messenger immediately, so you can choose the most convenient way for you.
Conclusion: MyCountainer has a highly responsive and competent Support.
User experience – is the platform beginner-friendly?
MyCointainer has set out to make cryptocurrency available for everyone and the website is proof. The top menu bar is very concise with just four categories: Earning Apps, Assets, Support & Help and More. In the top right corner, you can also find a quick way to deposit or exchange your crypto with the New Transaction button as well as a Wallet button, a drop-down list with access to your account, and a selection of languages.
The screenshot below shows how your wallet looks. It's laconic and yet has all the information you need to check your daily generated profit, balance, etc. You can also buy, deposit or lease your coins directly from your wallet.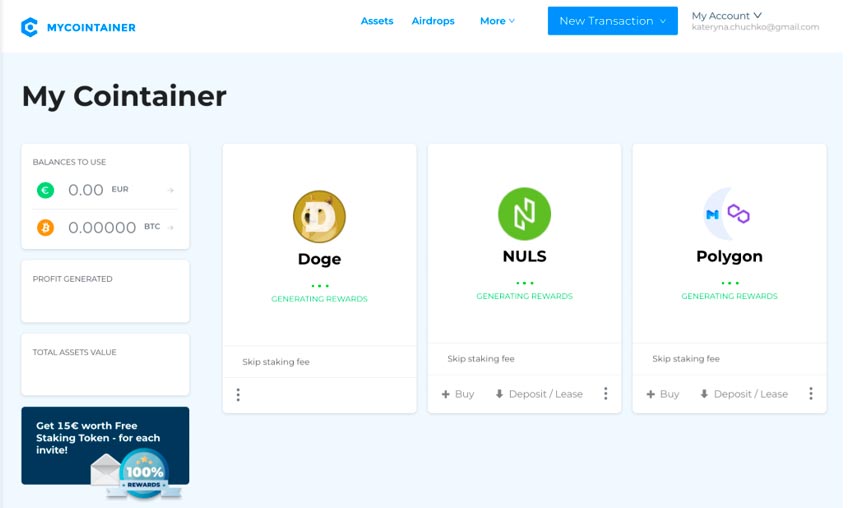 Conclusion: As a platform that chose to target beginners (not excluding the seasoned investors), MyCointainer combines a no-frills interface with an abundance of features allowing to stake, hold, exchange, and earn crypto in a variety of ways.
---
Press releases or guest posts published by Crypto Economy have sent by companies or their representatives. Crypto Economy is not part of any of these agencies, projects or platforms. At Crypto Economy we do not give investment advice and encourage our readers to do their own research.