GameCredits people have stood out these last 4 weeks with their kick-off of the or crowdsale for their 100% cryptomonet-based game store project in an unprecedented fund-raising for the MobileGo Token. This mobile game store has a payment gateway that allows players to use their tokens to purchase content within games, using 100% cryptocurrency.
With more than 300 games of 150 developers the online mobile store will be giving a lot to talk about throughout 2017. It will not only be based on games, it will also address the development of intelligent contract applications based on the blockchain platform Ethereum .
It is well known that the largest concentration of mobile gaming platforms is in China. Representing 30.2% of the world's smartphone users, most of them Android-type. Therefore most mobile gaming revenue is generated on Android devices. Outside China, Google Play and Apple currently control 98% of the mobile gaming market, eliminating the possibility of competing on new mobile gaming platforms, resulting in a monopoly in which the big loser ultimately is the user. The GameCredits mobile game store is a real alternative to this monopoly, and also the first built using cryptocurrencies.
The MobileGo Crowdsale and its purpose.
Through the massive funding or crowdsale for MonileGo, it is hoped to obtain a significant market share, following a strategy of dedication of the necessary funds for this objective. A minimum of 50% of all funds raised at the Crowdsale will be invested in marketing. In turn, a considerable part of the marketing will focus on acquiring new users seeking to get these through diverse traffic sources, which include Facebook, Google Adwords, special offers and other traffic sources specialized in player sites.
The remaining 50% of the funds will be used for the construction of MobileGo technologies, legal fees, equipment expansion, and gamification of the mobile platform. With these funds, the team hopes to popularize the mobile store and create a competitive mobile gaming ecosystem.
An important attraction of Token MobileGo smart contract technology functionality is that it allows you to create a series of unique value-added values for the mobile platform.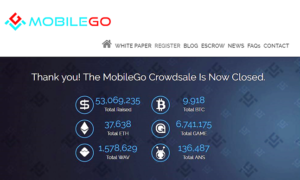 With an impressive start, crowdsale MobileGo raised $ 4.5 million after 4 hours of launch. The crowdsale lasted four weeks, with different discounts for each investment week. MobileGo's Crowdsale ranks as a historic milestone in this type of call, reaching $ 53 million, and positioning MobileGo as the largest funded ICO of all time and the fourth largest crowdfund project to date with a number never seen before investors around the world.
---
If you found this article interesting, here you can find more crypto news