Artificial intelligence expands on more advanced projects whose scope touches all areas. Such is the case in the financial field, where Mirocana comes to us, which is a self-reinforcing Artificial Intelligence based on neural networks of deep learning and other modern models of automatic learning that analyze large volumes of data to predict the financial markets.
Mirocana is a complex prediction system based on neural networks of deep learning that collect, store and analyze enormous volumes of financial data. The team behind this complete platform has created three investment products based on system predictions for the stock, currency and crypto-currency markets. Access to these products will be measured by the number of tokens available in the customer's account.
MIRO is the platform's native token, and also serves as a data access object for Mirocana Investment Products. MIRO chips are also used by the system to encourage talented people to contribute their knowledge to the proposal to increase the accuracy of Mirocana predictions. MIRO tokens can be purchased during the Tokensale, or later on the Stock Exchange.
The system bases its predictions on many strategies and constantly recalculates the data to adapt to changing market conditions and achieve the best possible performance.
It should be noted that Mirocana is not a hedge fund. The system manages your funds in your personal account or exchanges. You can track all open and closed positions in real time and when the client wishes.
Mirocana is fully automatic, with no human factor intervening in the processes described here. The system works 24/7 and resets forecasts every 5 seconds, taking into account a large number of strategies.
HOW MIROCANE PLATFORM WORKS
First the customer must open the account with a broker. Mirocana has integration with Interactive Brokers, OANDA and Poloniex. You can open a new account or use an existing one.
Secondly a MIROCANA account must be opened properly. Register your personal Mirocana account and connect your broker or change account to it using a password.
Third, you must select the annual rate of return on capital that you want the system to achieve and show you the associated risks.
Fourth in your Mirocana account, choose to track your progress. You can use an intuitive interface in your Mirocana account to keep track of how the system works.
Mirocana technology is built on a multi-layer structure. Financial data, through the layers of many strategies of its users and simulations, are transformed into high-quality investment products. They are a system that takes into account as many factors as possible: technical indicators, graphical patterns, correlations, fundamentals, commercial activity of other traders, analysts and hedge fund managers, news, tweets, articles and other data that can be correlated with assets prices.
Here we explain each layer:
Layer №1
SOURCES OF DATA
They receive raw financial data from a number of data sources. The system bases its predictions on quotes and market data, news, articles, fundamentals and the activity of traders and hedge fund managers.
Layer №2
STRATEGIES
The system stores billions of predictions generated by several layers of strategies. New strategies are implemented every day, and, in the future, any trading expert will be able to add new strategies and be paid for it.
Layer №3
SIMULATIONS
Each simulation on the platform takes as input prediction all strategies and uses neural networks of deep learning to calculate the weights between them in order to maximize the benefits.
Layer №4
SIMULATION OF BEST IMPLEMENTATION
After all the results are processed for all simulations, the best run of the simulation is calculated and selected and displayed for production.
The investment products of the platform are based exclusively on simulations of better performance. They are also connected to a monitoring unit that is able to stop all activity and convert the assets into cash in case of an accident or emergency situation.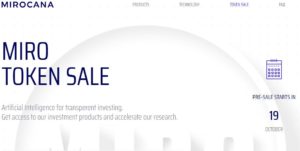 The team behind Mirocana has created three market-specific investment products using its prediction engine:
STOCK EXCHANGE
The system provides more than 400 shares on NYSE and NASDAQ stock exchanges and is able to manage its Interactive Brokers account.
CURRENCY MARKET
The system provides 125 currency pairs that are available with OANDA broker and is able to manage your your account.
CRYPTO-CURRENCY MARKET
The system predicts 90 pairs of crypto-coins that are listed in the Poloniex exchange and are able to allocate their coins.
The Mirocana Main Team and Research Group is working every day to add new data sources, strategies and simulations to increase prediction accuracy, yet they are open to talented people to help them. Whether creating a new strategy on a web platform, where anyone with basic coding skills will be able to create, test and evaluate their own strategy and get paid on MIRO chips; either by creating, validating and annotating automatic learning models based on the data encrypted for predictions; or through mobile applications and the web itself, where anyone with talent will be able to add their own predictions of stock markets, currency and crypto-currencies.
The technology of this platform is not available to everyone. Access to investment products is restricted by the number of Miro tokens in the customer balance. Unlike conventional financial and investment products, you can see which positions are opened and closed in real time. That's why they call these Mirocana products transparent investment products.
To buy Miro tokens, those interested can participate in the pre-sale of tokens starting on October 19, taking advantage of the special price conditions at that time, or participating in the Tokensale that take place on November 19 and end on December 19. The reference value is 1 MIRO = 0.001 ETH. A total of 200 000 000 MIRO will be placed.
For more detail on the project you can review their White Paper.