The development of viable solutions to the bottlenecks that have caused the problems of transaction processing and high bitcoin costs, is the order of the day. One of those alternatives is eBitcoin, and about it we will talk in this post.
The eBitcoin mission, according to its developers, is to be a utility token: a token that allows easy and fast payments with acceptable rates and, therefore, that presents improvements for electronic commerce helping among other things in addition to that the companies of The old economy become more accessible and simple to manage.
It could be said that eBitcoin is a mixture of Bitcoin and Ethereum, it is a tokenized version of Bitcoin in the chain of blocks of Ethereum to be more exact. eBitcoin complements both chains of blocks in a unique way: 1. integrating the best Bitcoin attributes in the Ethereum ecosystem, and 2. allowing much faster payment transactions at transaction costs much lower than Bitcoin. eBTC was designed to be used as an efficient and affordable means of exchange that can be married to Ethereum's smart contracts.
The eBitcoin Foundation sustains this new cryptocurrency in knowledge and development; It is a community of more than 40 people around the world, with a deep background of the old economy mixed with blockchain that have the same objective: Make the use of cryptocurrencies something simple, easy to access, easy to spend and, therefore, easy to use, which will result in a massive adoption of them.
With the combined knowledge and experience of this community, they are building a network of technology partners with specialists in different fields integrating them into their ecosystem.
They are currently developing their own solutions with technology providers that will provide the commercial gateway and messaging solution, with a portfolio manager application within the eBitcoin ecosystem.
The eBTC token will be the main way of payment within the Ecosystem, while the tokens of the platform partners will also be there. In its own solutions eBitcoin will also be the main token, but Bitcoin, Ethereum and others will also be accepted.
An example of this integration is the recent alliance with ProxyCard. With this strategic partnership, no time or money has been lost in the creation of a proprietary wallet for holders of eBTC. For Proxycard, this means that they can focus fully on development while managing eBitcoin marketing and expanding the eBitcoin / ProxyCard ecosystem creating more use cases with merchants and buyers.
The main difference between the eBitcoin community and the Bitcoin or Ethereum community is that eBitcoin is creating value in the real world with many use cases. In addition, eBitcoin is faster and has much lower transaction rates what makes it possible for example, to buy a pizza in seconds and this for an insignificant additional charge.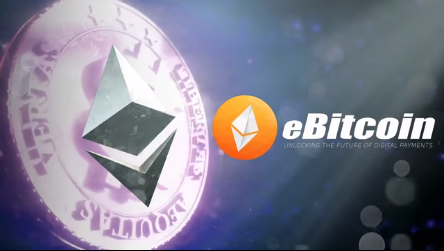 In the eBitcoin Ecosystem, the following developments stands out:
Proxy Wallet, which will be secure storage for eBTC tokens, as well as the main application for parts of the ecosystem.
Rega.Life, who are developing blockchain-based insurance and covered by their community.
Mark.Space, which will offer merchants the ability to open their stores in their world based on VR Blockchain. eBitcoin merchants will have a special offer and their community will be able to explore the whole world of virtual reality purchases from mark.space.
eBitcoin seeks to solve the main criticisms that have always hampered Bitcoin:
Excessive waste of energy from mining
Very long transaction processing times
Very expensive transaction rates
eBitcoin is already the "green" bitcoin, since there is no mining activity and, therefore, it does not waste energy in any way. eBTC is currently listed in several cryptocurrency exchanges, including HitBTC.com, Mercatox.com, EtherDelta.com, Idex.market and Ubitok.io.
To be updated about eBitcoin you can join their Telegram channel.