John McAfee has doubled down his bet by predicting that Bitcoin will reach the stratospheric price of one million dollars, by the end of 2020, and stating that if he fails, he'll eat his own member in public.
The founder of the renowned software security firm has been one of the biggest supporter of this cryptocurrency, showing a big enthusiasm for its potential, even in times where people were overwhelmed by FUD amid possible consequences of a hard fork, like that of August 1.
In that moment, the controversial entrepreneur came out to state that BTC's value would reach $ 500,000 within the next three years, otherwise, he would show off how he eats his own d*ck on national TV.
McAfee explains in his tweet the following:
"When I predicted Bitcoin at $500,000 by the end of 2020, it used a model that predicted $5,000 at the end of 2017. BTC has accelerated much faster than my model assumptions. I now predict Bircoin at $1 million by the end of 2020. I will still eat my dick if wrong."
Far from being satisfied with the fast growth on its price, thought, John decided to raise his bet in a display of total security and confidence in his prediction.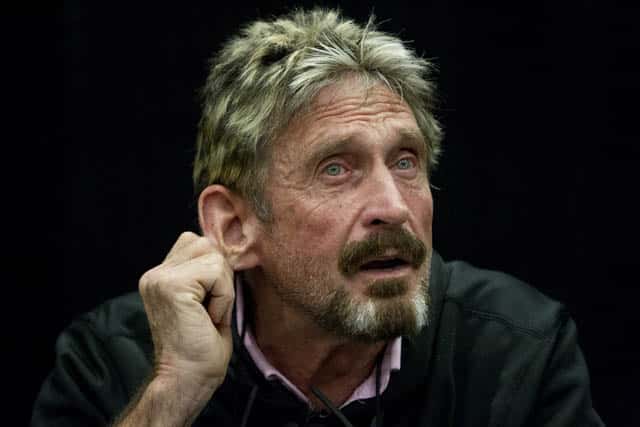 Predictions fever
The founder of McAfee Associates is not the only one playing Nostradamus in the cryptocommunity. Other celebrities and people from the world of economy have taken their turn in this game of predicting the route it will take Satoshi Nakamoto's coin, whether in short-term or long-term, and even have to readjust their prognosis amid the frenetic uprising of BTC.
For example, Standpoint Research's famous analyst Ronnie Moas, had predicted early this month that Bitcoin would reach the $ 11,000 barrier by the start of 2018. However, he had to readjust his target to $ 14,000 a few days before the All-Time High was achieved this November 28. But since its bullish trend sharpened up in the last days, he – again – had to rearrange his prediction, to finally set it at $ 20,000.
Another one who decided to give it a shot at the crystal ball was Max Keiser, who stated that the coin would hit the $ 100,000 milestone, but in a long-term. He even explained that Bitcoin "is a gift from God to help humanity sort out mess it has made with its money".
Anyways, the uprising trend seems to have no end, at least short-term speaking, thanks to news about launching Bitcoin futures market in the upcoming weeks.