Bitcoin (BTC) had a choppy first half of the year with prices oscillating majorly between $18k-$22k. The ongoing economic pressure, geopolitical uncertainty, and hawkish stance of central banks worldwide has dampened the crypto fervour. Despite the faltering digital asset prices, experts believe BTC may eventually hit $100,000 in the near future.
Global markets have sunk in the past few months as central banks around the world raise interest rates to curb soaring inflation. Risk assets like cryptocurrencies have been especially hard hit as recessionary fears rise. Regardless of the volatility and slumping prices, many experts predict BTC is on its way to passing the $100,000 mark. Although, there seems to be varying opinions on exactly when that will happen.
How is Bitcoin Faring?
BTC had managed to reclaim the psychological barrier of $20,000 several times in the first half of the year. But did not gather enough steam to hold that position for more than a brief period of time. At the time of writing Bitcoin (BTC) is hovering around $19,222 dropping 1.04 per cent in the last 24 hours. Bitcoin's dominace has also witnessed a huge decline plunging below 40 per cent for the first time in 4 years. According to CoinMarketCap, BTC dominance is currently 39.50%, a decrease of 0.09% over the day.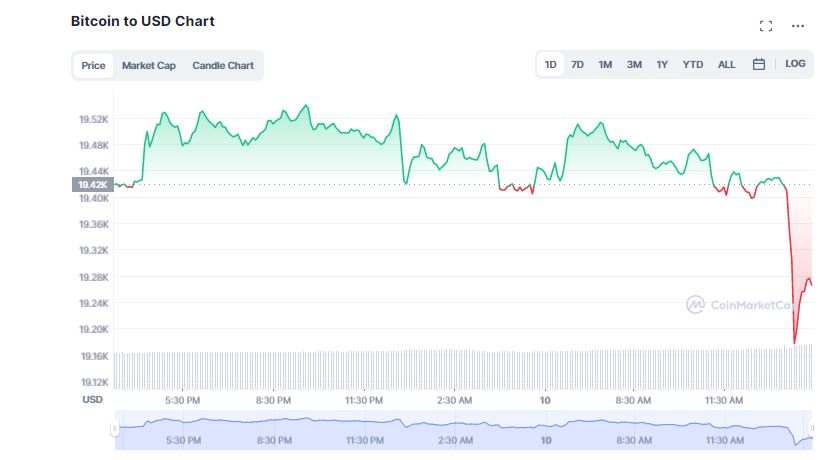 Bitcoin has been trading flat over the weekend as bears continued to pressure the market. The bellweather token has also been trading sideways since the plunge a few days back. In a statement, Edul Patel, CEO Murudex, expressed,
"Over the past month, BTC has gained nearly 1% in value. If buyers can hold the gained initiative, we might see BTC trade above the $19,600 zone soon. But if buyers lose control over the $19,000 mark, one can expect a sharp drop."
Macro Economic Factors Keeps Pressurizing BTC
BTC prices have performed low due to several factors including the geopolitical environment, surging inflation and the continuous interest rate hike by the US Federal Reserve. Also, the correlation between stocks and crypto prices have grown stronger over the past few months. As a result, poor stock performance has also added to the woes of Bitcoin (BTC). Martin Hiesboeck, head of blockchain and crypto research at Uphold lamented,
"The market remains vulnerable and on edge, not necessarily by threats from more crypto projects going bust but from the difficult economic situation we are facing right now."
Bearish Projections for Bitcoin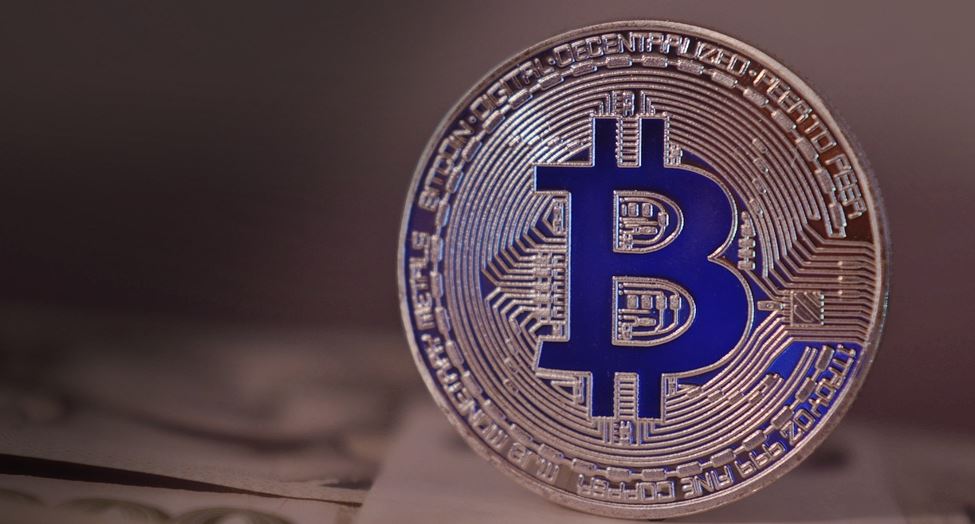 Although, the current financial predicament has been brutal, market experts anticipate a significant rebounce in the later half of the year. According to a report from Deutsche Bank, Bitcoin (BTC) could make its way back up to $28,000 by the end of the year. On the other hand, a report by Finder consisting of a panel of 53 industry specialists suggested BTC price to reach at least $25,000 by the end of 2022. Finder's report stated,
"Our panel thinks BTC will be worth $25,473 by the end of 2022 before rising to $106,757 by 2025. And while holding until 2030 may result in a real payoff, the panel sees some tough times ahead in the short-term, expecting BTC to be worth just $13,676 at some point this year."
Meanwhile, many crypto anaysts believe that Bitcoin (BTC) may climb to $100,000 by 2025. Jurrien Timmer, director of global macro at Fidelity Investments asserted his bullish stance on BTC as an aspiring store of value in a world of ongoing financial repression. He added that Bicoin would see a "pretty sustanible rise" in long-term value driven by organic market movement, with the $100,000 threshold by 2025.
Bloomberg commodity strategist, Mike McGlone, expects the price of Bitcoin (BTC) could still hit $100,000 by 2025, once the bear market subsides and crypto prices recover again. A panel made up of more than 50 crypto experts by Finder also expects bitcoin to reach at least $100,000 by 2025.
Bitcoin to Rebounce Soon
Amid the boisterous predictions, many experts feel that it was easy to predict a $100,000 Bitcoin price late last year. However, given the current scenario, the prediction game is getting trickier. They anticipate Bitcoin (BTC) to end up far away from the $100,000 mark in 2023. As per Timmer, due to the ongoing market slowdown, its more realistic for BTC to be in the $40,000 to $50,000 range in the next year. He further explained,
"I have a sense of what bitcoin is worth and what it's worth in the future. If the demand model says that Bitcoin's intrinsic value is $50,000 today and $100,000 two years from now (my thesis), then at $30,000 Bitcoin is going to look a lot better than at $70,000."
Several other analysts claim that Bitcoin (BTC) will breach the $100,000 mark but rather on a slower timeline. Ian Balina, founder of crypto research and media company Token Metrics, said that Bitcoin can go up to $150,000, but the timeline is unclear. Balina says the release of new altcoins and hype about the metaverse will continue to drive the demand for crypto, and BTC will therefore bounce back eventually.
Bitcoin may hit $100,000 in the next five years or ten years. But the main factors to propell BTC prices remain on consumers who are buying and exploring cryptocurrencies, regulatory policies and macro environment. It can be fairly accepted that crypto technology is being adopted at a faster rate than humans first adopted internet technology.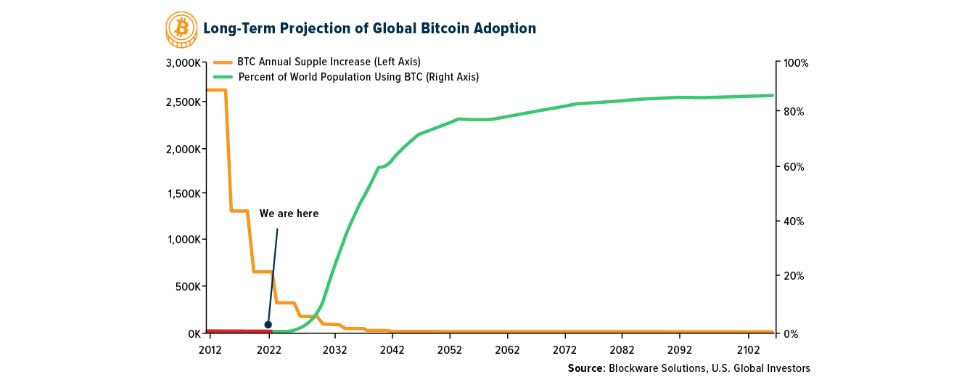 As per Blockware, global Bitcoin adoption will break past 10% in the year 2030. After that, growth could become parabolic, eventually reaching 80% of the population in the 2050s. Recently, for the first time ever, the combined capacity of Bitcoin Lightning Network's total capacity in public channels surpassed 5,000 BTC.