MakerDAO is gaining prominence, looking at the performance in the daily chart and across the decentralized finance (DeFi) scene. Presently, its native token, MKR, has been edging higher as trading volumes and market cap swells. To illustrate, MKR is up 12% from August lows but 89% from June 2023 lows.
Despite the overall market lull, MKR appears firm and trending inside a bull bar. Whether this uptrend will continue in the sessions ahead is yet to be seen. However, what's clear is that bulls have the upper hand. 
The August 31 bar shapes the immediate term since prices are held within that bull bar. In this way, bulls are in control from an effort-versus-result perspective.
MakerDAO and Endgame
Multiple factors drive MKR prices. Of note, the decision by the team to proceed with the Endgame, a development agenda that will see MakerDAO launch a new chain, has been supporting prices.
Presently, MKR is stronger because of the protocol's move to proceed with real-world asset tokenization and to diversify DAI's base to make it more resilient. 
MakerDAO is the issuer of the algorithmic stablecoin, and MKR is the governance token. It will be sold to stabilize DAI in case of a depegging. 
In the most recent proposal, Steakhouse, a decentralized autonomous organization (DAO), said MakerDAO should allocate up to $100 million of their reserve to US treasuries. 
By diversifying in this manner, the DAO believes the MKR issuer will strengthen its balance sheet and earn revenue.
Maker Price Analysis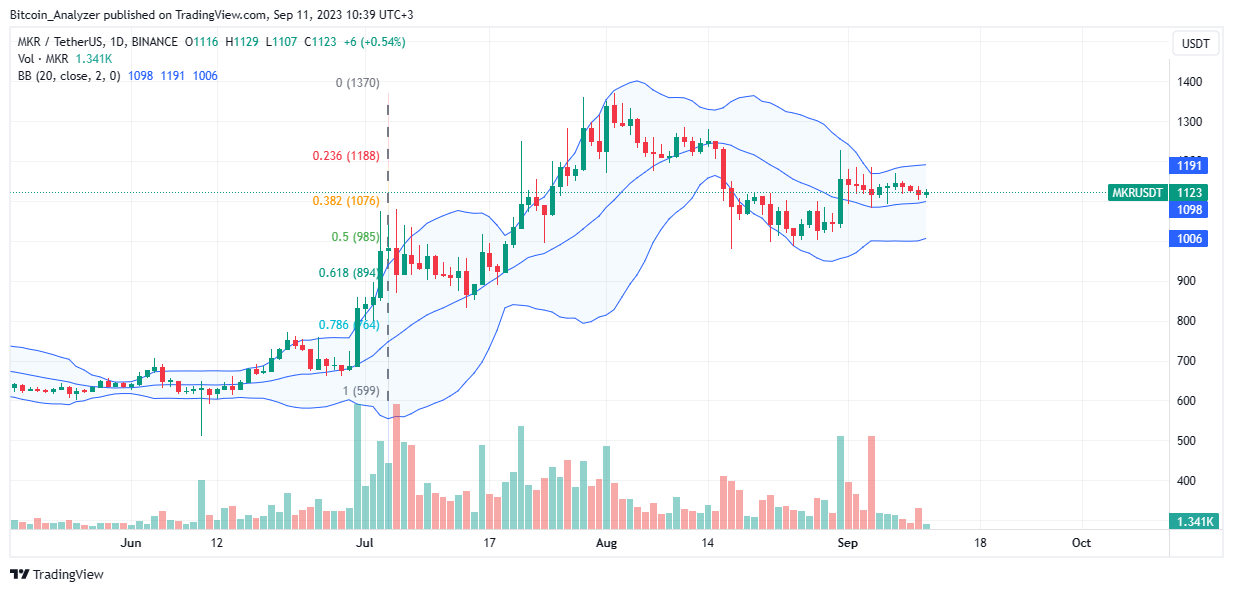 MKR might be firm, but bulls are yet to reverse losses of August 16 and 17.
Even so, the August 31 bar shapes the trend in the medium term. The bar is wide-ranging, bullish, and has high trading volumes.
Since prices are consolidating, traders can watch out how prices react at $1,230 on the upper hand and $1,080 on the lower end. Any breakout from the flag can push MKR either to August highs at $1,370 or August lows at around $990.
As it is, aggressive traders can buy the dip, targeting a retest of August 31 highs or H2 2023 highs in a buy-trend continuation. 
Conversely, any sharp breakout below the current support levels nullifies this outlook, paving the way for sellers. In that case, bear bars of Aug. 16 and 17 would set the pace as MKR may slip to $850, around the 78.6% Fibonacci retracement level of the June to August 2021 trade range.
Technical charts courtesy of Trading View.
Disclaimer: The opinions expressed do not constitute investment advice. If you wish to make a purchase or investment we recommend that you always conduct your research.
---
If you found this article interesting, here you can find more Cryptocurrencies News.