PeckShield, one of the leading companies in blockchain security and data analytics, has just released a new report revealing that $2.27 million worth of non-fungible tokens (NFTs) were stolen in June, marking a 23% decrease compared to the previous month. The report also notes that half of the stolen NFTs are sold within just 160 minutes on various NFT marketplaces like Blur and OpenSea.
NFT Adoption Grows Leaps and Bound
On June 3, Peckshield took to Twitter to reveal several specifics related to the NFT space including a sudden drop in digital art thefts and the amount of time it takes for stolen NFTs to be re-sold.
#PeckShieldAlert In June 2023, ~$2.27M worth of #NFTs were stolen, marking a 23% decrease compared to the previous month. Within a span of 160 minutes, half of the stolen NFTs were promptly sold on various marketplaces. The percentage of stolen NFTs initially sold on @blur_io… pic.twitter.com/0bhYs3CzTL

— PeckShieldAlert (@PeckShieldAlert) July 3, 2023
This comes at a time amid a monumental spur in NFT adoption. Since the beginning of this year, scores of companies from across the world, celebrities from different industries, and individual artists have been placing big bets on NFTs and incorporating them into their business models to improve transparency and accountability.
Recently, Cristiano Ronaldo, a five-time FIFA player of the year, announced his partnership with the world's leading cryptocurrency exchange, Binance, unveiling its second exclusive NFT collection, "ForeverCR7: The GOAT." Melania Trump, the former first lady of the United States, is launching a collection of NFTs featuring US landmarks in time for the 4th of July.
The ForeverCR7: The GOAT NFT collection drops on July 3, exclusively on #Binance!

There's a lot to come from @Cristiano's 2nd drop.

Here's everything you need to know ⤵️https://t.co/tzOiMsqcrF

— Binance (@binance) June 22, 2023
On June 8, Kraken, a US based cryptocurrency exchange announced the launch of its NFT marketplace on the Polygon Network. Moreover, earlier in the same week, Binance also disclosed support for Bitcoin NFTs in its dedicated NFT marketplace. These developments indicate the immense growth NFTs are enjoying over the past few months.
NFT Thefts Plummet
Amidst this upswing, PeckShield reported a steady decline in stolen digital arts in June 2023. According to the announcement, $2.27 million in NFTs were stolen in June, marking the lowest amount of stolen NFTs this year. Additionally, the data also shows a staggering 85% decrease compared to February when the value of stolen NFTs reached a high of $16.2 million.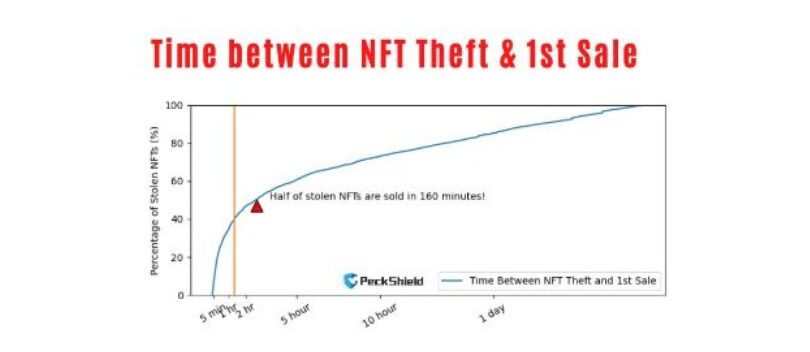 Besides the amount lost in NFTs, the blockchain security firm also claimed that half of the stolen NFTs are re-sold within just 3 hours, indicating that it doesn't take hackers long to offload some of their dirty profits.
PeckShield, further, highlighted that Blur and OpenSea have been the go-to marketplaces for stolen NFTs to get their first sale. 99.7% of stolen NFTs in June went to those two platforms, with Blur handling 86% and OpenSea 13.76%.