Litecoin [LTC] broke a multi-year low as the broader cryptocurrency market continued to tumble. It continued to slide down the crypto rankings, but will 2022 bring about a much-needed revival?
It wasn't just the worst day for Bitcoin traders that suffered after upheaval in traditional markets spilled into crypto triggering millions of liquidations. Altcoins such as Litecoin also endured massive price declines from already depressed levels. The extended sell-off is now shaking the confidence of the Litecoin faithful as it dropped to levels last seen in August 2021.
Litecoin has been in the middle of a huge downtrend. In just two months, it has lost well over 50% of its value. The latest market-wide sell-off further dragged the crypto down. While Litecoin isn't the only asset that appears to be struggling, the death cross, however, may prove significantly damaging. At the time of writing, the silver crypto was trading at $128 after a fresh weekly decline of over 15%.
Litecoin's Gruelling Downtrend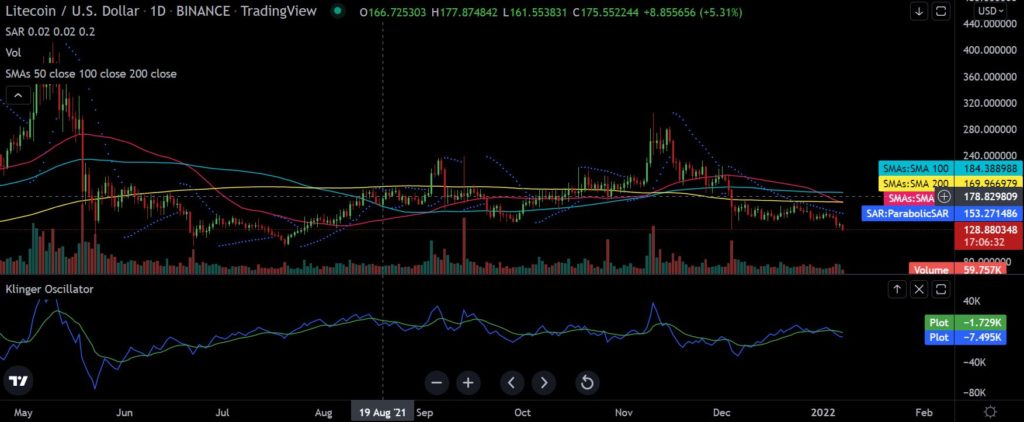 Litecoin's daily chart depicted the 50 SMA [Pink] undergoing a Death Cross with the 200 SMA [Yellow] on the 7th of January. the 100 SMA [Blue], on the other hand, continued to hover above all. The strong bearish pressure has stomped any revival hints. The volume is moderate and but has failed to support the price action of the coin. The dotted markers of the Parabolic SAR resisted an upward attempts while the Klinger Oscillator [KO] turned bearish.
The diverging Bollinger Bands [BB] depicted a mild uptick in volatility that can flip the negative pressure. The red closing bars of Awesome Oscillator [AO] indicated weak but bearish momentum in the market while the Relative Strength Index [RSI] touched oversold territory.
A bounce from this level would ensure a recovery with the help of a moderate volume and a rise in volatility. However, a damaging turn of events may drag the crypto further down to around 22% descent near the immediate support level of $107.
Novogratz on Litecoin
So mike novagratz goes on @cnbc and has enough "power" to get them to pull $LTC #Litecoin #LTC off the list after being 10 years in, no downtime, having major developments like optional privacy, NFTs, Smart contracts on the way for a coin that hasn't stood any tests ? Strange pic.twitter.com/A0oA3GwgI3

— Litecoin Magazine ŁⓂ️🕸 (@LitecoinMag) December 27, 2021
2021 can be marked as a year when some lesser known altcoins managed to significantly outperform several major tokens including the market leader Bitcoin. However, alts including Litecoin slid down the crypto rankings and has failed to revive. Following the lacklustre price action, billionaire founder of Galaxy Digital, Mike Novogratz had this to say Litecoin–
"It is strange to me that Litecoin shows up on anyone's, you know… it's not something that people are engaged in, it's not a technology."