Litecoin has more than doubled after sinking to 2022 bottoms by the close of H1 2022.
Adding roughly 105 percent since then, LTC is above critical support levels per the formation in the weekly chart.
Most importantly, the breakout in the daily and lower time frames indicates that buyers are determined.
LTC could be bottoming up at spot rates since prices are trading above the chaos of early November 2022. The confirmation of bulls' upbeat nature in the past two weeks indicates that Litecoin may be in for a positive ride in sessions ahead.
There are technical and fundamental factors behind this optimism.
Litecoin Halving
John Bollinger, the revered technical analyst, said Litecoin has woken up considering how the coin has been outperforming Bitcoin and Ethereum in the past trading month. The exemplary performance is ahead of Litecoin's halving. Litecoin regularly halves its emission supply every 840k blocks.
Historically, the move leads to positive price re-pricing because of the expected supply shock. Litecoin will halve on July 21, 2023, reducing block rewards from 12.5 LTC to 6.25 LTC. As such, barely seven months before the event, traders expect prices to edge higher—as history shows—and appear to be positioning themselves for gains.
Fundamentally, as centralized institutions fail, analysts cite the importance of reverting to decentralized rails. Litecoin is decentralized, powered by over 1.1k nodes. Its developers recently introduced MimbleWimble (MW). MW is an optional tool that users can use to protect their LTC transactions.
Litecoin Technical Analysis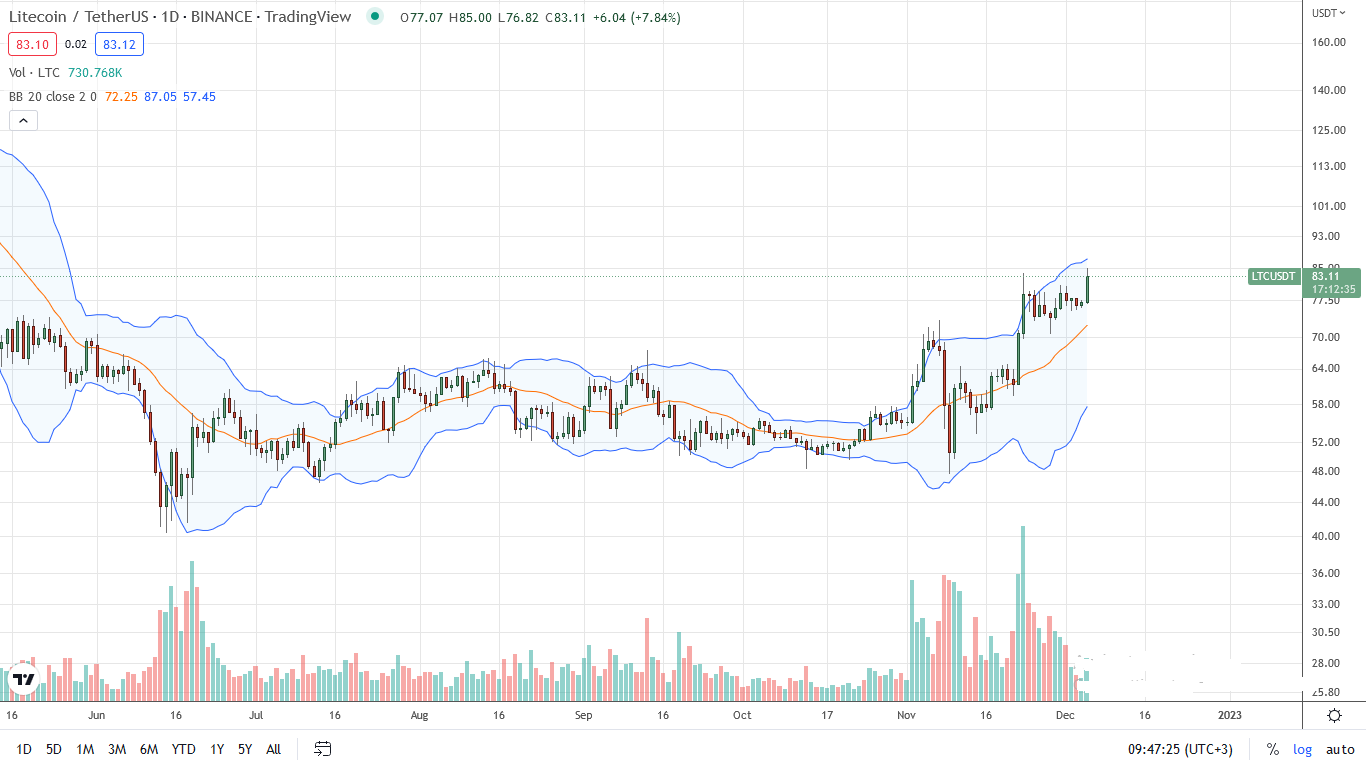 For three weeks this year, LTC prices have been trading above the middle BB in the weekly chart. The 20-week moving average has been a strong liquidation line for prices, diffusing upward momentum. However, the breakout in late October and the follow-through in the past weeks are bullish for traders. Accordingly, traders can search for loading opportunities if prices are above $70 in the daily chart.
There were lower lows relative to the upper BB, indicating waning upside momentum. Nonetheless, buyers have been firm following today's gains. Since LTC broke above the November 23 bull bar, buyers stand a chance as they double down.
The immediate target is $100—a psychological line. Losses below $70 may see LTC retrace to $60 or November 22 low.
Technical charts courtesy of Trading View.
Disclaimer: Opinions expressed are not investment advice. Do your research.
---
If you found this article interesting, here you can find more Litecoin news.