Litecoin is up 40 percent from December lows, looking at the performance in the daily chart.
Overall, LTC's has been table-topping in the past few weeks, charting higher and helping inject momentum (and confidence) across the crypto markets.
At this point, Litecoin is within a bullish breakout formation, firm versus the greenback, and buyers are looking to add to their gains, thrusting above the $100 psychological level. Still, there need to be hints of strength.
The past two days have been largely uneventful as traders appear to take profit, stalling the advancement to new resistance levels. Even so, buyers are in control, and the bullish breakout formation is valid as long as prices hold steady above $80.
The Bitcoin Connection
Traders are looking at the chart, expecting more gains in the next few days. All the same, the trigger behind the recent surge is pinned on fundamental factors.
Litecoin is closely correlated with Bitcoin. Therefore, the surge in Bitcoin, mainly because of shifting macroeconomic factors and tapering inflation, is buoying LTC, aiding in sustaining the coin at spot levels.
Shrinking inflation and strengthening labor markets in the United States could advise the monetary policy adopted by the Federal Reserve in the months to come. The central bank could begin reducing interest rates in the next few months.
Combined with Litecoin halving expectations and confident traders expecting a bounce after last year's losses, LTC stands to chart higher.
Litecoin Price Analysis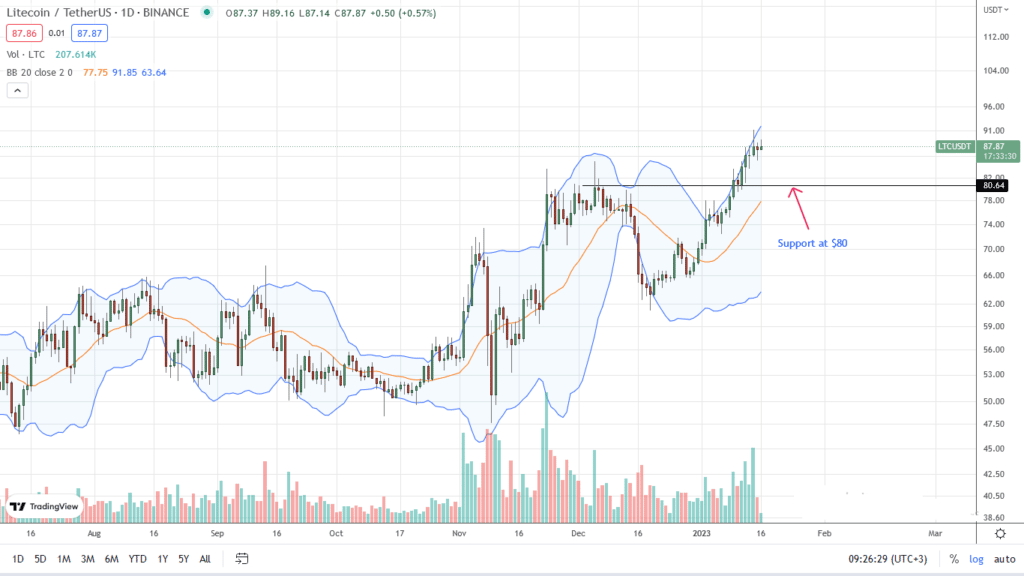 The immediate support line for LTC is at $80. It also marks December 2022 highs and is a critical reaction line.
As long as prices are held above this line, every low may offer an opportunity to double down with targets at $100, a psychological level.
Though buyers appear to be in control, bars diverge from the upper BB with low trading volumes. Coupled with a bullish bar with a long upper wick pointing to liquidation, which spilled over to Jan. 15, a slight retracement could print early this week.
As aforementioned, if LTC holds above $80, traders can load the dips. If there are immediate gains above last week's highs at $92, LTC may rip higher towards $100 and later $130, marking March 2022 high.
Technical charts courtesy of 
Trading View.
Disclaimer: Opinions expressed are not investment advice. Do your research.
---
If you found this article interesting, here you can find more Litecoin news.