Litecoin (LTC) has witnessed a massive rally over the past 24 hours surging 29%, after remaining under pressure for some time due to the FTX collapse. What has triggered this incredible performance?
The cryptocurrency market is on a bull run today as the global crypto market cap gains over 5 per cent in the last 24 hours to $825.79. Barring a handful of digital tokens, most of the top coins including Bitcoin (BTC), Ethereum (ETH) and other major altcoins witnessed a market-wide rally with small gains over the past day. Amidst the surge, Litecoin (LTC) became one of the top performing cryptocurrencies currently standing at rank 13 with a market cap of $5.65 billion.
Reasons for LTC Price Rally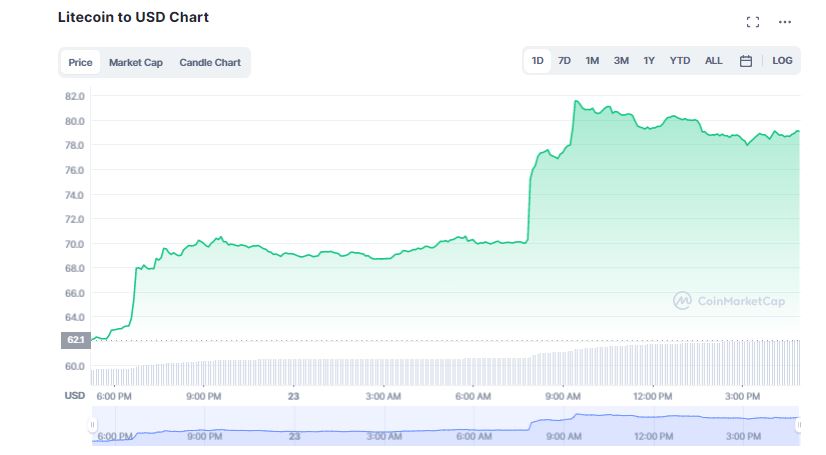 According to CoinMarketCap, LTC has shot up 27.79 per cent over the last 24 hours to currently trade at $78.74. Litecoin has experienced unprecedented growth, rising more than 36 per cent in the past seven days. On November 22, the LTC/BTC price accomplished a new level ballooning nearly 50 per cent to establish a new yearly high of 0.003970 BTC.
Crypto market experts anticipate the rally has been triggered by various factors. For one, Litecoin (LTC) price resurgence can be attributed to the coin's halving in August 2023. The term halving refers to a process that reduces the issuance rate of new coins. More precisely, Litecoin halving will reduce rewards paid to miners for recording transactions on Litecoin's blockchain from 12.5 LTC per block to 6.25 LTC per block.
Secondly, data aggregator, Santiment revealed that over the past 14 days, large wallets have been accumulating an extensive amount of Litecoin. As per data, a whopping $42.4 million worth of LTC has already been grabbed. Santiment wrote that addresses holding between 1,000 to 100,000 LTC bumped up their collective bags by 2.71 per cent in a single day just last week, triggering the price rally.
⚡️ #Litecoin's price surge may have shocked some of you, but the large address accumulation has been the key to watch. In the past 2 weeks, addresses holding 1k to 100k $LTC accumulated $43.4M in coins en route to the first price jump above $80 since May. https://t.co/qkff6FCA1g pic.twitter.com/DM50SjOcAY

— Santiment (@santimentfeed) November 23, 2022
Number of Litcoin Wallet Grows at Rapid Pace
In addition, on-chain data platform Glassnode disclosed the number of Litecoin wallet addresses continues to grow at an increasing pace. At the start of the year, the number was approximately 117 million wallets. Currently, there are around 162 million LTC wallets.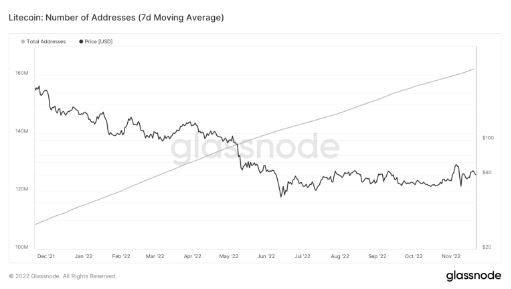 In contrast, the number of Ethereum wallets at the start of 2022 was around 140 million and is currently at 166 million.
Michael Saylor says #Litecoin is also likely a digital commodity like Bitcoin: pic.twitter.com/7N19IpxtSe

— Altcoin Daily (@AltcoinDailyio) November 18, 2022
Last week, Michal Saylor, Bitcoin maximalist and co-founder of MicroStrategy, stated that Litecoin is a "digital commodity" amplifying the digital asset. Moreover, Ripple's former partner, MoneyGram, gave LTC a boost as it launched a service allowing customers to hold, trade and transfer Litecoin (LTC), Bitcoin (BTC) and Ethereum (ETH).