Despite the successful completion of the much anticipated third halving event, Litecoin (LTC) plunged more than 6% in the last 24 hours, as the broader cryptocurrency market traded in red.
Litecoin Completes Third Halving Event
Litecoin (LTC) has just completed its third halving in its history since 2011, slashing the block rewards from 12.5 LTC to 6.25 LTC. On Aug. 2, the Litecoin blockchain went through its automated halving procedure at block 2,520,000.
LITECOIN HAS SUCCESSFULLY HALVED ITS BLOCK REWARD!

⚡ $LTC ⚡ pic.twitter.com/iemCnkPsdu

— Litecoin (@litecoin) August 2, 2023
Just like Bitcoin (BTC), the supply of Litecoin rewards given out as mining rewards gets cut in half, meaning fewer of the digital coins are created. This block reward slashing happens once every four years or after 840,000 blocks have been mined. Even after successfully completing the halving even, Litecoin dropped to a one-month low of $86, shortly after its new token issuance was cut in half.
According to CoinMarketCap, LTC witnessed a dramatic selloff with the token prices falling more than 6% in the last 24 hours to trade at $86.75.Meanwhile, over the past seven days, LTC dropped 4.33%, trending down since early July, when the digital asset topped $110 for the first time since April 2022.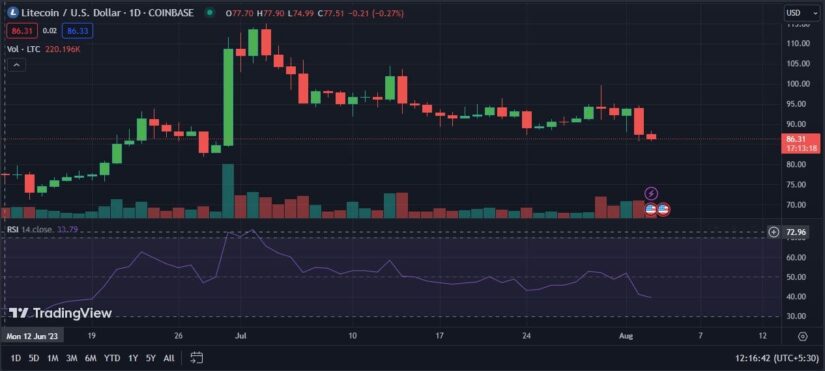 What Has Triggered the Slump?
It seems global cryptocurrency exchange KuCoin's recent decision to temporarily halt its KuCoin Pool service may have caused some disruption in LTC prices as well as the the broader digital assets market.
The exchange noted that users who are involved in cryptocurrency mining are advised to transition their Bitcoin (BTC) and Litecoin (LTC) miners to alternative mining pools before the deadline to ensure uninterrupted earnings.

However, during the suspension, users will retain complete access and control over their assets, along with other KuCoin offerings that will remain operational as usual. This might have caused investors to react negatively, participating in a selloff, as mining continues to play an important role in the crypto ecosystem.
Nevertheless, KuCoin assured its users that the suspension is temporary, and the company is working on a new strategy for its mining pool service. The exchage also advised users to back up and preserve their mining records and associated data before August 27, 2023, as failure to migrate to alternative mining pools within the specified timeline could affect their mining revenue.
Will LTC prices Bounce Back?
While the price performance of the asset might have below par, Litecoin (LTC) enthusiasts may take relief in the fact that the asset has come a lot stronger in terms of other network-related metrics since the previous halving.
Active addresses & new addresses are back on the rise for #Litecoin. Daily active addresses saw a 28% 7-day increase & new addresses saw a 54.6% 7-day increase!
Source: https://t.co/POjEVdh92n pic.twitter.com/PCbcGV7mFH

— IntoTheBlock (@intotheblock) June 19, 2023
Recently, on-chain data aggregator IntoTheBlock revealed that the number of new addresses on the Litecoin network has been on the rise with the total new addresses jumping a whopping 55% in June 2023.
Market experts aniticipate it is possible that the next upturn could see it break past $100 briefly. Regardless of this, though, it looks possible that LTC could drop to $75 at some point in the near future.