As altcoins start to see a definitive recovery today, Litecoin (LTC) witnessed an impressive uptick on both its daily and weekly charts. It seems a number of factors are responsible for the recent surge with the upcoming Litecoin halving being the primary reason.
According to CoinMarketCap, Litecoin (LTC) is up nearly 5% in the last 24 hours to trade at $92.84. Meanwhile, over the past seven days, the digital token exploded 16.52% noting a massive growth in its wallet addresses with the upcoming halving, scheduled to take place in August. LTC recently bounced from an uptrend that has been in play since last November and has also recovered strongly back to the north of its 200-Day Moving Average.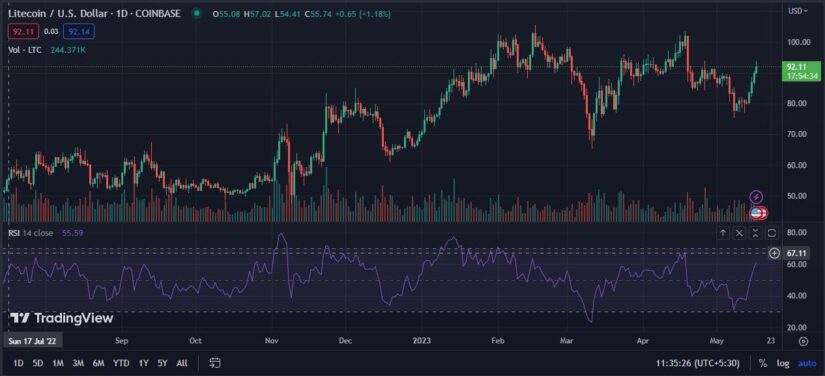 Reasons Behind LTC Upswing
Investors have been attributing a combination of technical buying, with LTC having recently found strong support at a long-term uptrend and optimism about the upcoming Litecoin halving in August as potential catalysts behind the token's ongoing bullish momentum. The halving event has been projected as a major growth trigger for the Litecoin price, as it is expected to reduce the rate of generation of new tokens.
With the #Litecoin halving approaching, we created this video to explain more about this mathematical event, when it happens, how the reward system works and why is it so important. $LTC https://t.co/lnpjK6lsvX

— Litecoin (@litecoin) May 14, 2023
In addition, earlier this week, the payments-focused layer-1 Litecoin blockchain protocol introduced the experimental LTC-20 token standard, which can be used for non-fungible tokens (NFT) and may make the blockchain more usable for developers. Following the experimental launch, the number of transactions and active wallets spiked a staggering 500%. For the uninitiated, LTC20 is a standard similar to Bitcoin Ordinals' BRC20 on the blockchain.
Another reason that is credited to the LTC rally is its latest integration of the Lightning Network. Recently, the altcoin network took to Twitter to reveal the very first Lightning Network transaction that was carried out on the Litecoin blockchain, pushing its scalability by up to 10x. The Lightning Network is a Layer 2 protocol that is primarily built on the Bitcoin blockchain to help with expedited transactions and low cost.
DYK: The very first @lightning transaction was made on #Litecoin?

One of the latest innovations to $LTC is #MWEB, giving Litecoin 10x scalability. https://t.co/ekSGVM9cCD

— Litecoin (@litecoin) May 14, 2023
Litecoin Is Poised For 200% Gain
$LTC – Halvening in August

Historically, #LTC has rallied up to +200% leading up to its halving, and with #Litecoin set for its next halving in August, Santa is observing this very closely. 👀🤝

Likely a good idea to start buying spot $LTC in May, as history tends to rhyme… pic.twitter.com/jIJalxr749

— Crypto Santa (@Blockchainsanta) May 15, 2023
Furthermore, on May 15, BlockchainSanta revealed that Litecoin might be due for a potential 200% upside in the days leading up to the halving. The price analysis is based on the cryptocurrency's historic performance during previous halvings. However, this also depends on the broader macroeconomic factors including Fed's interest rate hikes, inflation levels, and other aspects of the financial world.