Litecoin (LTC), one of the top ten altcoins, has managed to gain bullish momentum, jumping an impressive 28% over the past seven days. Let us dig in to understand the reasons that are driving the rally.
Over the recent past week, Litecoin (LTC) has outperformed several leading digital tokens including the big boys of cryptocurrency, Bitcoin (BTC) and Ethereum (ETH). According to CoinMarketCap, LTC is up 2.02% in the last 24 hours to trade at a 14 month high above $100.
At the time of writing, Litecoin is hovering at $112 with its market cap surging more than $8.26 billion. Meanwhile, the altcoin has jumped more than a whopping 28% over the past seven days, becoming one of the top gainers among digital coins.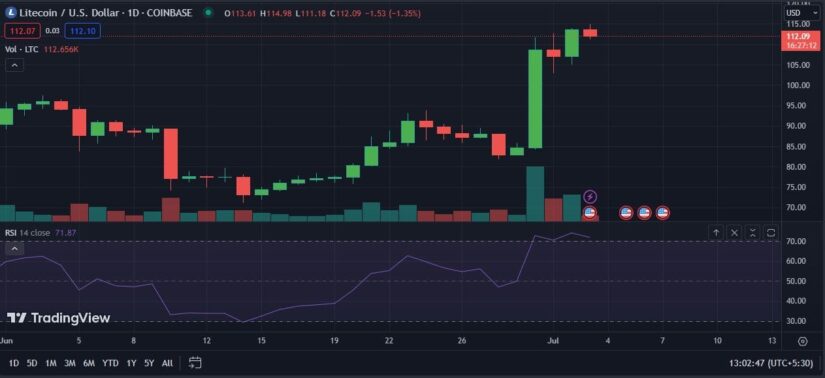 Why is Litecoin Pumping?
It seems investors are flocking to purchase Litecoin (LTC) in the weeks leading up to its halving on August 3. The event will effectively reduce the Litecoin network's mining reward per block from 12.5 LTC to 6.25 LTC and theoretically reduce the amount of new supply. LTC halving is an event that would make the digital token even more scarce. With fewer coins in circulation, LTC prices could rise if demand remains at the same level or even increases.
In addition to the halving, Litecoin price is on a bull run due to its listing on EDX Markets, a new institutional crypto exchange backed by firms including Citadel Securities, Fidelity Digital Assets and Charles Schwab Corp. This is mainly because the EDX Markets exchange listing is considered to be a good proxy in terms of the regulatory clearance of digital assets.
Jamil Nazarali, CEO of EDX Markets had previously highlighted that the four crypto tokens listed on EDX Markets – BTC, ETH, BCH and LTC were safe bets in terms of compliance with the United States Securities and Exchange Commission (SEC).
Several market experts anticipate LTC will continue its rally to touch greener pastures. On June 2, prominent crypto analyst, Michael van de Poppe took to Twitter to reveal that LTC is on its way to $200.
The markets are waking up and #Litecoin is on its way to $200.

— Michaël van de Poppe (@CryptoMichNL) July 2, 2023
LTC Sees a Spike in Network Adoption
Furthermore, data from social analytics platform LunarCrush had recently, published a report suggesting that Litecoin (LTC) has surged to become the numero uno coin in AltRank. The AltRank metric tracks the social activity and price performance of an altcoin versus Bitcoin (BTC).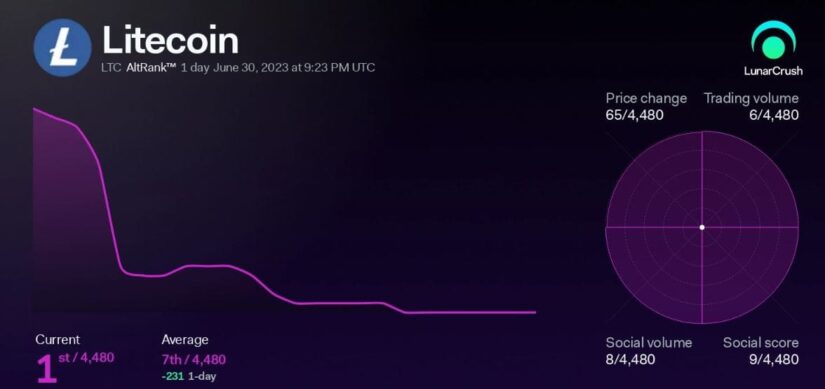 Going further, LTC witnessed a tremendous uptick in the second quarter of 2023 as far as network adoption was concerned. According to on-chain analytics company IntoTheBlock, the network processed over half a million daily transactions for the first time in Q2 2023.
As a matter of fact, the total number of active addresses has jumped as well. In May, Litecoin (LTC) saw the largest spike in the total number of active addresses, where more than almost 832,000 addresses were interacting within the network as either senders or receivers.
This comes after users who were bogged down by rising transaction fees on Bitcoin chose to shift towards less expensive alternatives. Interestingly, during the first half of May, Litecoin's transaction count was on par with Bitcoin's daily tally. The number of LTC's active addresses also reached all-time highs around the same time period.
On the other hand, Bitcoin (BTC), Ethereum (ETH) and other major altcoins were also trading higher on Monday amid positive cues in the riskier asset class market. In a statement, Edul Patel, Co-founder and CEO at Mudrex said,
"This week is expected to bring significant economic events in the US, including the release of the FOMC minutes for June on Wednesday, the Job Openings report on Thursday, and new employment numbers on Friday."