Lido DAO (LDO), the utility token of the leading liquid staking solution for Ethereum (ETH), Lido Finance, has witnessed a steep decline following its announcement to stop the support of liquid staking on Polkadot and Kusama.
According to CoinMarketCap, Lido DAO (LDO) is down more than 7% in the last 24 hours to trade at $2.34. The token tanked a massive 18.82% over the past seven days after decentralized finance (DeFi) applications developer firm and Lido partner MixBytes announced it would stop developing and providing technical support to Lido on Polkadot and Kusama liquid staking protocols as of August 1, 2023.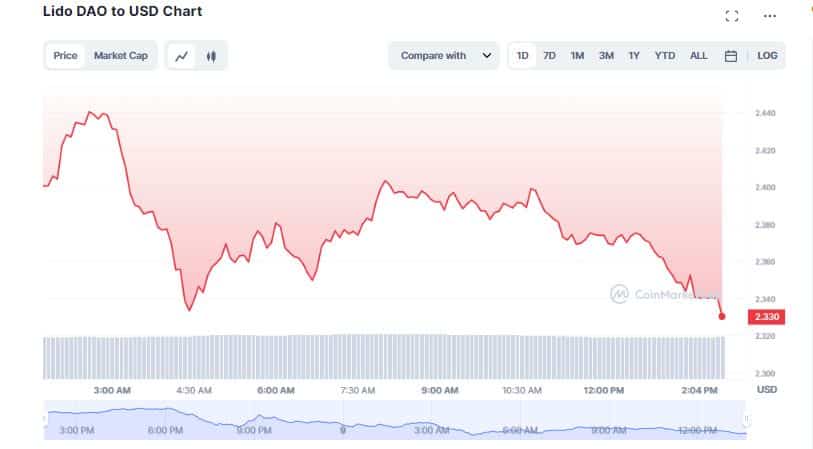 Why is Lido Dropping?
LDO dropped in tandem with the broader cryptocurrency market after a hawkish stance from Federal Reserve Chair Jerome Powell triggering the possibility of the US central bank levying higher rate hikes in order to tame inflation.
Furthermore, a rumor from the Bankless Show on YouTube negatively impacted the price of the Lido token after David Hoffman, the show host, talked about the rumors of Lido getting a Wells notice. However, it seems the primary reason for the decline is Lido's proposal to stop liquid staking on the Polkadot and Kusama ecosystems.
The proposal may affect nearly $25 million of assets. Data aggregator DefiLlama showed that investors have staked almost $22.3 million worth of Polkadot (DOT) and $2.34 million of Kusama (KSM) on Lido. As per the official blog post, users can no longer make staking deposits into Lido for the Polkadot and Kusama protocols from March 15.
It also noted that an alternative host for the UI will be set up by the community from August 1. Nevertheless, the proposal is in a preliminary discussion stage yet. Kosta Zherebtsov, chief product officer of MixBytes stated,
"The decision was made because of several challenges, including market conditions, protocol growth, limited capacity and priority alignment."
Lido's Recent Growth
Over the past few moths, Lido DAO (LDO) has increased at an exponential rate owing to the surge in DeFi. As a matter of fact, since Ethereum's transition from Proof-of-Work (PoW) consensus to Proof-of-Stake consensus (PoS) in 2022, the demand for Lido has increased dramatically. The skyrocketing demand can also be attributed to Ethereum blockchain's upcoming "Shanghai hard fork", slated for March 2023.
🌟 Lido on Ethereum

Lido staking deposits increased by 47.1k ETH over the last week, capturing about 33.5% from ETH staked over the previous 7 days. pic.twitter.com/p1x387WLAz

— Lido (@LidoFinance) February 6, 2023
In January Lido surpassed MakerDAO commanding a whopping $5.9 billion in total value locked (TVL), overtaking the latter's $5.89 billion. Additionally,, on February 7, Lido took to Twitter to announce various other fundamentals indicating the overall growth of the protocol crossing a milestone of 5M ETH in total on Beacon Chain. At the same time, the new ETH/LDO factory pool soared $24.4M in TVL, up more than 36% in just one week.