Lido DAO (LDO), the native utility and governance token of Lido decentralized autonomous organization (DAO), is surging at a rapid pace as decentralized finance (DeFi) activity gain prominence. In addition, the upcoming hotly anticipated Ethereum's Shanghai Upgrade has also likely triggered the LDO rally.
Lido DAO, a liquid staking protocol on the Ethereum (ETH) blockchain, has been witnessing astronomical traction over the past couple of months. Since Ethereum's transition from Proof-of-Work (PoW) consensus to Proof-of-Stake consensus (PoS) in 2022, the demand for Lido has increased dramatically, as it allows users to stake ETH tokens on the Ethereum Beacon Chain and receive a representative stETH token, which can then be sold and used in various DeFi protocols to obtain an additional yield.
The protocol also does not impose any limits on the staking account, enabling users to stake any amount. Recently, the Lido protocol  emerged as the market leader for Ethereum liquid staking, with the highest total value locked (TVL) in DeFi.
Lido now has the highest TVL of any DeFi protocol. pic.twitter.com/2xsM3lVGVl

— Patrick | Dynamo DeFi (@Dynamo_Patrick) January 1, 2023
Lido Rises Again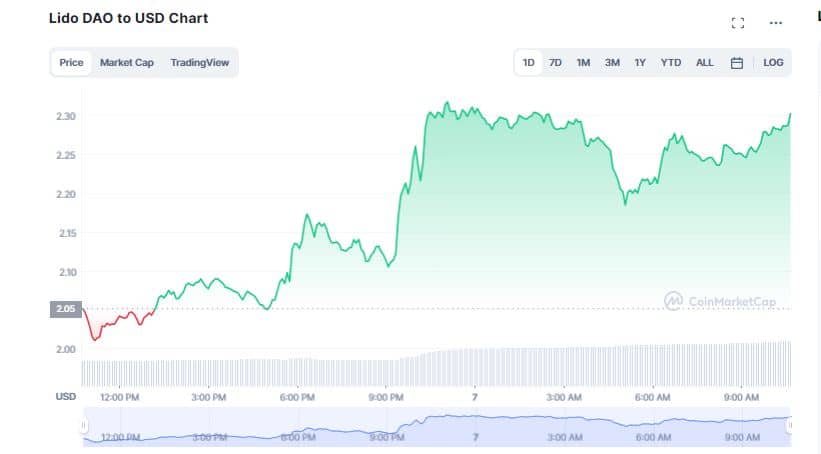 According to CoinMarketCap, LDO gained 11.51% in the last 24 hours to hover at $2.28. The digital asset is up more than 9% over the past seven days. The recent price surge can be attributed to Ethereum blockchain's upcoming "Shanghai hard fork", slated for March 2023. The software upgrade will allow users to withdraw their Ether staked in the Beacon Chain since December 2020, enabling traders to finally reclaim their assets.
The Shaghai upgrade is also expected to reduce gas fees for layer-2 solutions running on top of Ethereum that could potentially make it cheaper to transact on the Ethereum blockchain. Another reason that has bumped up the prices of Lido DAO (LDO) is the increase in Defi related activities. It is estimated the DeFi industry size will zoom past a staggering $232.20 billion by the end of 2030 with a compound annual growth rate (CAGR) of nearly 42.6% between 2022 and 2030.
Moreover, market experts believe one of the key reasons for the rise of Lido is its DAO that governs the protocol. According to the developers, DAO is the most suitable governance model for Lido where-in users do not have to trust a single centralized center, which significantly reduces the users' risks.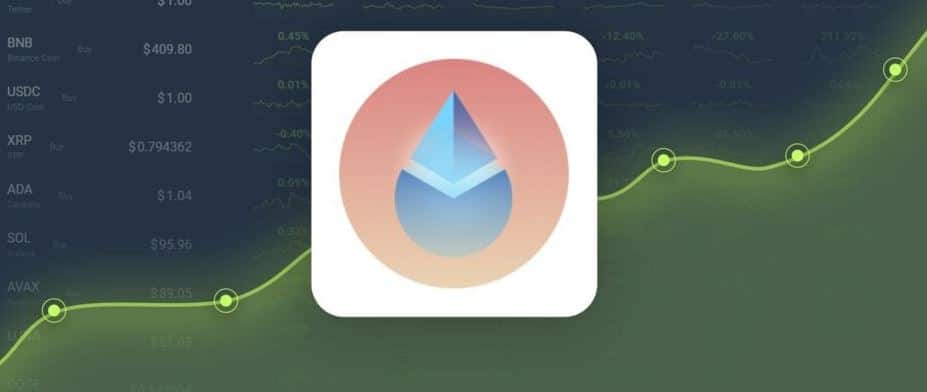 A Recovery Rally
However, the move seems to be a recovery rally, following a drop last week due to concerns raised by Galaxy Digital. Galaxy pointed out several issues related to the Lido's proposal to allow for withdrawals from stETH.
The crypto outfit noted that Lido could be a target of a mass-slash event, derailing its validators off the network. If this happens, Lido would enter "bunker mode," where things are delayed up to 36 days for Lido to recalculate the stETH redemption rate and assess damage to the network. Galaxy added,
"There are edge case scenarios that change withdrawal dynamics on Lido and highlight unique risks associated with staking through an intermediary. In the event that Lido validators are penalized or slashed, reducing the amount of total staked ETH in the protocol, users may receive less ETH for their stETH than what they had originally submitted."
Fresh Analytics Show Substantial Growth
🌟 Lido on Ethereum

Lido staking deposits increased by 47.1k ETH over the last week, capturing about 33.5% from ETH staked over the previous 7 days. pic.twitter.com/p1x387WLAz

— Lido (@LidoFinance) February 6, 2023
On February 7, Lido took to Twitter to announce various othe fundamentals indicating the overall growth of the protocol. Lido's staking deposits increased by 47.1k ETH over the last week, capturing about 33.5% from ETH staked over the previous 7 days.
Recently, the protocol crossed an impressive milestone of 5M ETH in total on Beacon Chain. At the same time, the new ETH/LDO factory pool soared $24.4M in total value locked (TVL), up more than 36% over the past week. Lido tweeted,
"Lido crossed 5.05M ETH staked on Beacon Chain. February incentives of 1.95M LDO are live. Also, new lending pools on Ethereum are rocketing, incl MakerDAO steCRV: 33,599 (7d: +636%) and AaveAave V3 wstETH: 29,480 (7d: +140%)."